Tropical Storm Eta Tracker, Path as Dangerous Storm Surge Expected on Florida's West Coast
Tropical Storm Eta is causing dangerous storm surge, heavy rains, and gusty winds for the west coast of Florida. After briefly strengthening to a hurricane on Wednesday morning, Eta has since weakened to a Tropical Storm.
As of 1 a.m. ET, Eta is around 65 miles north-northwest of St. Petersburg, Florida, and around 65 miles northwest of Tampa, Florida. The storm has maximum sustained winds of 60 miles per hour and is moving north at 10 miles per hour.
Forecasters say this general motion is expected to continue overnight, before a turn toward the north-northeast and northeast Thursday morning.
The center of Eta will then move near, but offshore of, the west-central coast of Florida and will move inland over the northern portion of the Florida peninsula on Thursday morning. Eta is then expected to move northeastward into the western Atlantic late on Thursday and early Friday.
Tropical Storm Eta is expected to weaken as it approaches Florida's west coast and will rapidly weaken after making landfall later today, before dissipating over the western Atlantic Ocean by the weekend.
A combination of a dangerous storm surge and the tide will cause normally dry areas near the coast to be flooded as rising waters move inland from the shoreline. If the peak surge happens at high tide, the water could reach the following areas:
Anclote River to Boca Grande, including Tampa Bay, could see three to five feet of water, Boca Grande to Bonita Beach, including Charlotte Harbor, and Steinhatchee River to Anclote River could see two to four feet of water, and Bonita Beach to Flamingo could see one to two feet of water.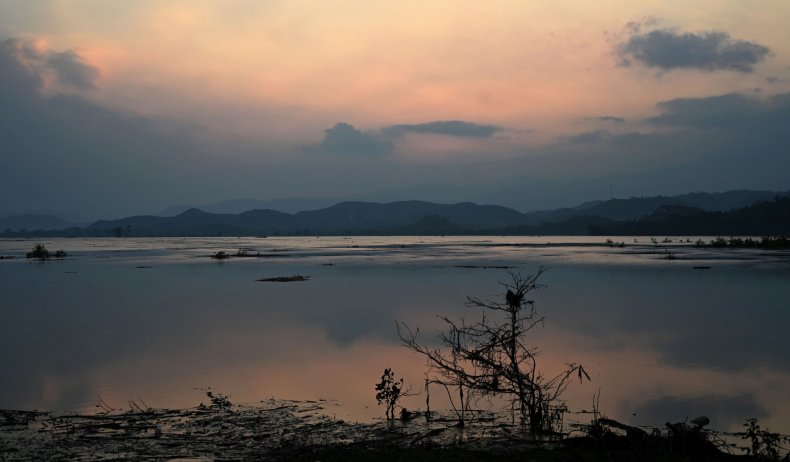 A Storm Surge Warning is in effect for Bonita Beach to Suwanee River, Florida, including Tampa Bay and Charlotte Harbor, and a Storm Surge Watch is in effect for Steinhatchee River to Suwannee River, Florida.
Forecasters say the deepest water will occur along the immediate coast in areas of onshore winds, where the surge will be accompanied by large and dangerous waves. The National Hurricane Center says that surge-related flooding depends on the relative timing of the surge and the tidal cycle, and can vary over short distances.
The Tropical Storm Warning south of Englewood has been discontinued, but a Tropical Storm Warning is in effect for Englewood to Suwannee River, Florida, and Flagler/Volusia County Florida line northward to St. Andrews Sound, Georgia. Tropical Storm Watch is in effect for north of the Suwannee River to Aucilla River, Florida.
Heavy rainfall is expected in Florida today, with around two to four inches and maximum storm total accumulation of six inches in west and central Florida. North and south Florida will see an additional one to two inches with isolated maximum storm total accumulations of four inches in north Florida and 20 to 25 inches in south Florida.
Flash and urban flooding will be possible in south Florida on Thursday, especially across previously inundated areas. Flash, urban, and isolated minor river flooding is also expected across portions of west and north Florida through today.
Federal Emergency Management Agency (FEMA) has granted Florida Gov. Ron DeSantis' request for a pre-landfall emergency declaration for Tropical Storm Eta. De Santis said on Twitter: "This is great news and ensures that we will have the critical federal resources we need to respond to any impacts from this storm."