Tropical Storm Fay Path, Tracker: New Jersey, New York, and Other States Expected to Be Slammed With Rain and Wind
Large portions of the Eastern U.S. are under a tropical storm watch, with heavy winds and rain expected as Tropical Storm Fay makes landfall on Friday.
The tropical storm is expected to produce 40-50 mph winds and between 3 and 5 inches of rain, triggering flash flooding in the hardest-hit areas. However, forecasters did not expect the storm to produce widespread river flooding as of Thursday evening.
The National Hurricane Center announced that the storm had formed off the coast Cape Hatteras, North Carolina around 5 p.m. on Thursday.
The storm is expected to move towards the mid-Atlantic coast on Friday, before moving inland and making its way north early on Saturday, on a northerly path that will see it pass over a significant area of the Northeast including New York and New England.
Tropical Storm Warnings are in effect from Cape May, New Jersey to Watch Hill, Rhode Island, including Long Island and Long Island Sound.
Current forecasts suggest that the storm could affect parts of Eastern Maryland and Delaware on Friday afternoon, before moving north. From there, it could move over New Jersey on Friday night before reaching the New York City area early on Saturday morning.
"With widespread thunderstorms expected across the state and heavy rain and flash flooding expected to hit New York City and Long Island in the coming days, I am urging all New Yorkers to stay alert and be careful during these potentially severe weather conditions," New York Governor Andrew Cuomo said in a statement.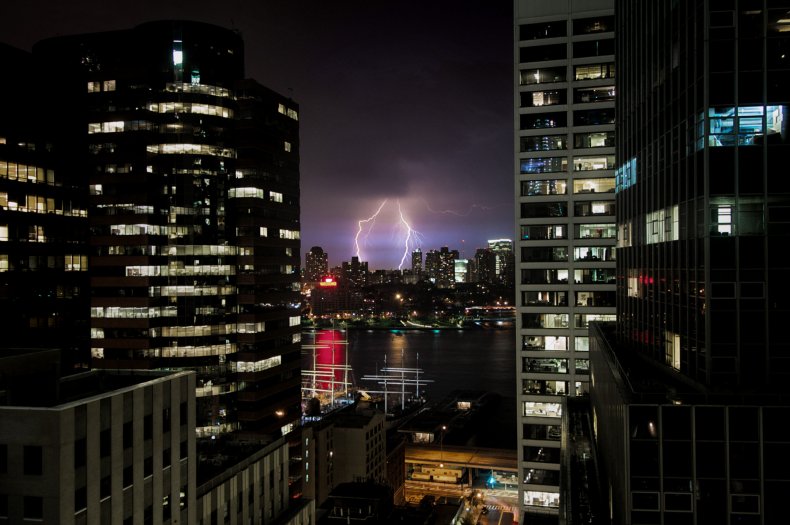 "I am deploying state personnel and resources to communities across the state to ensure they have the support they need to respond to anything Mother Nature may throw our way," he added.
On Saturday afternoon, forecasts suggest the storm could move over Connecticut, Massachusetts and eastern areas of upstate New York, before moving towards Vermont and New Hampshire and eventually heading into Canada.
Although Tropical Storm Fay could intensify as it remains offshore, it is expected to weaken as it makes its way over land.
Fay is the earliest-named storm beginning with the letter "F," according to The Weather Channel. Storms are named using consecutive letters of the alphabet depending on when they formed, with storms beginning with "A" being the first of the year. The previous earliest "F" storm, or sixth storm of the season, was Tropical Storm Franklin in August 2005.
The Atlantic hurricane season lasts from June to November, but typically does not begin to peak until August. The current season has been particularly active, with two pre-season storms and a number of record-breaking storms occurring early in the season. Prior to Fay, Tropical Storm Edouard, which formed in the North Atlantic on July 5, broke the record for the earliest storm beginning with "E."