Tropical Storm Gordon Update: Hurricane Warnings Posted, Hurricane Gordon Expected to Develop By Landfall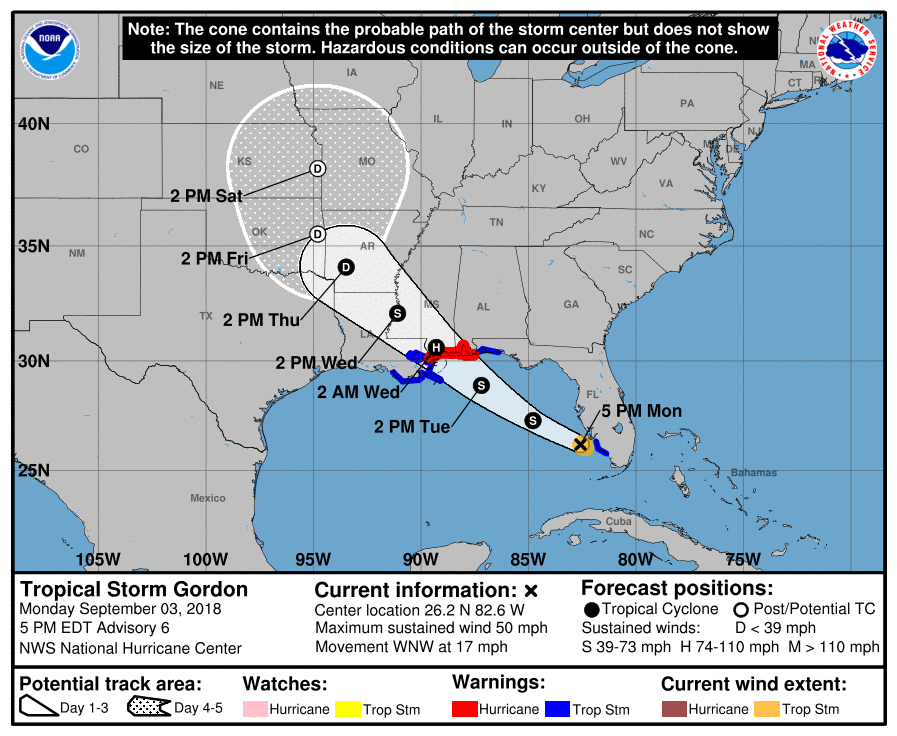 Tropical Storm Gordon is expected to become Hurricane Gordon before it makes landfall around the Mississippi Coast in the overnight hours Tuesday and early Wednesday morning, according to the latest forecast update.
The National Hurricane Center has issued a hurricane warning for portions of the Gulf Coast, now that models show Gordon will likely become a category 1 storm, making landfall between Louisiana and Alabama coastlines -- most likely on the Mississippi coast. The latest forecasts suggest coastal areas in that hurricane warning zone could receive 8 inches or more of rain and experience dangerous storm surge.
"A Hurricane Warning has been issued from the Mouth of the Pearl River to the Alabama-Florida Border," the NHC said at 4 p.m. Central Time Monday.
The new hurricane warning replaces the hurricane watch and tropical storm warning for the area. Also, the Tropical Storm Warning for the Upper Florida Keys and from Golden Beach to Chokoloskee, including Florida Bay, has been discontinued.
"Gordon is expected to bring life-threatening storm surge and hurricane conditions to portions of the central Gulf Coast where a Storm Surge Warning and Hurricane Warning are in effect," the National Hurricane Center said Monday in a 4 p.m. Central Time update. "Residents in these areas should listen to advice from their local officials."
The National Hurricane Center said Hurricane Gordon's path/track will likely "approach the central Gulf Coast within the warning area late Tuesday or Tuesday night, and move inland over the lower Mississippi Valley on Wednesday."
Also, one forecast model suggested that Gordon could develop "brown ocean" phenomena. You can read more about that here.
"All preparations to protect life and property should be rushed to completion, as tropical storm conditions are expected to arrive in the warning areas Tuesday afternoon or evening. 2. Heavy rainfall from Gordon will affect southern Alabama, southern Mississippi and Louisiana, where totals could reach as high as 8 inches. This rainfall could cause flash flooding."