Tropical Storm Harvey: Path, Evacuations and Forecast for the Storm as It Hits Louisiana
Harvey has made landfall for a third time.
The now tropical storm reached land just west of Cameron, Louisiana, at 4 a.m. local time Wednesday, according to the National Hurricane Center (NHC).
Harvey has already dumped record levels of rain in Texas, where it first made landfall Friday as a category 4 hurricane. In places, 51 inches of rain have fallen on parts of the state, ABC News reported. Earlier in August, the storm made landfall in Mexico.
More than 20 people have been reported dead and the storm has decimated thousands of homes, likely resulting in tens of billions of dollars worth of damage.
Where is Harvey going next?
The storm made landfall across the Texas border in Louisiana Wednesday after stalling offshore in the Gulf of Mexico. The NHC said that a Storm Surge warning is in place for almost 200 miles along the Louisiana coast between Holly Beach and Morgan City. This warning means that there is a "danger of life-threatening inundation, from rising water moving inland from the coastline, during the next 12 hours," according to the NHC.
Between 3-6 inches of rainfall is expected in southwestern Louisiana as far northeast as Kentucky until Friday. The threat of catastrophic and life-threatening flooding will remain from Houston eastward into southwest Louisiana for the rest of the week.
The National Weather Service also issued flash flood emergencies overnight for parts of southeast Texas, including Beaumount and Port Arthur.
Harvey is moving northeast and is expected to pass through the Lower Mississippi Valley and the Tennessee Valley through Thursday. Wind speeds are expected to reach 45 miles per hour, but Harvey is expected to be downgraded to a tropical depression by Thursday night.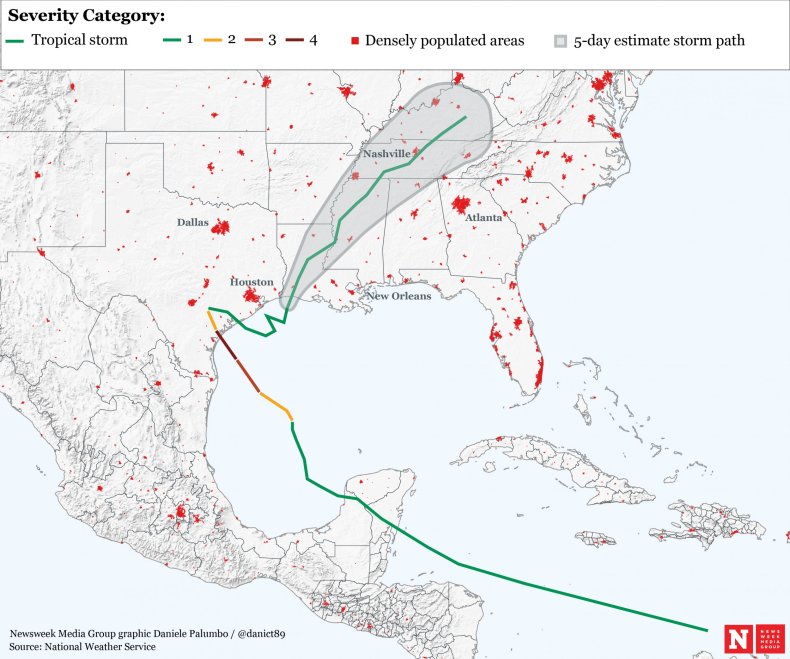 Are there any evacuations?
The Louisiana Department for Homeland Security said Tuesday that it was not enforcing mandatory evacuations. But the department's director Dick Gremillion said that "we strongly suggest" people request evacuations, particualrly in areas prone to flooding, ABC News reported. President Trump declared a state of emergency in Louisiana Sunday in response to a request from Governor John Bel Edwards for assistance.
On Twitter, Port Arthur was trending with people calling for help in evacuating their homes.
The National Weather Service is also advising citizens not to return to evacuated areas until winds diminish and flood waters subside. The warning covers 18 parishes in Louisiana
What's the advice for people in affected areas?
Authorities are advising people to stay away from coastal areas that could be affected by storm surges. Drivers are also advised not to attempt to drive their vehicles through flooded roads; just six inches of water is enough to halt a car's progress. Citizens should be wary of trees, porches, sheds and unanchored mobile homes or vehicles being damaged by strong winds, and should keep their cell phones charged in case of power outages.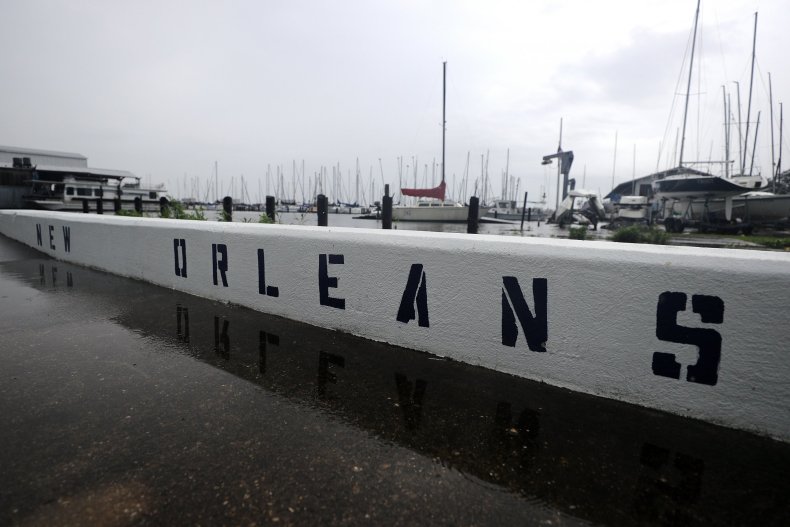 Residents are also advised, if possible, to prepare an emergency kit including water, food, a battery-powered radio, flashlight, batteries, whistle, dust mask, garbage bags, tools, maps and cell phones with chargers. A list of recommended supplies is provided by the Federal Emergency Management Agency (FEMA).
Are schools and offices closing?
State offices in 28 parishes across Louisiana are closed on Wednesday, although government offices will remain open in East Baton Rouge, the state's biggest parish, and Orleans.
Many schools across the state are also closed on Wednesday. A full list is provided by local news outlet WAFB 9 News.
What is the Louisiana government doing?
Louisiana has upped its emergency resources. Governor Edwards said Tuesday that 671 members of the National Guard had been activated. The state has also doubled the number of high water vehicles, boats and helicopters on patrol, CNN reported.
The city of New Orleans, which was devastated by Hurricane Katrina in August 2005, is preparing to receive up to 10 inches of rainfall in 36 hours, the BBC reported. Mayor Mitch Landrieu said Tuesday that flash floods were a risk in the city and advised residents to stay home and take shelter. The city is also monitoring its drainage system and providing sandbags to affected residents.