Tropical Storm Henri Leaves 40k People Without Power as Storm Moves Back Into Rhode Island
More than 40,000 people in Rhode Island were left without power Monday morning after Tropical Storm Henri made landfall Sunday, bringing heavy rain and strong wind to the Ocean State.
Henri—once a hurricane, now reduced to a tropical depression—is expected to continue weakening Monday while slowly drifting east over southern New England. However, it is still expected to bring up to three inches of rain to part of the region, according to the National Weather Service. The weather service said the main hazard Monday will be the continued threat of flash, urban and river flooding, and flash flood watches remained in effect.
National Grid expects most customers' power to be restored before the middle of the week, the company said in a statement to Newsweek. Power for more than 65,000 customers has already been restored.
"The real slog comes towards the end when we're working on the 'onesies and twosies,' which are outages only impacting a single or couple customers at a time," National Grid's statement said. "Fortunately, we've been able to double our line and forestry crews today, with additional crews being reallocated from Massachusetts after they did not experience the winds we saw in the Ocean State."
The storm is expected to exit the region Tuesday, according to the National Weather Service.
Video posted to Twitter shows the floods the storm brought to the region.
Another 8,000 people in Connecticut were without power Monday, according to Eversource.
On Sunday, President Joe Biden promised to provide federal help to residents, declaring disasters in much of the region, The Associated Press reported.
Henri made landfall in Rhode Island as a tropical storm Sunday afternoon, bringing winds as strong as 60 miles per hour, according to the National Hurricane Center.
Before the storm reached New England, it brought heavy rainfall to New York and New Jersey on Saturday. According to the weather service, Central Park saw a daily record rainfall of 4.45 inches Saturday, beating the previous record of 4.19 inches in 1988.
The storm forced the closure of major bridges in Rhode Island, which have since been reopened, Rhode Island Governor Daniel McKee said in a tweet.
Videos posted to Twitter showed the intense flooding in New York and New Jersey.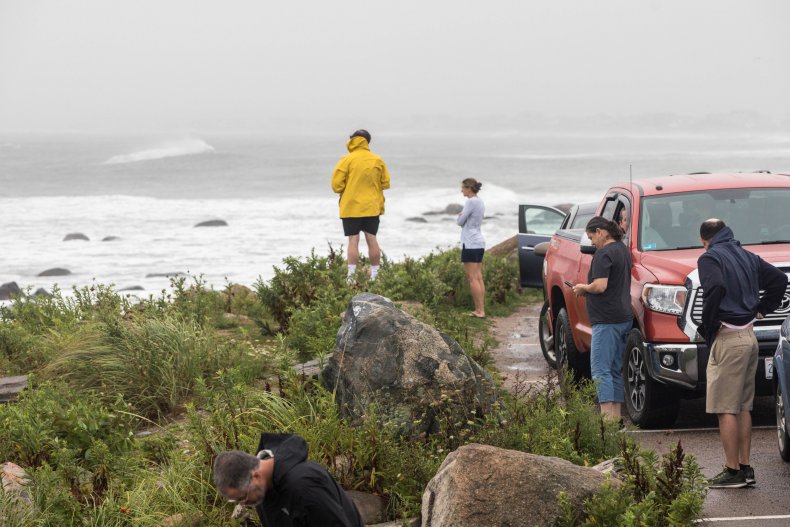 In preparation for the storm, authorities in New England urged residents to practice caution.
"I'm asking you, Rhode Island, to stay home until this storm passes," McKee said in a morning news conference. "If you venture out, you are not only putting your own life at risk, you are endangering our first responders."
Massachusetts Governor Charlie Baker urged tourists to leave the area.
"We don't want people to be stuck in traffic on the Cape Cod bridges when the storm is in full force on Sunday," Baker said.