Tropical Storm Humberto is passing east of Abaco Island in the Bahamas Saturday morning, according to the National Hurricane Center (NHC).
As of 11 a.m. ET Saturday, NHC forecasters predicted "tropical-storm-force winds and heavy rainfall" over Bermuda and parts of the northwestern Bahamas—areas still reeling from the impact of Hurricane Dorian.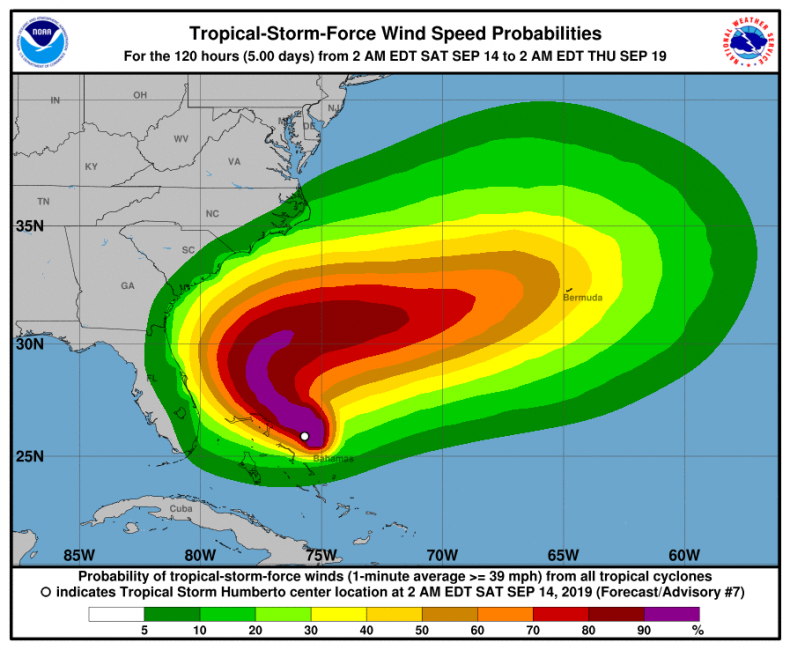 Humberto is expected to take a similar path to Dorian, remaining well to the east of Florida and Georgia as it continues moving north. However, with rain and winds extending 90 miles from the system's center, the storm is still predicted to produce between two to four inches of rain over Florida, Georgia and South Carolina after it finishes pelting the Bahamas and Bermuda.
In the Bahamas, the storm also has the potential to dump up to six inches over isolated areas Saturday. This time, the battered island nation won't see significant storm surge.
Humberto strengthened into a tropical storm Friday, sustaining winds of 40 miles per hour before barreling toward the recovering islands two weeks after Hurricane Dorian hit the area as a Category 5 storm. On Saturday sustained wind speeds reached 50 miles per hour.
Roughly 1,300 people are still missing in the aftermath of the hurricane, the BBC reported Saturday. More than 15,000 people's homes were damaged or destroyed leaving them in need of food, shelter, and medical care. The death toll currently stands at 50 people and is expected to rise.
On Friday Florida Governor Ron DeSantis told the press that Bahamians fleeing the destruction of Hurricane Dorian should not cross over into his state. "If you just need the relief, that's not what Florida's set up for," DeSantis said at a news conference in Dania Beach, according to the South Florida Sun Sentinel, "Florida is helping to send resources to the Bahamas so the relief can be administered there," he added.
Last week, Miami-based Haitian advocacy group Family Action Network Movement (FANM), reported incidents of undocumented Bahamians being too afraid about immigration enforcement to request aid, the Miami New Times reports.
Meanwhile, in the Pacific Ocean, Tropical Storm Kiko is expected to become a hurricane by Saturday evening, according to an advisory issued by the NHC. The storm's winds are currently blowing at 50 miles per hour.
Kiko is taking a westward course hundreds of miles from the southern tip of Baja, California.
Forecasters initially said Kiko—previously a tropical depression—was moving west-northwest at about 12 miles per hour and was expected to become a slow-moving, low-pressure system over the next few days.
Kiko is predicted to continue on its current path through Monday. There are no coastal watches or warnings in effect at this time.