Tropical Storm Isaias formed in the Caribbean Sea Wednesday evening, making it the ninth named storm in the Atlantic basin this season. The center of Isaias is south of Puerto Rico, and its path continues headed toward Florida this weekend.
TS Isaias had maximum sustained winds of 50 mph and is moving WNW at 20 mph.
The storm was just south of Puerto Rico at TK p.m. on Wednesday, and its path shows it bearing down on the Dominican Republic and Haiti. The next move for Isaias will like be north of Cuba and then toward Florida.
Isaias began developing just Tuesday as a fragmented system with no defined center. Early projections showed a path that skirted northern Cuba before hitting Florida at the very bottom and moving northward all the way to its panhandle.
The only thing that's changed in 36 hours is that the path's cone has shifted slightly west, putting the eye over the state's western coast on the Gulf of Mexico.
Tropical Storm Isaias might not be hurricane strength when it passes Hispaniola, but the storm's heavy rains and winds can cause deadly mudslides in the mountain region's of the country's two islands—the Dominican Republic and Haiti—and also produce life-threatening flooding.
Though moving through the islands south of the United States and potentially over Florida, it appears the system will remain weak and not strengthen into a Category 1 storm. The National Hurricane Center (NHC) urges folks to stay cautious, though.
"Simply put, there are a lot of hurdles in the system's way, so it is best to stay on the conservative side at the moment and continue to stress the large uncertainty after it leaves the Caribbean," the NHC stated in one of its forecasts earlier in the day.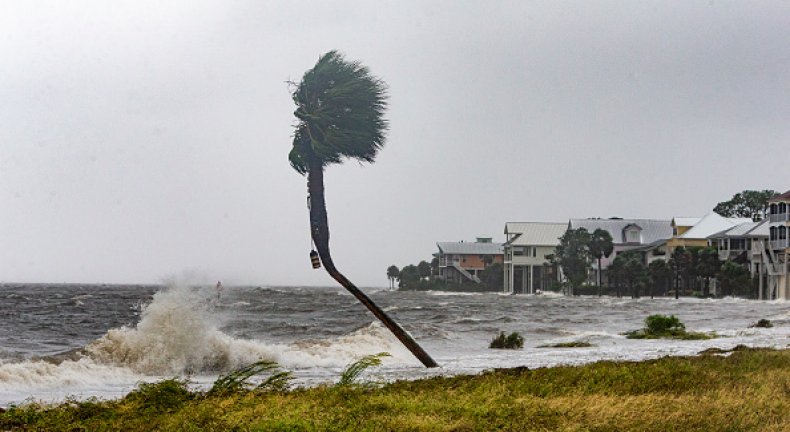 Tropical Storms are named when maximum sustained surface winds range from 39-73 mph. A hurricane develops when those maximum sustained surface winds reach 74 mph or greater, and there are five category levels—all increasing with wind speed, intensity and damage.
The last tropical storm from the Atlantic basin to hit the United States was Hurricane Hanna, which made landfall in South Texas last weekend. That's the only storm from the Atlantic to gain hurricane strength so far this season.
Hurricane Douglas, which is currently in the Pacific Ocean, darted just north of Hawaii earlier this week. Not only did the eye of Douglas miss Hawaii, the COVID-19 pandemic prevented many tourists from vacationing on the islands, likely saving many lives in the process.
The last hurricane to hit the state of Florida was Hurricane Michael in October 2018, which made landfall at Mexico Beach as a powerful Category 5 storm, leveling most of the city and a swath all the way north toward the state capital of Tallahassee.