Tropical Storm Isaias Photos Reveal Widespread Damage, Flooding in Carolinas
The Carolinas suffered damage and flooding when Tropical Storm Isaias hit the states on Monday. Though Isaias later weakened from a hurricane to a tropical storm, the Carolinas faced heavy rainfall and strong winds yesterday.
Coastal areas on the border between North Carolina and South Carolina have reported damage and flooding. Multiple houses have caught on fire in the Ocean Isle Beach area in North Carolina, while coastal towns in South Carolina faced flooding.
Tropical Storm Isaias is moving northward through the east coast. Forecasters warn that more flash and urban flooding is possible, and could be significant in the eastern Carolinas. Widespread minor to moderate river flooding is also possible across the Carolinas.
Photos taken in South Carolina last night reveal the floodwaters on Ocean Blvd. in Myrtle Beach and show people walked through the flooded street.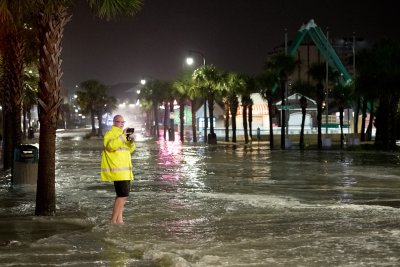 North Carolina also suffered damage to buildings, especially in Southport and the surrounding coastal areas, including Ocean Isle Beach.
Journalist Kendall McGee shared a photo of the damage to a monument outside the Southport Baptist Church, as well as a photo of the damage to a building in Oak Island.
McGee said: "Floodwaters have receded some but there's plenty of damage to homes and debris scattered around. Sheriff confirms the people inside this house are safe. You can smell propane."
Journalist John Smist shared a photo of the damage to a building in downtown Southport, which appeared to show bricks on the ground.
PM Breaking News shared a video taken in Ocean Isle Beach, North Carolina, that appeared to show houses on fire.
Horry Fire Rescue confirmed that there multiple structures on fire in the Ocean Isle Beach area and shared photos of houses on fire.
Meteorologist Kat Campbell shared another photo of a house on fire in the Ocean Isle Beach area.
The Brunswick Sheriff Office shared multiple photos of downed trees, with some having fallen on powerlines. The sheriff reported downed trees on Longwood Road, Funston Road, Sellers Road, Old Ocean Hwy, Seaside Road and Crabapple, among other locations.
Jay Dobensky shared photos of floods in Oak Island and said: "My friend's sister-in-law's car floated out and beaten up [between] the supports and debris. Hopefully the hybrid isn't flooded, still too risky to inspect. Daylight will surely tell a lot!"