Isaias Power Outages Map As More Than a Million People Affected
Tropical Storm Isaias has caused widespread outages in New Jersey and New York, leaving more than a million people without power.
Power companies including JCP&L, Atlantic City Energy, PSE&G, Con Edison and New York State Electric and Gas Corporation all reported that thousands of its customers are without power after Tropical Storm Isaias downed trees and damaged power lines.
JCP&L says 567,187 of their customers in New Jersey are currently impacted by a power outage, with most of the affected customers in Monmouth, Morris, and Ocean counties. There are also outages in Burlington, Essex, Hunterdon, Mercer, Middlesex, Passaic, Somerset, Sussex, Union, and Warren counties.
In a tweet, JCP&L said: "An army of 3,000 workers will be working 24/7 to restore service to customers after Tropical Storm Isaias ripped through our service area today, with an additional 1,200 resources joining the restoration effort."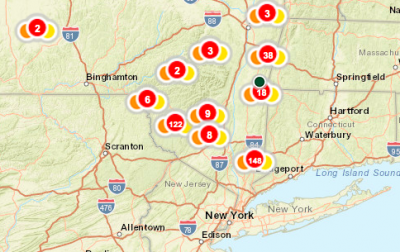 Atlantic City Energy reported 4,295 active power outages and more than 76,000 customers in New Jersey affected, with most of those in Atlantic and Ocean counties. There are also outages in Cape May, Cumberland, Salem, Gloucester, Camden, and Burlington.
Atlantic City Energy estimates power will be restored by August 8. The energy company said on Twitter: "Crews have been working through the night to restore service to those affected by Isaias and will continue working until all customers are restored. We also have secured additional assistance from companies in the region."
PSE&G reports that 310,789 of their customers are currently affected by power outages in New Jersey. Most affected customers are in Essex and Burlington, with thousands of also suffering in Mercer, Middlesex, and Union.
PSE&G listed restoration times on its website as being between Thursday and Friday.
New Jersey Gov. Phil Murphy said in an interview on WABC-7: "I would say most importantly to folks, they're gonna need some patience if you've lost your power. This could be a multi-day period here till you get it back."
In New York, approximately 257,000 Con Edison customers were without power as of 9 p.m. ET on Tuesday. There are extensive outages in Westchester County, the Bronx, Staten Island, Brooklyn and Queens. In Westchester, the hardest-hit communities include Yonkers, New Rochelle, Mount Vernon, Rye, Cortlandt, and New Castle.
New York State Electric and Gas Corporation reports that more than 81,000 customers are without power, with most of the customers affected by the outages in Westchester, Putnam, and Dutchess counties.
Electricity companies are warning people to stay 30 feet away from downed power lines and to report any outages. Sign up for alerts with your energy provider for updates and more information on power restoration times.