Isaias has weakened from a hurricane to a tropical storm as it moves through the Carolinas and New Jersey declares a state of emergency.
New Jersey Gov. Phil Murphy has declared a state of emergency from 5 a.m. ET on Tuesday. The governor is urging New Jersey residents to only travel if necessary, take down temporary structures, charge devices, and to stay updated with their local authority's guidelines.
Previously a Category 1 hurricane, Isaias has now weakened to a tropical storm over eastern North Carolina and is producing heavy rainfall and strong winds with the threat of tornadoes beginning to spread into southeastern Virginia. As of 3 a.m. ET, Tropical Storm Isaias was around 35 miles west-southwest of Greenville and around 50 miles east-southeast of Raleigh.
Virginia Gov. Ralph Northam said: "My team and I are continuing to closely monitor Tropical Storm Isaias. Heavy rainfall, high winds, and flooding are expected along our coast starting early Tuesday morning. If you live in coastal Virginia, now is the time to prepare." wot
Maryland Gov. Larry Hogan said: "Our state is taking every precaution to prepare for the effects of Tropical Storm Isaias—which could include heavy rain, damaging winds, and flash flooding—and I urge all Marylanders to do the same."
The Storm Prediction Center warns that a few tornadoes will be possible from the Virginia Tidewater into New England today and into tonight, as scattered severe thunderstorms capable of producing large hail and damaging winds are also expected across portions of the northern and central Plains.
Hurricane warnings for the coast of southern North Carolina will remain in effect until tropical storm conditions diminish in a couple of hours, according to a report from the National Hurricane Center issued at 3 a.m. ET. Hurricane conditions are spreading into the southern portion of the Hurricane Warning area and should spread northward early Tuesday morning.
Heavy rainfall along the east coast near the path of Isaias will result in flash and urban flooding, some of which could be significant in the eastern Carolinas, mid-Atlantic, and northeast through Wednesday. Widespread minor to moderate river flooding is possible across portions of the Carolinas and the mid-Atlantic, and quick-responding rivers in the northeast will also be susceptible to minor river flooding.
Tropical-Storm-Force winds Expected on East Coast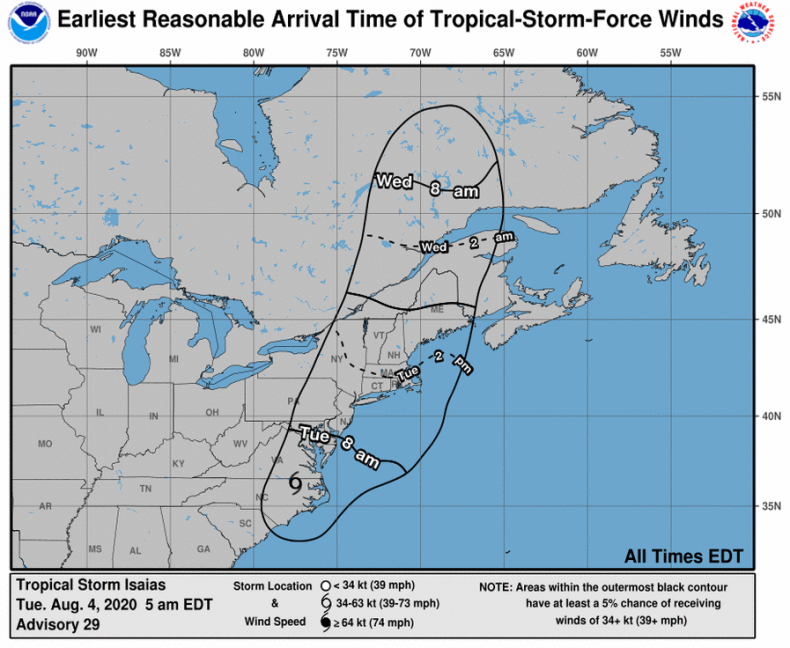 Tropical-Storm-Force winds and wind gusts of hurricane force are expected on the mid-Atlantic coast, including portions of the Chesapeake Bay region on Tuesday, which could cause tree damage and power outages. The tropical storm conditions are then expected to spread across New England late on Tuesday and into early Wednesday.
North Carolina and southeastern Virginia will experience tropical storm-force winds at around 2 a.m. ET, before the winds hit Delaware at around 8 a.m. ET. New York will experience tropical storm-force winds at around 2 p.m., before Isaias moves through New England, hitting Maine at around 8 p.m. ET on Tuesday evening.
A weather station in Pamlico Sound, North Carolina, reported sustained winds of 47 mph and a gust of 55 mph.