Tropical Storm Isaias Update, Tracker as Florida in Path of 9th Storm of Hurricane Season
There is a Tropical Storm warning in place as Tropical Storm Isaias moves into the Greater Antilles with the potential to affect Florida this weekend.
The National Hurricane Center reclassified the storm formerly known as Potential Tropical Cyclone Nine on Wednesday as it developed a closed circulation south-southwest of Puerto Rico and became a tropical storm.
"I don't want people to lower their guards, because this system is quite dangerous," Ernesto Morales with the U.S. National Weather Service in San Juan told AP. "This is not [Hurricane] Maria, but it will bring a lot of rain."
There could possibly be tropical storm conditions on Thursday, but tropical storm conditions are expected on Thursday night through Friday. Then, there could possibly be tropical storm conditions from Friday night through Sunday.
Gale force winds extended more than 400 nautical miles north and northeast of Isaias in the Atlantic. Tropical storm conditions are possible northeast of Isaias over a large portion of the southwest North Atlantic as the center of Isaias moves from the northeast Caribbean across Hispaniola towards southern Florida and the Bahamas.
Tropical Storm Isaias will produce heavy rains with potentially life-threatening flash flooding and mudslides across Puerto Rico, the U.S. Virgin Islands, the Dominican Republic, northern Haiti, and the southeastern Bahamas.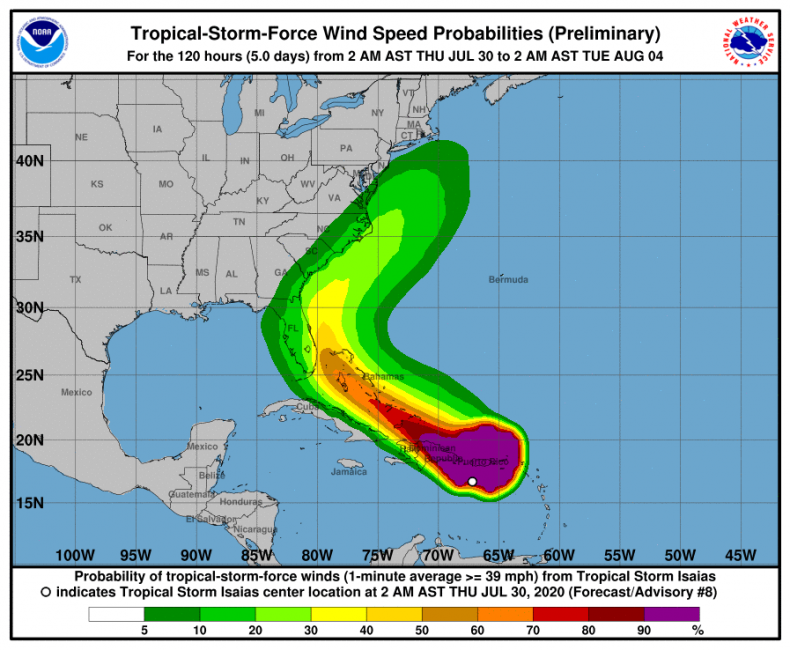 Tropical storm conditions are likely and there are Tropical Storm Warnings in place across portions of the Virgin Islands and Puerto Rico early Thursday morning, spreading to portions of the Dominican Republic, Haiti, and the southeastern Bahamas and Turks and Caicos and the Central Bahamas on Thursday and Friday.
The National Hurricane Center advises against focusing on the details of the track forecast as rainfall and wind hazards will extend far from the center of the system.
As of 11 p.m. ET on Wednesday night, the National Hurricane Center said that it is too soon to determine the location or magnitude of the impacts of rain and wind on Cuba, northwestern Bahamas, and Florida later this week.
However, the storm is already impacting Puerto Rico with AP reporting that power outages on Wednesday night left 400,000 people without electricity. The power grid in Puerto Rico is fragile and susceptible to failures after it was destroyed by Hurricane Maria.
Officials in Puerto Rico said that there were more than 300 shelters across the island prepared to receive people if needed and that more than 130,000 face masks were available.
Puerto Rico Gov. Wanda Vázquez Garced declared an emergency due to the storm on Wednesday.
Vázquez Garced said in a statement: "As a result of the imminent threat posed by this tropical disturbance amid the COVID-19 pandemic, I made the hard choice of declaring a state of emergency for the island.
"I have requested personnel, equipment, and supplies. These measures are to provide an effective, robust response in the event of this storm. I also requested food, generators, water, and tarps.
"It is worth noting that Puerto Rico is managing three emergencies at the time: the island continues to experience seismic events; we have the ongoing COVID-19 pandemic; and now this tropical disturbance."
On Wednesday, Florida Gov. Ron DeSantis said on Twitter: "We are closely monitoring a tropical system with [FL Division of Emergency Management].
"Forecasts are predicting heavy rainfall and strong winds will impact Florida beginning Saturday through early next week. Floridians should prepare now by having at least 7 days of disaster supplies."