Tropical Storm Jenny Forecast, Path: Cyclone Poised to Hit Philippines, Potentially Causing Landslides
Tropical Storm Jenny is headed for the Philippines, likely bringing with it rainfall that could cause landslides.
Landfall for Jenny, also referred to as Pudol, was imminent and expected to occur anytime between the time of this article's publication and 1:00 a.m. Philippine Standard Time, equivalent to 1:00 p.m. EST. As it threatened the Aurora Province, located on the eastern side of the Central Luzon region, residents were advised to take precautionary measures.
The storm began as a tropical depression on Monday and grew into a tropical storm by Tuesday evening local time. It is forecasted to move across the Philippines late Tuesday night or Wednesday morning, heading out to water by 5:00 p.m. local time on Wednesday and then approaching the Chinese island province, Hainan, and northern Vietnam on Thursday.
Currently, it's moving west at 35 kilometers per hour, equivalent to about 22 miles per hour, according to the Philippine Atmospheric, Geophysical and Astronomical Services Administration (PAGASA). Maximum sustained winds at the center are 65 kph, about 40 miles per hour, and gustiness reached up to 80 kph, about 50 miles per hour.
Between Tuesday night and Wednesday morning, moderate to heavy rains were expected for the Cordillera Administrative Region, Isabela, Cagayan, Quirino, Nueva Vizcaya, Aurora, Nueva Ecija, and the northern portion of Quezon. Light to moderate with heavy rains could also affect Metro Manila, Central Visayas, Western Visayas, Northern Mindanao, Zamboanga Peninsula and the rest of Luzon.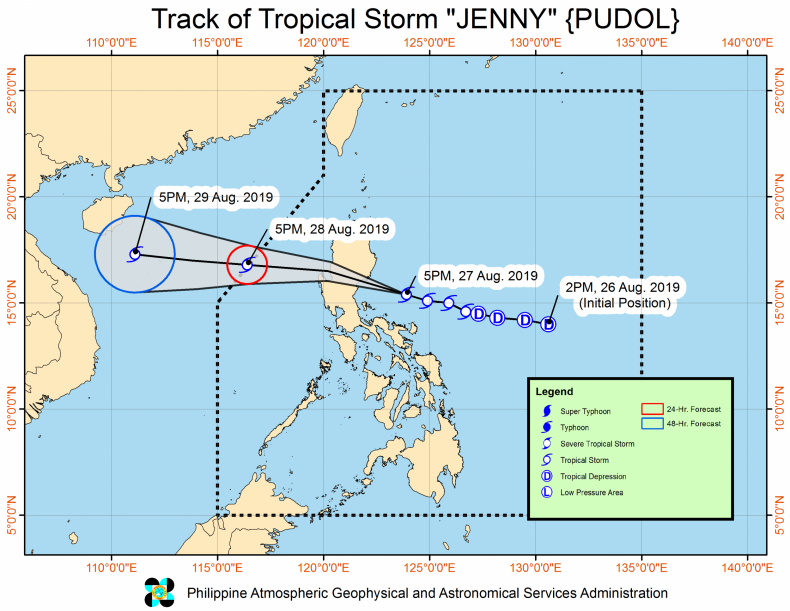 Rain would likely continue between Wednesday morning and Thursday for Metro Manila, Western Visayas, Mindoro Provinces, Zambales, Bataan and the northern portion of Palawan.
Two different Tropical Cyclone Wind signals were issued for various places in the areas. Areas in Tropical Cyclone Wind Signal #1 could expect winds of 30 to 60 kph and rain within 36 hours. This could cause vegetation and small trees to be down or broken, some houses could be partially unroofed and the rice crop could suffer significant damage if it's in the flowering stage. Waves in coastal areas could also become bigger and higher.
Areas affected by Tropical Cyclone Wind Signal #1 were listed by PAGASA as:
Cagayan

Apayao
Abra
Kalinga
Ilocos Norte
Nueva Ecija
Tarlac
Zambales
Bataan
Pampanga
Bulacan
Metro Manila
Rizal
the northern portion of Quezon including Polillo Islands and Alabat Island
Cavite
Laguna
Camarines Norte
northeastern portion of Camarines Sur
Catanduanes
To prepare, residents in these areas were encouraged to clean up the drainage system, harvest crops that could be yielded and inspect their house, repairing whatever was necessary.
Areas in the Tropical Cyclone Wind Signal #2 could experience winds up to 121 kph within 24 hours, causing trees to be uprooted or broken and a large number of homes to be partially or totally unroofed. The areas included in the second tropical cyclone wind signal were identified as:
Isabela
Aurora
Quirino
Nueva Vizcaya
Mountain Province
Ifugao
Benguet
Ilocos Sur
La Union
Pangasinan
In preparation for the possible storm, residents were urged to keep their cell phones charged, elevate items in their homes in case of flooding and secure fishing boats. Residents should also gather a number of items ahead of the storm, including flashlights, batteries, matches, candles, first aid kits and ready to eat foods.
PAGASA advised residents living in areas that could be impacted by floods and rain-induced landslides to take precautionary measures. This included coordinating with local disaster risk reduction and management office and monitoring updates.