Tropical Storm Jerry Path: 10th Named Storm in Atlantic Expected to Become Hurricane
Tropical Storm Jerry is expected to strengthen into a hurricane over the coming days. Although it's too early to tell if it will hit the Leeward Islands directly, authorities urged residents to have a plan in place.
Jerry, the 10th named storm of the 2019 Atlantic Hurricane Season, formed on Tuesday morning. After better organizing itself, the system strengthened into a Tropical Storm on Wednesday morning and was dubbed Jerry.
Atlantic Hurricane Season runs from June through October and storms are named in alphabetic order from a predetermined list. As of Jerry's formation, the Atlantic has so far this year seen Andrea, Barry, Chantal, Dorian, Erin, Fernand, Gabrielle, Humberto and Imelda. Barry, Dorian and Humberto have turned into hurricanes with Dorian decimating the Bahamas as a Category 5.
On Wednesday morning, the National Hurricane Center (NHC) placed Jerry about 960 miles from the Leeward Islands, which includes:
U.S. Virgin Islands
The British Virgin Islands
Saint Martin
Anguilla
Saint Barthelemy
Saba
Saint Eustatius
Saint Kitts and Nevis
Antigua and Barbuda
Montserrat
Guadeloupe
With maximum sustained wind speeds of 45 miles-per-hour, the storm would have to increase its strength by 30 miles-per-hour to be classified as a hurricane on the Saffir-Simpson Hurricane Wind Scale. Moving at about 13 miles per hour, the NHC forecasted the system would be near the northern Leeward Islands on Thursday night or Friday.
"Jerry is expected to strengthen and be a hurricane when its moves near the northern Leeward Islands Friday, although it is too soon to determine if there will be any direct impacts in the islands," the NHC said.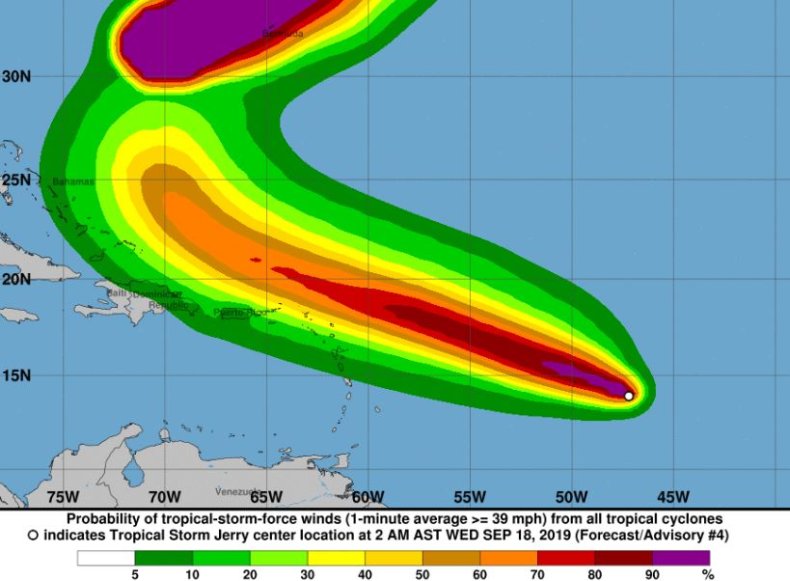 On Friday morning, the storm was expected to be a Category 1 hurricane as it traveled parallel to Guadeloupe. Moving in a northwestern pattern after passing the island, it would maintain the 75-miles-per-hour wind speeds and then make a northeast turn on Sunday morning, putting it farther out into the Atlantic, parallel with the Bahamas on Monday morning.
Tropical-storm-force winds currently extend outward up to 45 miles. It was as of yet too early to issue any warnings or watches, but the NHC advised people to ensure they had a hurricane plan in place and to monitor the storm's progression.
Current graphics have winds from the storm impacting Puerto Rico on Friday morning through the evening and then western portions of the Dominican Republic from Friday night to Saturday morning.
Jerry isn't alone in the Atlantic and there are currently three systems working their way across the ocean. Slightly southeast of Jerry is an unnamed disturbance that likely won't turn into a tropical cyclone and to Jerry's northwest side was Hurricane Humberto.
Humberto, currently a Category 3 hurricane, was expected to bring hurricane conditions to Bermuda on Wednesday night and Thursday morning. It's possible the southeastern coast of the United States, from Florida to North Carolina, could experience life-threatening surf and rip current conditions as a result of Humberto, as well.