Tropical Storm Karen, Hurricane Lorenzo Path: 11th and 12th Storms of Hurricane Season Churning in Atlantic
Two storms are churning in the Atlantic, but neither storm appears to be in a track that would put them on a path to hit land.
Tropical Storm Karen and Hurricane Lorenzo are the 11th and 12th storms of the 2019 Atlantic Hurricane Season. Of the storms this season, which runs from June through October, four storms, including Lorenzo, have turned into hurricanes.
While some storms, such as Hurricane Dorian and Tropical Depression Imelda, caused massive damage to the Bahamas and Texas respectively, it looks like most of the Atlantic should be spared Karen and Lorenzo's impacts.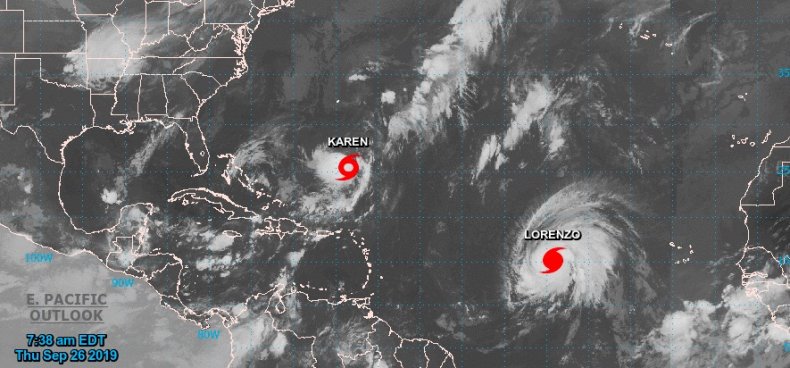 Tropical Storm Karen Path
As of Thursday morning, Karen was about 475 miles south of Bermuda and 520 miles north, northeast of San Juan, Puerto Rico, moving in a north, northeast direction at about 15 miles-per-hour. The National Hurricane Center (NHC) expected the storm would move in a clockwise motion before turning into a tropical depression.
The U.S. Virgin Islands and Puerto Rico were previously under a Tropical Storm Warning and a Tropical Storm Watch was issued for the British Virgin Islands. However, as of Thursday morning, there were no watches or warnings in effect.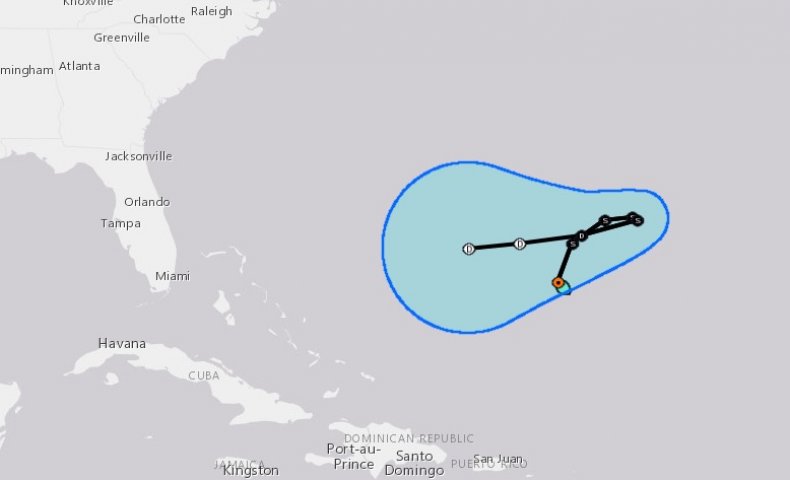 Maximum sustained winds were only at 40 miles-per-hour and little change in strength was forecasted for the next few days. The span of tropical-storm-force winds from Karen decreased from 105 miles to 45 miles.
Hurricane Lorenzo Path
On Thursday morning, Lorenzo was about 995 miles from the Cabo Verde Islands and moving in a west, northwest direction at 15 miles-per-hour. Almost exactly in the middle of the Atlantic Ocean between North America and Africa, the storm was forecasted to move in a northeast curve, remaining away from land.
With maximum sustained wind speeds of 125 miles-per-hour, the storm was classified as a Category 3 hurricane on the Saffir-Simpson wind scale. Once a storm reaches Category 3 status, it's considered a major hurricane. Additional strengthening, according to the NHC, could be possible on Thursday.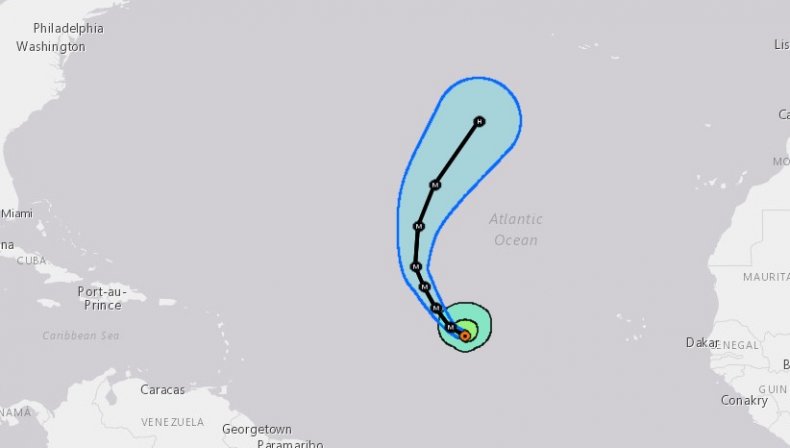 Given that the storm is relatively far from land, there were no watches or warnings in effect.
Along with Lorenzo and Karen in the Atlantic, there are currently two storm systems traveling through the Eastern North Pacific. Both unnamed, one disturbance, which is off the coast of El Salvador, had a 30 percent chance of forming into a cyclone within 48 hours. The other, which was parallel with Mexico, had a 40 percent chance.