Tropical Storm Karen Path: Spaghetti Models Mostly Show Storm Nearing Puerto Rico, Virgin Islands
While Tropical Storm Karen isn't forecasted to make landfall, it could bring heavy wind and rain to multiple islands, potentially causing flash flooding.
Karen formed in the Atlantic Ocean and strengthened into a tropical storm on Sunday morning. With about a month and a half left of Atlantic hurricane season, Karen is the 11th named storm and four have turned into hurricanes.
While the National Hurricane Center (NHC) forecasted some fluctuations in Karen's strength, the organization did not expect it to strengthen enough to become a hurricane. To become a hurricane in accordance with the Saffir-Simpson Hurricane Wind Scale, which categorizes storms, the system must have at least 74-miles-per-hour maximum sustained winds.
Karen, as of Monday morning, had 40 miles-per-hour maximum sustained winds and at its strongest was only expected to reach 70-miles-per-hour wind speeds.
Tropical Storm Karen Path and Forecast
On Monday morning, the NHC placed Karen about 180 miles from St. Vincent and about 290 miles from St. Croix. Moving at about eight miles-per-hour in a northwest direction, Karen was forecasted to pass near Puerto Rico and the Virgin Islands on Tuesday. After nearly touching some of the islands, the storm was forecasted to move in a northeast direction until Thursday when it was expected to turn northwest.
Although the storm wasn't forecasted to make landfall, tropical-storm-force winds extend outward up to 105 miles. Ahead of the storm's passing, the NHC issued a Tropical Storm Warning for the U.S. Virgin Islands and Puerto Rico and a Tropical Storm Watch for the British Virgin Islands.
During a Tropical Storm Warning, conditions are likely within the warning area within 36 hours, whereas during a watch, conditions are possible.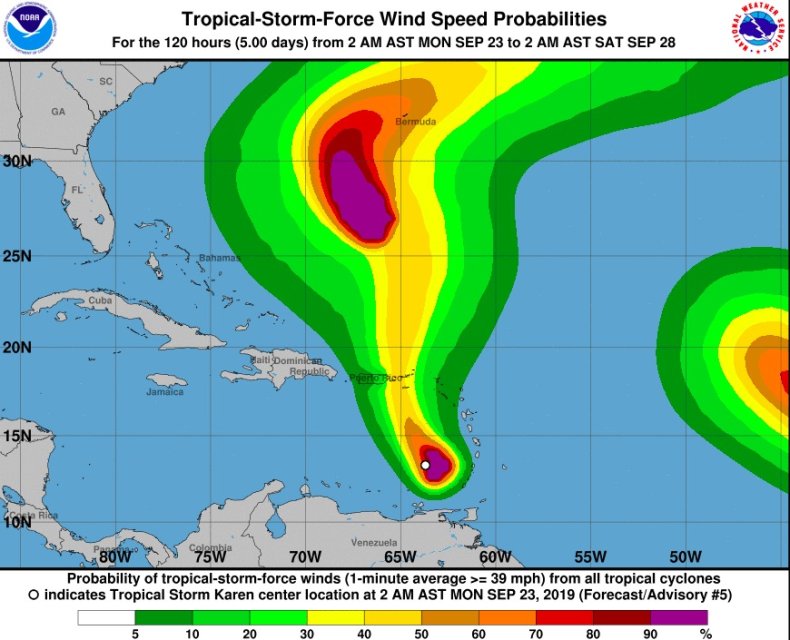 Through Wednesday, the Windward Islands were expected to experience one to two inches of rain with eight inches in isolated areas. Puerto Rico and the Virgin Islands could see two to four inches and up to six inches in isolated areas and the Leeward Islands could experience one to three inches.
Rainfall could cause flash flooding and mudslides.
Tropical Storm Karen Spaghetti Models
Spaghetti models are created from multiple track paths, each represented by a thin line. When compiled on one graphic, the lines resemble spaghetti, hence the name, spaghetti model.
A spaghetti model for Karen posted by Cyclocane largely showed the forecasts in agreement with the NHC's predictions. One or two had the storm making a sharp move to the northwest, though, passing over the Dominican Republic.
For the bulk of the storms, however, the storm would continue in a northeast curve before softly turning to the northeast when it became about parallel with Miami. Some tracks, though, had it venturing farther north toward the Sargasso Sea before making a sharp southeast turn toward Florida.