SFWMD Hurricane Model: Spaghetti Models Show Tropical Storm Karen Passing Near Puerto Rico After Earthquake
After Puerto Rico was hit by an earthquake this week, the island will have to deal with severe weather in the form of heavy wind and rain from Tropical Storm Karen.
A magnitude 6.0 earthquake struck in the Atlantic Ocean northeast of San Antonio, Puerto Rico, on Tuesday. Despite not impacting the island directly, people across Puerto Rico reported to the United States Geological Survey (USGS) that they felt the tremor. At times, an earthquake can be the catalyst to a tsunami, but the USGS reported there was no threat of a tsunami to Puerto Rico or the east coast of the United States.
While the USGS predicted there was little chance of a landslide due to the earthquake, Puerto Rico could experience mudslides brought on by heavy rain from Tropical Storm Karen.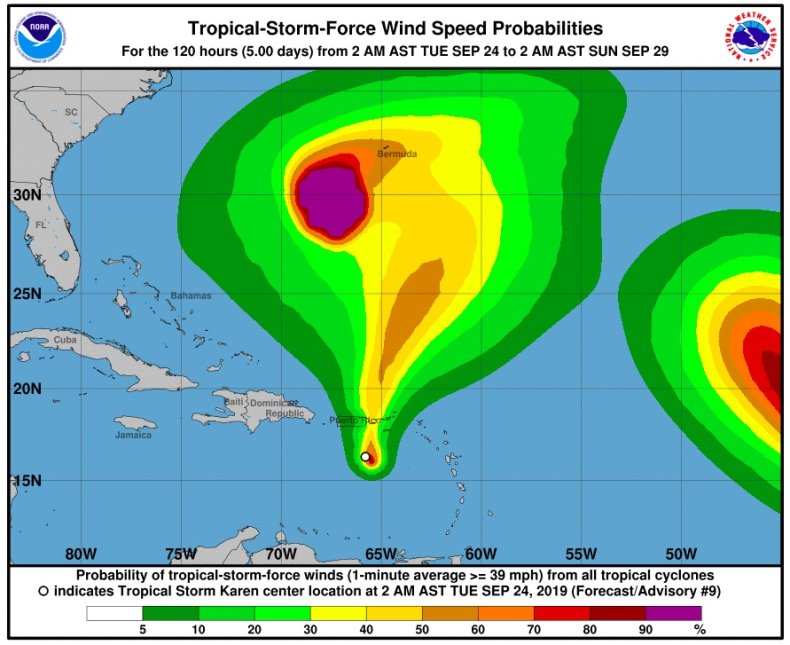 On Tuesday morning, the National Hurricane Center (NHC), reported Karen was about 85 miles south of San Juan, Puerto Rico, and moving at about seven miles per hour in that direction. The center of Karen was expected to pass near Puerto Rico and the Virgin Islands before moving over the western Atlantic on Tuesday night and into Wednesday.
One way people monitor the path of a storm is through spaghetti models. A spaghetti model is a collection of projected paths for the storm that are represented by individual lines. When combined on one screen, the lines resemble spaghetti, hence the name.
Sometimes referred to as spaghetti plots or hurricane model plots, one released by the South Florida Water Management District largely showed Karen passing near Puerto Rico and then heading northeast. When the storm became about parallel with Miami, the models generally agreed it would make a turn to the northwest but remain far from Florida.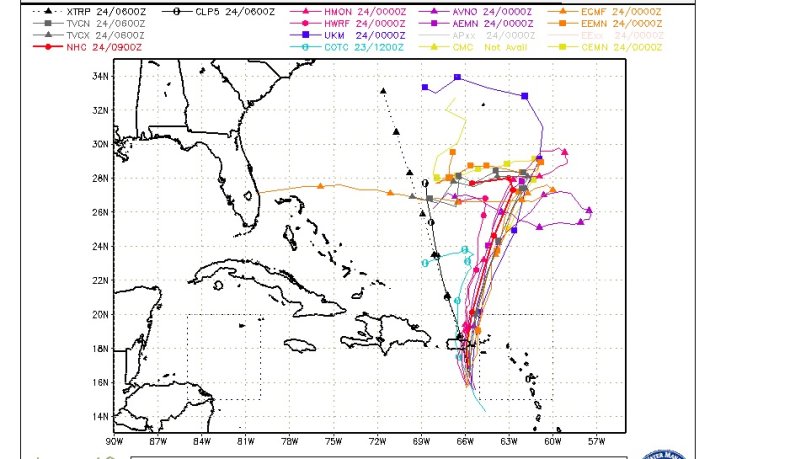 The storm wasn't projected to hit the island directly but Karen's impact could still be felt in Puerto Rico. The island was expected to receive two to four inches of rain with isolated areas seeing eighth inches. The rain could cause flash flooding and mudslides, according to the NHC.
"The rainfall and potential flooding will likely continue on Wednesday even as the center of Karen moves away from Puerto Rico and the Virgin Islands," the NHC stated.
On Tuesday morning, Puerto Rico was under a Tropical Storm Warning, which indicates that conditions were expected to occur within the area. Heavy wind was also expected for the island and tropical-storm-force winds extended outward up to 80 miles from the storm's center.
After moving away from Puerto Rico, the NHC didn't forecast Karen would strengthen greatly. With maximum sustained winds of 40 miles-per-hour, the storm would require an increased wind speed of 34 miles-per-hour to become a hurricane on the Saffir-Simpson scale.