Tropical Storm Laura, Marco Evacuations: Louisiana Residents Told to Leave Ahead of Landfall
Update: 2:47 p.m. EDT—Port Arthur, Texas, Mayor Thurman Bartie announced a mandatory city-wide evacuation order to begin at 6 a.m. Tuesday. The Cameron Parish Office of Emergency Preparedness also issued a mandatory evacuation beginning at 1 p.m. on Monday for the Intracoastal Waterway of Johnson Bayou, Holly Beach, Cameron, Creole, Grand Chenier and Big Lake and areas south of Kelso Bayou Bridge in Hackberry, Louisiana. Residents outside the mandatory evacuation should prepare to evacuate if needed.
Original story:
Two different tropical storms could bring heavy rainfall and wind to the gulf coast of Louisiana, prompting officials to tell residents to leave or be ready to leave their homes.
Tropical Storm Marco is forecast to move along the coast of Louisiana on Monday afternoon, bringing with it the possibility of dangerous storm surges and flooding. By Thursday, Tropical Storm Laura could hit the same area, creating a prolonged period of severe weather.
Officials in five parishes issued mandatory and voluntary evacuation orders for residents that began on Sunday. In Jefferson Parish, located on the border of New Orleans, Grand Isle Mayor David Camardelle and Jean Lafitte Mayor Timothy Kerner enacted mandatory evacuation orders for Grand Isle, Jean Lafitte, Lower Lafitte, Crown Point and Barataria. An evacuation center was set up at Raceland Recreation Center in Raceland.
Lafourche Parish President Archie Chaisson also required residents and businesses south of the Leon Theriot Flood Gate to evacuate on Sunday.
With a possible four to six feet of coastal flooding from the storms, residents living outside levee protection in Orleans Parish were encouraged to voluntarily evacuate by Sunday evening. This included those living in Venetian Isles, Lake Catherine and Irish Bayou.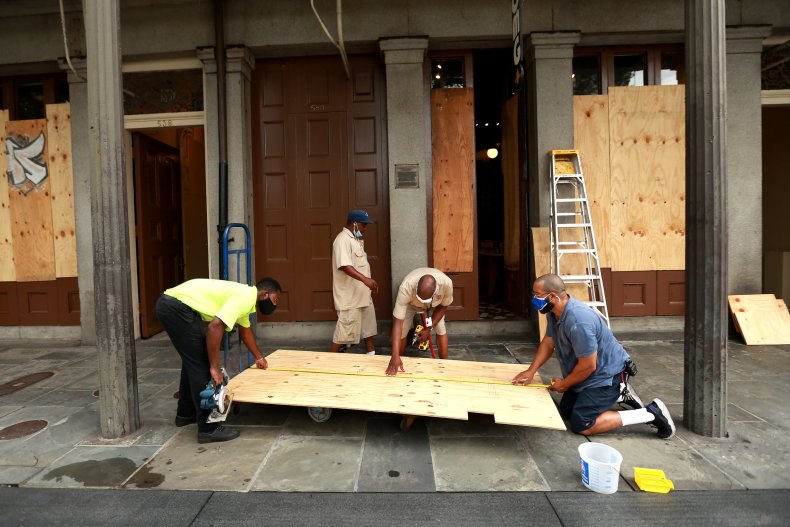 A mandatory evacuation order was in place for the entire Eastbank of Plaquemines Parish and the Westbank from Phillips 66 Alliance Refinery to Venice. Plaquemines Parish Sheriff Gerald A. Turlich, Jr. also implemented a nightly curfew from sunset until sunrise in mandatory evacuation areas.
Residents within Zone 1 of Terrebonne Parish were required to leave their homes and a voluntary evacuation order was in place for Pointe-aux-Chenes.
Marco strengthened to become a hurricane on Sunday but weakened and was downgraded to a tropical storm about 11 hours later. Laura, which became a tropical storm on Friday, is expected to strengthen and be a hurricane when it makes landfall in Louisiana, according to the National Hurricane Center (NHC).
Storm surge warnings were in effect for Morgan City, Louisiana, to Ocean Springs, Mississippi, and Lake Borgen. Intracoastal City to the Mississippi/Alabama Border, Lake Pontchartrain, Lake Maurepas and Metropolitan New Orleans were under tropical Storm Warnings.
It's likely a hurricane watch will be put in place for portions of the Gulf coast by Monday evening, the NHC reported. A hurricane watch indicates that hurricane conditions are possible within the area and people should prepare for evacuation in the event it's necessary.
The NHC stressed that rising water from Tropical Storm Marco posed a "life-threatening situation."