Tropical Storm Leslie's Path, Forecast: Predicted to Become Hurricane, Where is it Headed?
Bermuda, the Bahamas and parts of the southeastern United States could be facing hurricane-force winds and rain if Tropical Storm Leslie fulfills forecasters' predictions and turns into a hurricane.
Tropical Storm Leslie's strength has fluctuated since it formed more than a week ago, and the National Hurricane Center has forecast it would become a hurricane on Wednesday. In a public advisory issued Tuesday morning, the NHC explained that the storm, which is about 540 miles from Bermuda, is moving toward the southwest at a slow pace of about 7 miles per hour.
Leslie currently has maximum sustained winds of 65 miles per hour and is expected to intensify during the next 48 hours, becoming a hurricane on Wednesday morning. For a storm to be categorized as a hurricane on the Saffir-Simpson Hurricane Wind Scale, it must have sustained winds of at least 74 miles per hour.
Once it becomes Hurricane Leslie, the storm's path is expected to turn north late Wednesday night into Thursday morning. This is expected to be followed by a north-northeast turn on Friday. The storm will likely bring large swells to the southeastern coast of the United States, Bermuda and the Bahamas. Surf conditions and rip currents caused by the hurricane could become life-threatening.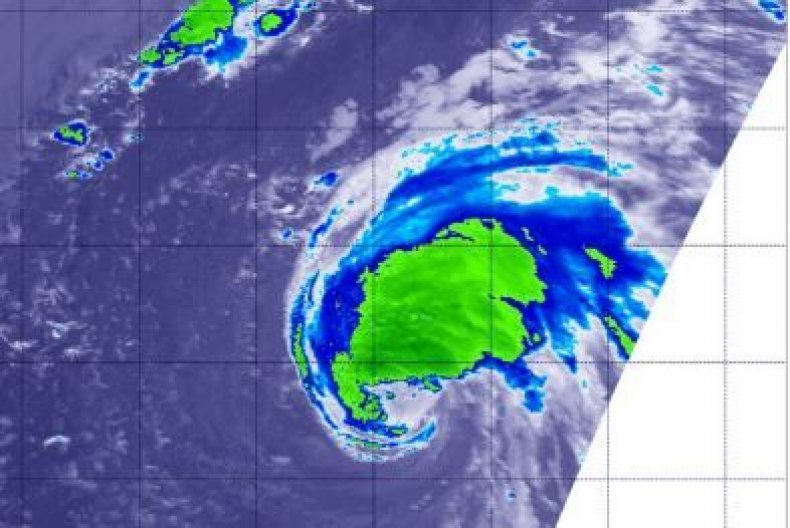 The NHC advisory explained that the Bahamas might experience a brief pause in rough ocean conditions on Tuesday but cautioned that swells would likely increase on Wednesday and Thursday. Dangerous swells could also be experienced farther south in the Greater and Lesser Antilles. Tropical Storm force winds extend 160 miles from the center of the storm.
Tropical Storm Leslie first generated in the Atlantic Ocean on September 23 as a subtropical storm with maximum sustained winds at 35 knots, equal to about 40 miles per hour. After several days of little change in strength, Leslie increased to a slow-moving Tropical Storm that's churning in the central Atlantic Ocean.
NASA's infrared satellite captured an image of Leslie on Monday, which showed that the storm had cold cloud tops with temperatures near minus 63 degrees Fahrenheit. Clouds with that low of a temperature have been found to generate heavy rainfall, according to NASA.
Tropical Storm Leslie is the 12th named storm to form in the Atlantic during the 2018 hurricane season, which runs from June 1 to November 30, according to the NHC, and includes storms in the Atlantic Ocean, Caribbean Sea and the Gulf of Mexico.
During any given season, by October 1, the NHC expects the Atlantic to have experienced about nine named storms and five hurricanes. Only two hurricanes identified as a Category 3 or higher are expected to have occurred by October 1.
During the 2018 hurricane season, Hurricane Florence was the only hurricane labeled a Category 3 or higher. There have been five storms classified as hurricanes during the season if Florence is included.