Tropical Storm Michael Track, Path: When Forecast Predicts It Will Become Hurricane
UPDATE: 10:48 a.m. EDT­­­­­—The National Hurricane Center (NHC) announced in an advisory that Tropical Storm Michael became a hurricane shortly before 11:00 a.m. EDT. The storm had maximum sustained winds of 75 miles per hour, making it a Category 1 hurricane.
Continued strengthening is expected and heavy rainfall and strong winds were already spreading across western Cuba. Storm surges from the storm were expected to pose life-threatening dangers to residents.
Original story:
Florida could be facing a major hurricane this week, as Tropical Storm Michael is expected to gain strength and hit the Sunshine State.
The National Hurricane Center (NHC) announced Monday that the tropical storm had almost reached hurricane strength and could even be at or near major hurricane strength by Tuesday night, when it is expected to approach northwestern Florida.
Tropical Storm Michael had maximum sustained winds of 70 miles per hour as of Monday morning but was expected to become a hurricane later in the day. For a storm to be classified as a hurricane on the Saffir-Simpson Hurricane Wind Scale, it must have maximum sustained winds of at least 74 miles per hour.
The storm is located about 90 miles from Cozumel, Mexico, and about 100 miles from the western tip of Cuba. Ahead of Michael possibly becoming a hurricane, the government of Cuba issued a hurricane warning for Pinar del Río. A tropical storm warning was also in place for Isle of Youth in Cuba and from Tulum to Cabo Catoche along the coast of Mexico.
A hurricane warning, as described by the NHC, means that hurricane conditions are expected within the next 12 hours and preparations to protect life and property need to be completed immediately.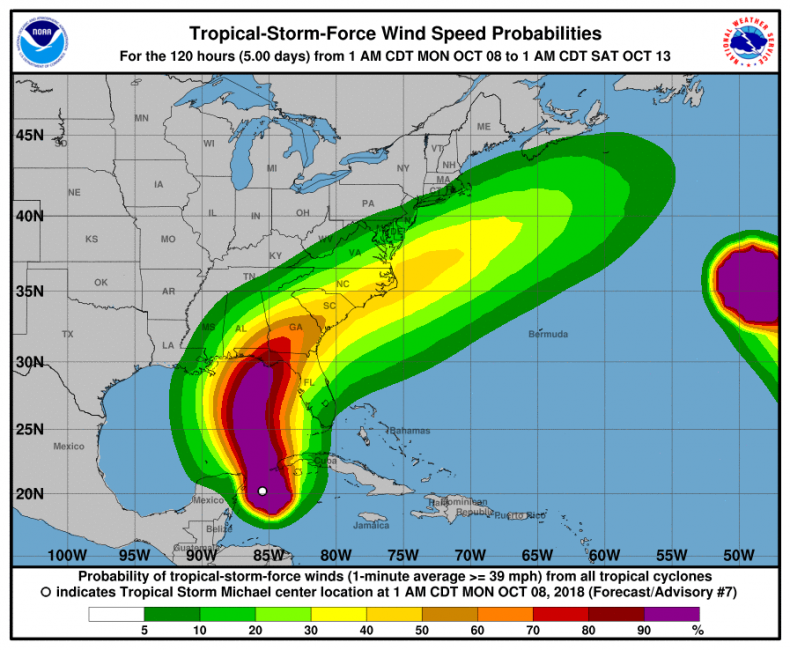 In western Cuba, Michael could bring 4 to 8 inches of rain, with up to 12 inches in certain isolated areas, which could lead to life-threatening flash floods and mudslides.
Michael began as a disturbance in the Atlantic Ocean and became a tropical storm over the weekend. It is moving north at about 7 miles per hour and is expected to work its way Monday across the Yucatán Channel connecting the Yucatán Basin in the Caribbean Sea with the Gulf of Mexico. It is expected to then move across the eastern Gulf of Mexico from Monday evening until Wednesday, reaching major hurricane strength Tuesday night.
A hurricane is considered a major hurricane if it is a Category 3 or higher, according to the NHC. During a Category 3 hurricane, the storm will have sustained winds of at least 111 miles per hour and "devastating damage" is expected. Trees will be snapped or uprooted, well-built framed houses can be damaged, and electricity and water may be unavailable for days or weeks.
Michael is expected to move inland, hitting the Florida Panhandle or Big Bend on Wednesday. The NHC issued a tropical storm watch for the area from the Suwannee River to Anna Maria Island in Florida, as well as the area from the Alabama-Florida border to the Mississippi-Alabama border. The area from Navarre, Florida, to Anna Maria Island was also placed under a storm surge watch.
During a storm surge watch, residents face potentially life-threatening flooding during the 48 hours following the watch being issued.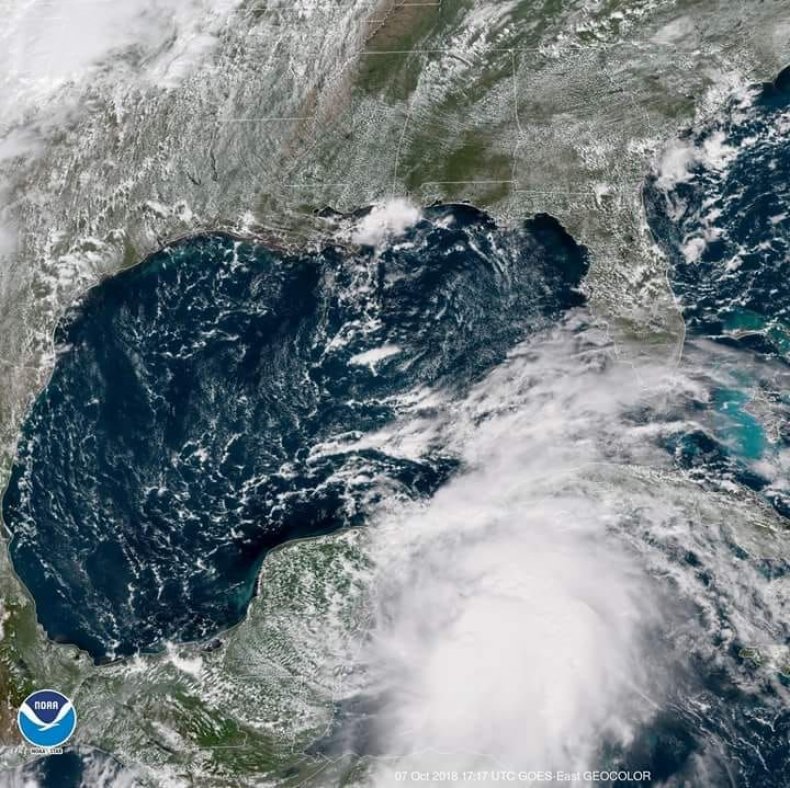 The NHC issued a hurricane watch for the Alabama-Florida border to the Suwanee River in Florida and Governor Rick Scott declared a state of emergency on Sunday morning. The state of emergency was in effect for the Florida Panhandle and Big Bend. On Monday, he advised residents to ensure they had three days' worth of food, water and necessary medications.
"[Tropical Storm] Michael has the potential to bring devastating impacts to communities across the panhandle and the big bend," Scott tweeted. "Every family must be prepared."
From the Florida Panhandle into Southern Georgia, the impending storm could bring 4 to 8 inches of rain, according to the NHC, with as much as 12 inches in certain areas.
Tropical Storm Michael became a named storm on Sunday. Michael is the 13th named storm during the 2018 Atlantic hurricane season.
During any given season, the NHC expects the Atlantic to have nine named storms and five hurricanes between the months of June and November.