Tropical Storm Miriam Path: Hawaii's Hurricane Lane Has a Successor
Just days after Hawaii appeared to avoid the worst from Hurricane Lane, a new tropical storm has formed in the Pacific.
Tropical Storm Miriam has formed about 2,000 miles east of Hawaii, with maximum wind speeds of around 60 miles per hour. According to the National Hurricane Center (NRC), Miriam is strengthening and is expected to turn into a hurricane on Monday night.
"Miriam's cloud pattern and overall convective organization have continued to improve, with a tight comma-cloud pattern now evident in infrared imagery," the NRC said in a report. "Steady strengthening still appears likely for the next couple of days."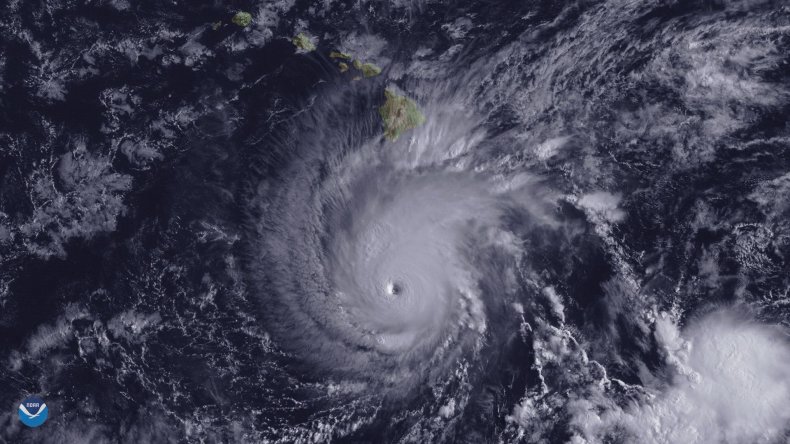 Thankfully, Miriam is not likely to come near Hawaii. Although its current path is expected to track west until Wednesday, Miriam will then begin heading north. At its closest, it should be around 600 miles east of Hawaii.
Tropical storms are upgraded to hurricanes once they exceed wind speeds of 74 miles per hour. Miriam is traveling at a speed of around 14 mph. At the time of this writing, there were no warnings in place for the tropical storm.
While flooding is still a concern with Hurricane Lane, Hawaiians appear to have survived the worst. Although land was never struck, the hurricane did cause severe flooding across the islands. The island of Hawaii (aka the Big Island) suffered severe flooding, landslides and road closures.
Hurricane Lane was originally expected to hit Hawaii, which would have made it the first cyclone to pass land in 26 years. President Donald Trump even declared a state of emergency for Hawaii when the cyclone was expected to hit.
It ultimately missed and traveled west, making torrential rain the biggest concern. The hurricane has since diminished from wind speeds of 125 miles per hour to around 50.
On Sunday, Federal Emergency Management Agency chief Brock Long said it was still important to monitor emergency announcements. "We're going to see torrential rains occur over the next 48 to 72 hours," Long tweeted on Saturday. "If you're in Hawaii, it's critical that you heed the warnings of local officials & stay aware of your surroundings.
Despite those words, surfers in Hawaii have seized the chance to ride giant waves created by Hurricane Lane. Surfer Will Rozier, 24, told Reuters he could barely sleep on Thursday night. "I couldn't even sit down and eat breakfast. I had to throw it all in my car and drive down to the beach and eat it while I was watching the waves and the sun rising," he said.