Tropical Storm Nestor Expected to Form in Gulf of Mexico, Could Affect Florida, Northeastern Gulf Area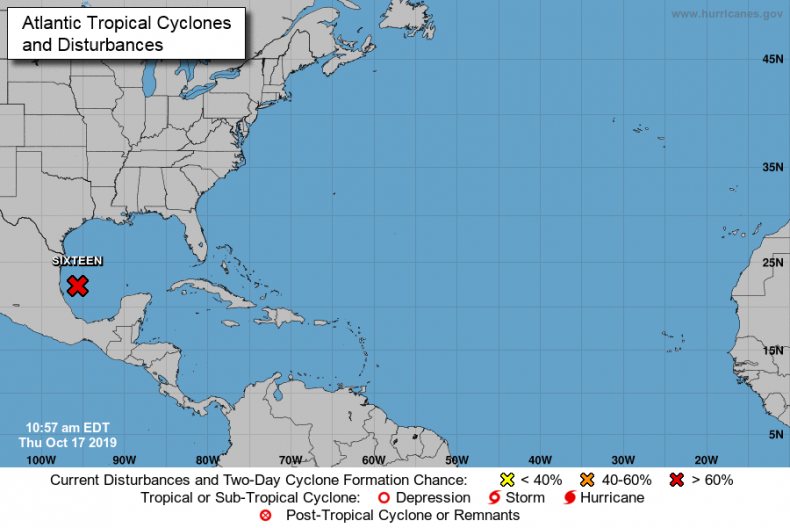 The next tropical storm of the season is forecasted to form on Thursday in the Gulf of Mexico and is predicted to impact northern Florida, according to the National Weather Service (NWS).
If the weather pattern becomes storm enough to be classified as a storm, it will be dubbed Tropical Storm Nestor. The system's conditions are forecasted to bring heavy rain and wind to areas of Louisiana, Mississippi, Alabama and Florida, Florida Today reported.
"Well, here we go again," wrote Tallahassee-based journalist Skip Foster in a Facebook post early Thursday morning. "A late season, fast developing tropical system which is now, according to computer models, aiming at the Florida panhandle."
The latest forecast track shows the system, currently known as tropical cyclone sixteen, approaching the Big Bend coast Friday night and passing over the area by Saturday morning, perhaps as a post-tropical storm.
The system is currently just off Mexico's Gulf Coast and is making its way northeast, according to The Times-Picayune/The New Orleans Advocate. As of this writing, its center is about 630 miles southwest of the mouth of the Mississippi River and it is moving northeast at a pace of eight miles per hour. Meteorologists expect it to reach the northern U.S. Gulf Coast on Friday or Saturday.
Several watches and warnings have been issued to areas around the gulf, according to Florida's CBS-affiliate WINK-TV.
The Mississippi-Alabama border to the Ochlockonee River in Florida and Grand Isle, Louisiana to the Mouth of the Pearl River have been issued a tropical storm warning, meaning the area is likely to face tropical storm conditions within 36 hours.
The area east of the Ochlockonee River to Yankeetown, Florida is under a tropical storm watch, indicating that tropical storm conditions are possible in the the next 48 hours.
The area between Indian Pass, Florida, and Clear Pass, Florida, is under a storm surge warning, meaning that there is a chance of a life-threatening flooding within the next 48 hours.
Residents who live on the northern and northeastern Gulf Coast were urged to monitor the progress of this system, the Hurricane Center said.
The hurricane season in the Atlantic basin, which includes the Gulf of Mexico and the Caribbean Sea, lasts from June 1 to November 30, according to the National Hurricane Center. Tropical storms such as what Nestor is predicted to become are reclassified as hurricanes when their winds reach speeds of 74 miles per hour or 119 kilometers per hour, according to NASA.