Tropical Storm Nestor: Tornado Watch Issued for Much of Northern and Central Florida
The National Weather Service (NWS) has issued a Tornado Watch alert for much of northern and central Florida as Tropical Storm Nestor moves northeastwards in the Gulf of Mexico.
The alert is in effect until 12 p.m. Eastern for the following counties: Alachua, Bradford, Brevard, Charlotte, Citrus, Clay, Desoto, Flagler, Gilchrist, Hardee, Hernando, Highlands, Hillsborough, Lake, Lee, Levy, Manatee, Marion, Orange, Osceola, Pasco, Pinellas, Polk, Putnam, Sarasota, Seminole, St. Johns, Sumter and Volusia.
A Tornado Watch means that tornadoes are possible in and near the affected areas, so residents should be prepared.
"Review and discuss your emergency plans and check supplies and your safe room," the NWS recommends. "Be ready to act quickly if a warning is issued or you suspect a tornado is approaching. Acting early helps to save lives!"
According to the National Hurricane Center (NHC,) a few tornadoes are possible through midday in the northern and central Florida Peninsula, and later today and this evening in coastal areas of Georgia and the Carolinas.
Tropical storms often provide the perfect conditions for tornadoes to form when they make landfall, although these are usually relatively weak and short-lived. However, this does not mean that they cannot pose a danger to life and property.
Some tornadoes have already occurred as Nestor approaches land. On Friday evening, a tornado formed near St. Petersburg, Florida, damaging several manufactured homes. Another formed later in the evening near Lakeland International Airport in the center of the state, disrupting traffic on Interstate 4, The Weather Channel reported.
Furthermore, the NWS reported that a waterspout had formed about 20 miles southwest of North Port on Florida's west coast.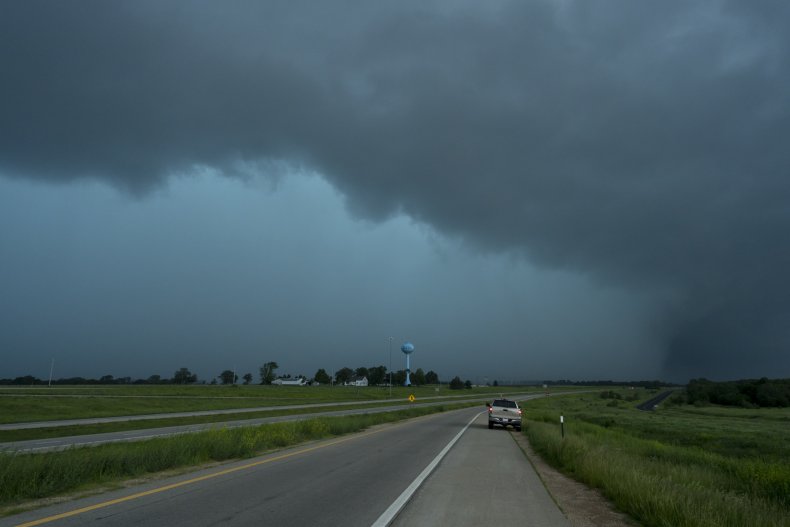 The NHC say that Nestor will make landfall over the Florida Panhandle this morning, The storm is located around 75 miles southwest of Apalachicola, as of 5 a.m. ET, and is moving northeastwards at 17 miles per hour, with maximum sustained wind speeds of 50 miles per hour.
According to the NHC, winds and storm surge will affect much of the Florida Gulf Coast, although the storm is gradually losing its tropical characteristics. It will also bring heavy rainfall, which, along with storm surges, could cause flooding.
"Given that much of the convection is displaced to the east of the center, the effects of the storm will also be experienced well to the east across much of the Florida Peninsula with widespread showers and storms on Saturday," an NHC statement said.
"From there it is expected to accelerate in forward motion and then become post tropical as it crosses the Southeast U.S. through Saturday night. Heavy rainfall is expected from northern Florida to southeast Virginia as a result, with aerial totals on the order of 2 to 4 inches likely that may lead to some flooding issues," according to the statement.