Tropical Storm Nicholas Leaves Over 500K Without Power, 'Life-Threatening Floods' Expected
Tropical Storm Nicholas has left more than 500,000 people in Texas without power as of Tuesday morning, and the National Hurricane Center warned the storm could still "cause life-threatening flash floods across the deep South during the next couple of days."
The storm hit the Texas coastline hardest in the early hours of Tuesday, with high winds, a dangerous storm surge and heavy tropical downpours that caused widespread flooding.
The National Hurricane Center also put a storm surge warning into effect Tuesday for parts of the region. The warning said there is "a danger of life-threatening inundation, from rising water moving inland from the coastline, during the next 36 hours in the indicated locations."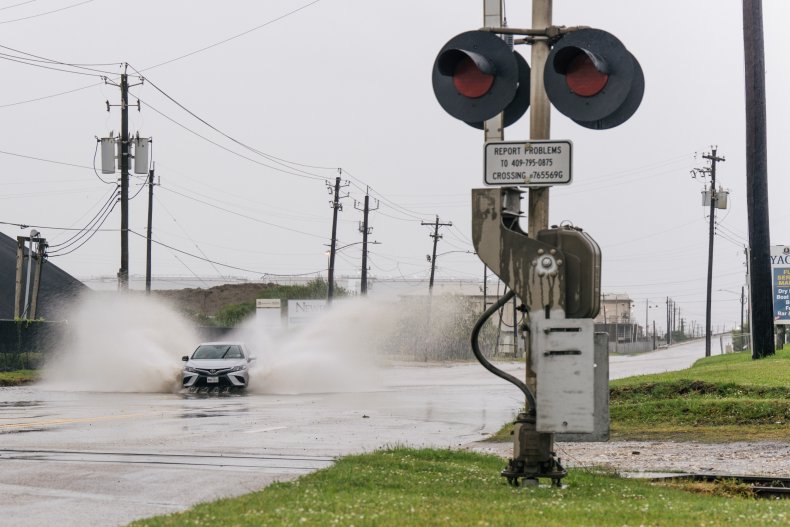 Nicholas first touched down in Texas along the eastern part of Matagorda Peninsula as a Category 1 hurricane at around 12:30 a.m. Tuesday but was downgraded to a tropical storm by the early morning, according to the National Weather Service.
The storm's wind speeds were recorded at 78 mph at Magnolia Beach, while Galveston received the highest amount of rainfall for the Houston area, with nearly 14 inches of rain before 5 a.m.
Texas Governor Greg Abbott had already signed an emergency declaration on Monday. He warned residents to be prepared for "extreme high-water events, including flooding and potential damage caused by the rainfall."
The governor also cautioned people about traveling.
"It seems like every time we have heavy rain in the Houston area there are people who do drive into high water, and they sometimes lose their vehicles, and even worse, sometimes lose their lives. Your life is the most important thing that you have," Abbott said. "Be cautious as you travel about the Houston area in the Harris County area for the next few days."
Flight-tracking website FlightAware reported that more than 330 flights into or out of Houston's William P. Hobby and George Bush Intercontinental airports had been canceled for Tuesday. Port Houston also announced all terminals will be closed Tuesday to vessels "due to the continued effects of Hurricane Nicholas and widespread power outages."
Four years ago, the Houston area was hit hard by Hurricane Harvey. That Category 4 storm was responsible for the highest hurricane death toll in Texas since 1919, with 68 fatalities.
Nicholas is expected to move through southeastern Texas on Tuesday before heading to southwestern Louisiana later Wednesday, where the National Hurricane Center predicted the storm will weaken.
A state of emergency has also been declared in Louisiana, and the latest storm is expected to impede recovery efforts related to Hurricane Ida, which tore through the area two weeks ago.
"The most severe threat to Louisiana is in the Southwest portion of the state, where recovery from Hurricane Laura and the May flooding is ongoing," Louisiana Governor John Bel Edwards said in a Monday statement.
"In this area, heavy rain and flash flooding are possible," Edwards continued. "However, it is also likely that all of South Louisiana will see heavy rain this week, including areas recently affected by Hurricane Ida."