Tropical Storm Rosa Path: Will Rosa Become a Hurricane?
A system forming off the coast of Mexico has the potential to turn into a hurricane, according to the National Hurricane Center. Tropical Storm Rosa was expected to undergo "rapid strengthening" on Wednesday.
The storm was moving west-northwest Wednesday morning at about 10 miles per hour and was expected to continue the same direction until the weekend. Forecasters expected Rosa to become a hurricane later in the day Wednesday and a major hurricane at some point Thursday.
Wednesday morning the storm had maximum sustained wind speeds of 65 miles per hour, putting it 10 miles below hurricane speed winds on the Saffir-Simpson wind scale. Those winds were tropical storm force and were extending as far as 60 miles per hour out from the center of the storm.
While Rosa was still at sea Wednesday, the storm was having an impact back on land, creating large swells that could hit the southwest coast of Mexico. Later in the week, those swells were expected to reach up to Baja California Peninsula, according to the NHC.
Large swells could cause large surf that could have the potential to be life-threatening. Rosa could also bring potentially life-threatening rip currents, narrow channels of water that can move as quickly as 8 feet per second. Rip currents can quickly pull a person out to sea, where they can become fatigued and drown.
Anyone caught in a rip current should try to swim parallel to the shore until they're out of the current and can make it back to land at an angle, according to the National Oceanic and Atmospheric Administration.
Those in the areas where the swells from Rosa might hit should keep an eye on their local forecasts through the weekend. Those along the coast should also watch to see if the storm becomes a hurricane, as the NHC predicted Wednesday.
If the storm does make its way up to Baja, it would be the latest hurricane to hit the United States. Hurricane Florence brought record rains and strong winds to the Carolinas earlier in September and several storms in the Pacific have delivered exceptionally rainy conditions to the islands of Hawaii.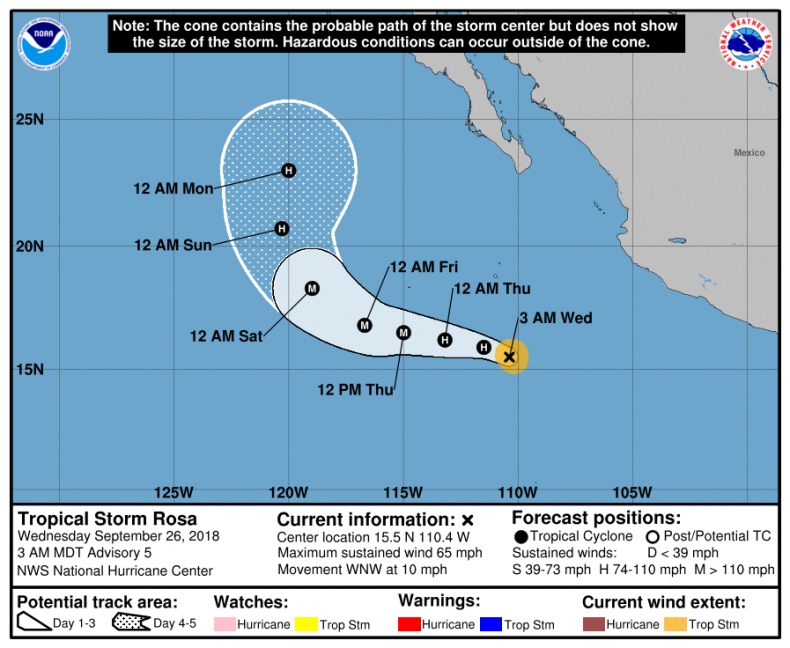 ​​