Tropical Storm Sergio Forms, Tracking West in Pacific; Expected to Become Hurricane Sergio on Monday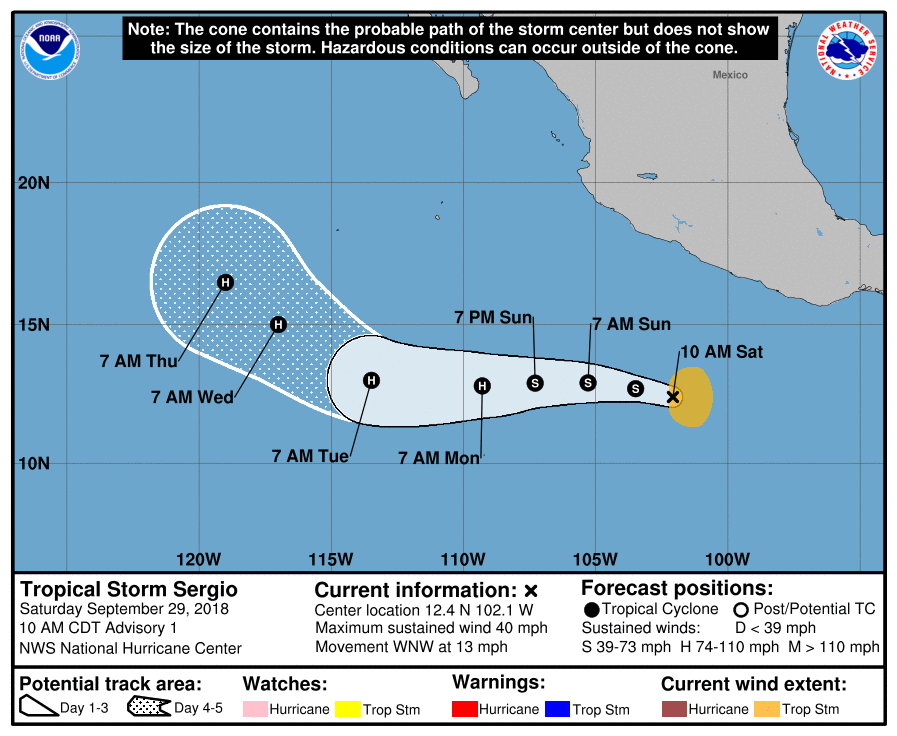 There's a new tropical storm in the Pacific on Saturday after Sergio formed about 345 miles south, southwest of Acapulco, Mexico. Tropical Storm Sergio's path is west, northwest at 13 miles per hour – a track taking it into conditions favorable for strengthening. The National Hurricane Center said Tropical Storm Sergio will likely become Hurricane Sergio by Monday.
The good news is that Sergio currently poses no threat to land and no coastal warnings or watches are in effect.
"Sergio is expected to be in an environment of light vertical shear and high humidity, and over warm sea surface temperatures for the next 3 days or so, which should result in steady strengthening," the National Hurricane Center said Saturday, in the latest forecast models update. "Near the end of the forecast period, the storm may encounter increasing northeasterly shear which could limit intensification. The intensity forecast, which is near the intensity consensus, calls for steady strengthening through 96 h, with Sergio becoming a hurricane by 48 h."
Hurricane Sergio is expected to have maximum sustained winds of 110 miles per hour in five days, making it a Category 2 storm near Category 3 strength. Since Sergio is currently moving away from Mexico and the U.S. it poses no threat to land. The question, of course, is where will it eventually go?
The NHC said it expects Sergio to eventually turn more to the north.
"Sergio should be steered generally westward for the next three days or so by the subtropical ridge over Mexico," the National Hurricane Center said Saturday. "After that time, the cyclone should approach a weakness in the ridge caused by a large mid- to upper-level trough over California, and this should lead to a turn toward the northwest."
The NHC said tropical-storm-force winds extend outward up to 105 miles (165 km) mainly to the east of the center. The estimated minimum central pressure is 1005 mb (29.68 inches).