Tropical Storm Tara Forecast: Heavy Rainfall for Mexico Coast, Possibly Life-Threatening Flash Floods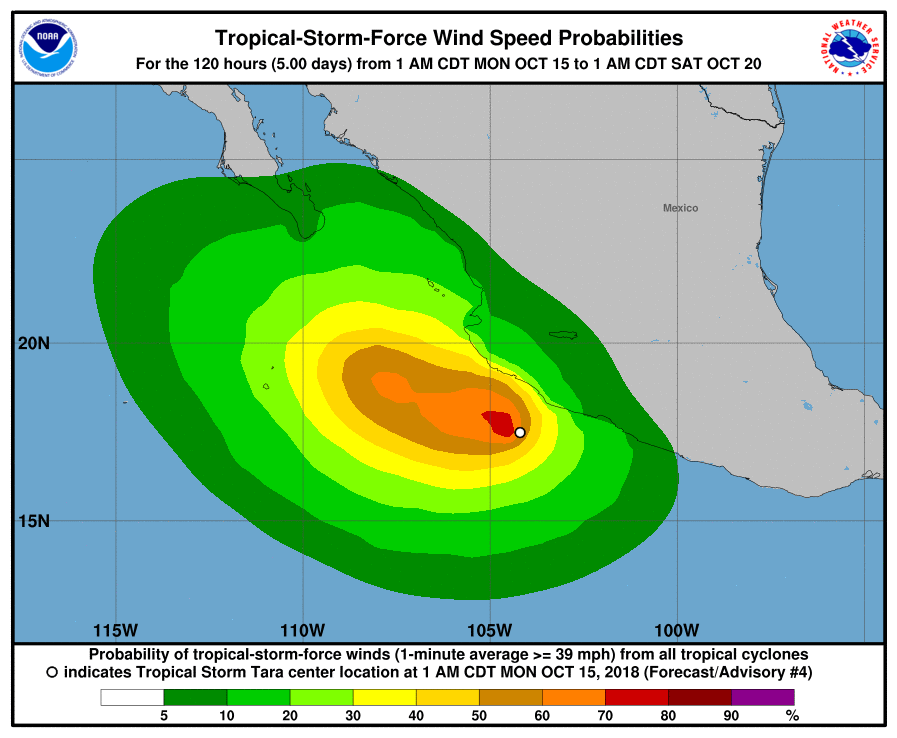 Fifty-seven years after Hurricane Tara claimed the lives of hundreds of people, another Tara is back along the Mexican coast, this time as a tropical storm poised to bring heavy rain and potentially life-threatening flash floods.
On Monday morning, the National Hurricane Center (NHC) said Tara was about 105 miles from Manzanillo, on Mexico's southwestern coast. Moving at a speed of about 2 miles per hour, the storm is expected to continue in a west-northwest motion for the next day or so.
After midweek, Tara is forecast to move westward at a slightly faster pace and remain near or just offshore Mexico's southwestern coast for the next couple of days.
Maximum sustained winds are near 40 mph, and although gradual strengthening is forecast over the next few days, the NHC didn't predict that Tara will strengthen enough to become a hurricane. In accordance with the Saffir-Simpson Hurricane Wind Scale, a storm must have maximum sustained winds of at least 74 mph to be considered a Category 1 hurricane.
The NHC forecast Tara would bring between 3 and 5 inches to the coastal Mexican states of Michoacán, Colima and Jalisco. The storm could also cause up to 8 inches of rain in isolated areas, possibly causing life-threatening flash floods.
"Regardless of how close Tara tracks to southwestern Mexico, heavy rainfall will be the primary threat along the coast of southwestern Mexico due to the system's slow motion, and life-threatening flash flooding will be possible in mountainous areas," the NHC said.
In preparation for the storm moving closer to land, the Mexican government issued a Tropical Storm Watch from Punta San Telmo to Cabo Corrientes, for a total of about 250 miles. A tropical storm watch signals that the area could experience tropical storm conditions.
Tara first formed in the Pacific on Sunday as Tropical Depression 22E and became a named storm on Monday morning after strengthening into a tropical storm. Since it formed on Sunday, Tara has moved about 65 miles toward Manzanillo.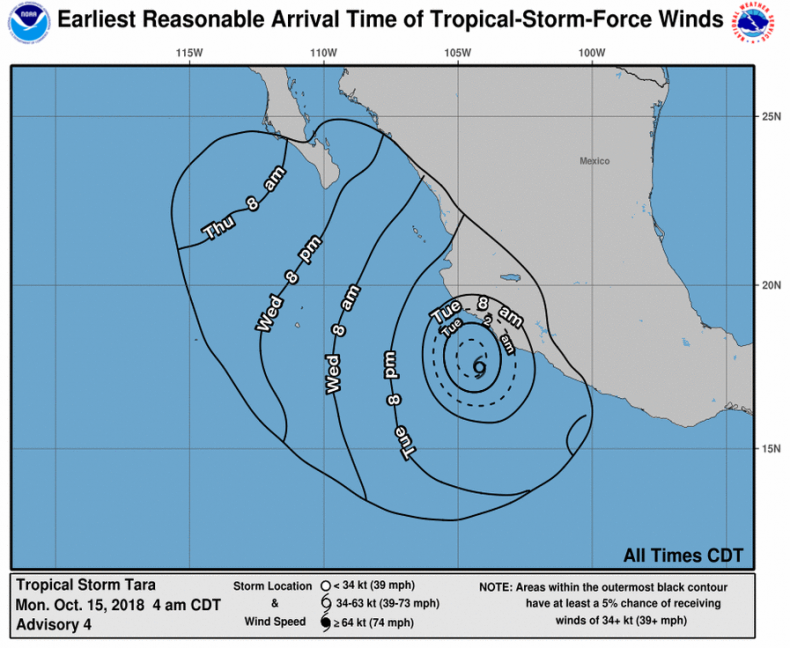 Tara is the 19th named storm of the 2018 Eastern North Pacific hurricane season, 10 of which have turned into a hurricane. Of the 10 hurricanes the Eastern North Pacific has had in 2018, seven have been categorized as a "major hurricane," meaning they reached a strength of a Category 3 or higher.
Hurricane season in the Eastern Pacific runs from May 15 to November 30, according to the NHC. On average, the NHC expects the hurricane season to include about 15 named storms, eight hurricanes and three major hurricanes.
Hurricane Tara hit the west coast of Mexico on November 12, 1961, and killed hundreds of people, according to USA Today.