With Tropical Storm Zeta, 2020 Hurricane Season Breaks Record for Earliest 27th Named Storm
The 2020 Atlantic Hurricane Season has been "extremely active" and with the formation of Tropical Storm Zeta, the season has now broken the record for earliest 27th named storm.
Early Sunday morning, the cyclone went from a tropical depression to a tropical storm, earning it the name Zeta in accordance with the Greek alphabet. The last time a hurricane season produced 27 storms was in 2005, when a tropical storm formed on November 29, later turning into Hurricane Epsilon, the last of 15 hurricanes to occur during the season.
The 2005 season also produced a Zeta storm on December 29, the 28th and final named storm of the season. The storm didn't cause any damage or casualties.
This year's Zeta, however, could produce different results, according to the NHC. Expected to strengthen into a hurricane on Monday morning, the storm is forecast to hit west of Cancun, Mexico, late tonight or early Tuesday morning before making a northeast turn to hit Louisiana and Mississippi the next day.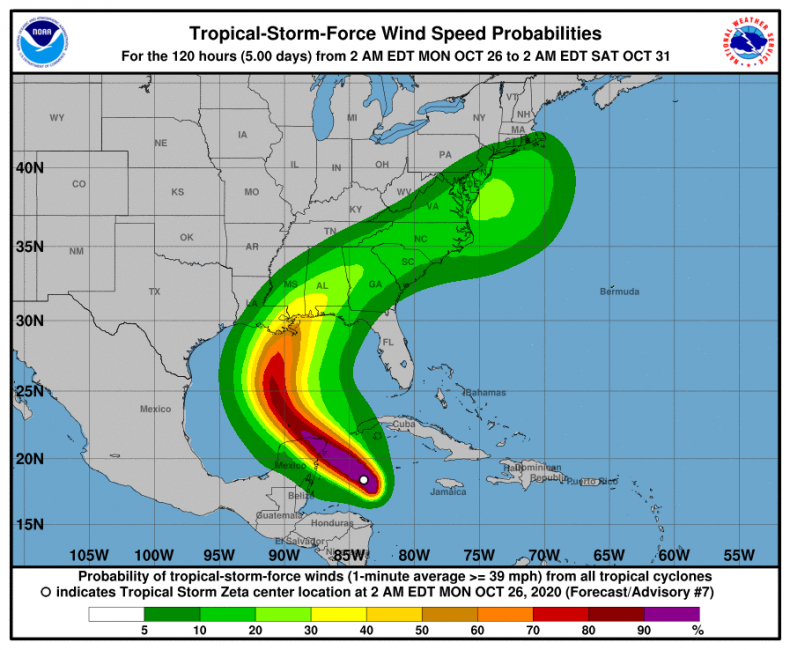 Heavy rainfall, wind and increased risks of storm surges are expected to impact as far east as the Florida panhandle, but the NHC had yet to issue any warnings or watches for the area. A Hurricane Warning was in place for Tulum to Dzilam, Mexico, and Cozumel and a Tropical Storm Warning was issued for Pinar del Rio Cuba, south of Tulum to Punta Allen and west of Dzilam to Progreso.
Louisiana has faced a tough hurricane season with four storms already hitting the state this year. Governor John Bel Edwards posted on Twitter that it was "unfortunate" they face another threat this late into the season. However, he encouraged residents to prepare for the potential impact Zeta could have on the area and cautioned that they only had a few days to make arrangements.
As officials work to find solutions to the potential threat of Zeta, they're helping other areas of the state recover from Hurricanes Laura and Delta. The storms hit in late August and mid-October as a Category 4 and Category 2.
Atlantic Hurricane Season officially ends on November 30 but as was seen in 2005, storms are possible after the season ends. Although the peak of the season is often between August and mid-October, Dan Kottlowski, lead hurricane expert at AccuWeather told Newsweek history shows devastating storms are possible outside those dates, making it important for people to remain vigilant.
"When did Hurricane Sandy occur? Late October. It wasn't a Category 5 hurricane but it was a huge storm that caused massive damage so we can still have a really bad storm into even late October," Kottlowski said. "I want to remind people hurricane season continues through November 30 and you have to leave the door open for a late one."
Why is Zeta the 27th storm this year and not in 2005? A post-season analysis from the NHC found a previously unidentified October subtropical storm, according to the NHC, bumping Epsilon from the position of the 26th named storm to the position of the 27th named storm.
Kottlowski noted that it's possible for the 2020 Atlantic Hurricane Season to produce an Eta-named storm, the first time in recorded history that it occurred.