Tropical Storm Zeta Path, Tracker As Hurricane Warning Issued Ahead of U.S. Landfall
Tropical Storm Zeta strengthened into a hurricane in the Caribbean on Monday and residents in some southeastern states—Louisiana, Alabama, and Georgia—are being urged to prepare for severe weather conditions.
Zeta, which has been classified a Category 1 storm, made landfall on Mexico's Yucatan Peninsula last night. Wind speeds reached 80mph, the National Hurricane Center (NHC) reported.
The storm is forecast to move into the Gulf of Mexico on Tuesday before making landfall again—this time at near hurricane strength—in Louisiana on Wednesday. It is predicted to hit somewhere between the Mississippi River Delta and the city of Mobile in Alabama.
The NHC warned on Tuesday: "Hurricane conditions and life-threatening storm surge are expected along portions of the northern Gulf Coast by late Wednesday and Storm Surge and Hurricane Warnings are in effect".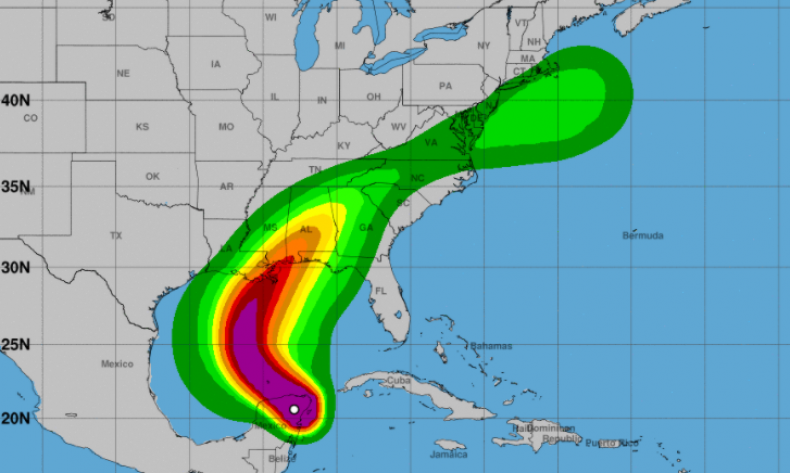 New Orleans is bracing for impact. Residents there are being asked to stock up on supplies and carry-out voluntary evacuations of areas including Irish Bayou, Venetian Isles, and Lake Catherine.
Heavy rain, tropical storm force winds (35mph or more) and four to six feet of flooding is forecast for some coastal areas. The City of New Orleans said it will be providing sandbags between 8 a.m. and 12 p.m. (noon) on Tuesday, and offering neutral ground parking from 6 p.m.
Residents of the city are being urged to sign up for SMS updates by texting ZETA to 888777. Subscribers who received texts for Delta, Beta, Sally, Laura, Marco, or Cristobal will automatically be subscribed.
On Sunday, Louisiana Governor John Bel Edwards tweeted: "It is unfortunate we face another tropical threat this late in a very active season. We must roll up our sleeves, like we always do, and prepare for a potential impact to Louisiana."
He later added that safeguarding against the storm during the coronavirus pandemic was "challenging" but "something we can handle."
The storm is expected to weaken as it moves towards Alabama, where forecasters expect heavy rain, strong winds and the possibility of tornadoes.
Zeta is then expected to move into northern Georgia, with heavy rain forecast for Atalanta overnight until Thursday morning.
WSB-TV2 meteorologist Brad Nitz predicts rainfall in Georgia will range from two to five inches. A flash flood watch has been issued for the north of the state on Wednesday, when there will be heavy rains and 30-45mph gusts are possible.
Weak tornados may also occur and the storm could take down power lines and trees in the worst-affected areas, Nitz said. He added that conditions were expected to calm up on Friday, when dry weather is forecast.
Zeta is the 11th hurricane of the 2020 Atlantic hurricane season and will set the record for most named storms in Louisiana in one season.