The U.S. Gulf Coast is expected to be hit by two tropical storms this week; Tropical Storm Marco and Tropical Storm Laura.
Tropical Storm Marco has weakened from a hurricane and is moving north-northwest, with the center of the storm located at around 300 miles southeast of Morgan City, Louisiana, as of late Sunday night.
Tropical Storm Laura, which is strengthening, is moving west-northwest and was located 125 miles southeast of Camaguey, Cuba, late on Sunday.
Tropical Storm Marco
Tropical Storm Marco has weakened from a hurricane and the Hurricane Watch has been canceled for Iberia, St. Mary, and Vermilion, Louisiana.
However, a Tropical Storm Warning is in effect for Acadia, Jefferson, Davis, Lafayette, Lower St. Martin, and Upper St. Martin, while a Tropical Storm Warning and Storm Surge Watch are in effect for East Cameron, Iberia, St. Mary, and Vermilion. A Storm Surge Watch is also in effect for West Cameron.
As of 10.39 p.m. CDT on Sunday, the Tropical Storm was around 300 miles southeast of Morgan City, Louisiana, with a storm intensity of 70 mph, moving north-northwest at 12 mph. It is expected to turn toward the west-northwest and decrease in forwarding speed once it moves inland on Monday.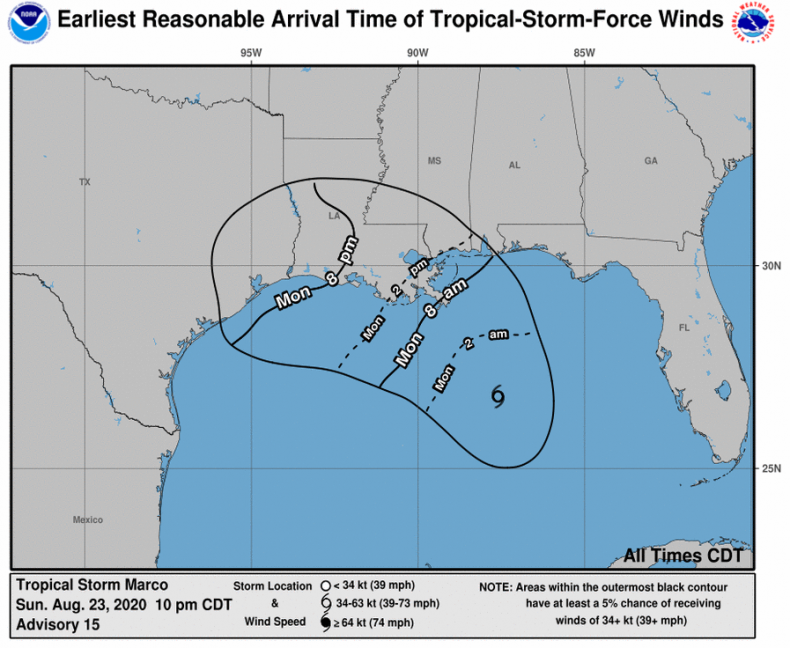 Heavy rain could result in flash flooding in certain areas, while storm surge and coastal flooding will be possible along the Louisiana and Mississippi coastline, including sounds and tidal lakes.
Gusty winds could blow around loose objects which could result in isolated power outages.
The impacts of Tropical Storm Marco could make preparations for Tropical Storm Laura more difficult.
Tropical Storm Laura
On Sunday, Tropical Storm Laura was moving west-northwest at 21 mph, with this general motion expected to continue through Monday. Laura was located around 125 miles southeast of Camaguey, Cuba, or around 450 miles southeast of Key West at 11 p.m. ET on Sunday.
As Laura tracks across Cuba, intensification will be limited, before the tropical storm exits the western tip of Cuba late on Monday evening. It will then continue moving west-northwest and will steadily intensify and will likely become a hurricane over the deep and warm waters of the Gulf of New Mexico.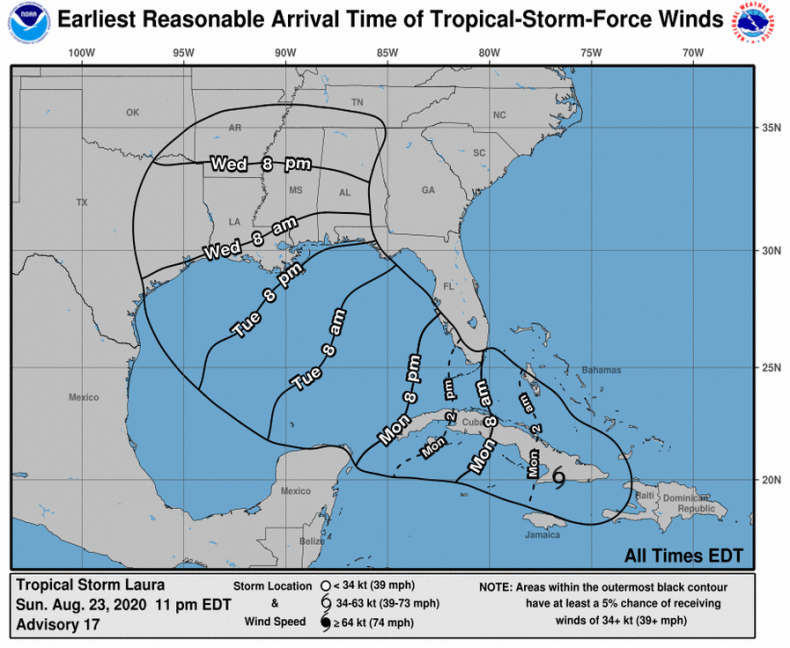 The Florida Keys have been spared a direct hit from Tropical Storm Laura, but tropical storm conditions will be possible across the Lower and Middle Keys, especially Monday through Monday night. Southeast winds will increase to 25-30 mph, and occasional gusts could reach 40-45 mph.
Laura will pass close enough to the Dry Tortugas that Tropical Storm Warning is in effect.
Tropical Storm Force winds will be possible, as will damaging wind gusts from thundery squalls, minor coastal flooding, and isolated tornadoes.
The thundery squalls will race to the west-northwest Monday and Monday night at speeds of 40-45 mph. The most intense squalls will be capable of damaging wind gusts 50 to 55 mph or greater.
The National Weather Service warns that strong winds will contribute to minor coastal flooding and overwash along ocean-side shorelines. Tidal anomalies are currently running up to three-quarters of a foot above normal and Laura could bring in one foot or more of additional saltwater flooding, especially along south and east-facing shorelines and canals.
The period of concern will be with the high tides on Monday afternoon and late Monday night. Isolated tornadoes will also be possible Monday and Monday night, particularly when the Keys come under the favored northeast quadrant of the tropical storm.
However, Monroe County Emergency Management currently has no evacuation orders in effect for the Keys.
On Sunday, Louisiana Gov. John Bel Edwards said: "You have until nightfall this evening to finish your preparations for Hurricane Marco and Tropical Storm Laura. Wherever you are when it gets dark tonight is where you should plan to ride out these storms for at least 72 hours."