Tropical System Off Florida Coast Could Develop Into Storm This Weekend Ahead of Hurricane Season
Meteorologists are watching a tropical disturbance moving through the Straits of Florida that could potentially become the first named storm of the 2020 hurricane season.
Forecasters with the National Hurricane Center said Thursday that the tropical system has about a 40 percent chance of strengthening into a tropical storm over the weekend, and a 70 percent chance of strengthening over the next five days.
The cluster of cloudiness and thunderstorms, which is in the Straits of Florida and moving northeast into the Atlantic, could become a subtropical storm or become Tropical Storm Arthur.
Forecasters with the National Weather Services are predicting storms and possible flooding for South Florida with wind gusts up to 35 miles per hour, as it continues to move in a northeasterly path over the next several days.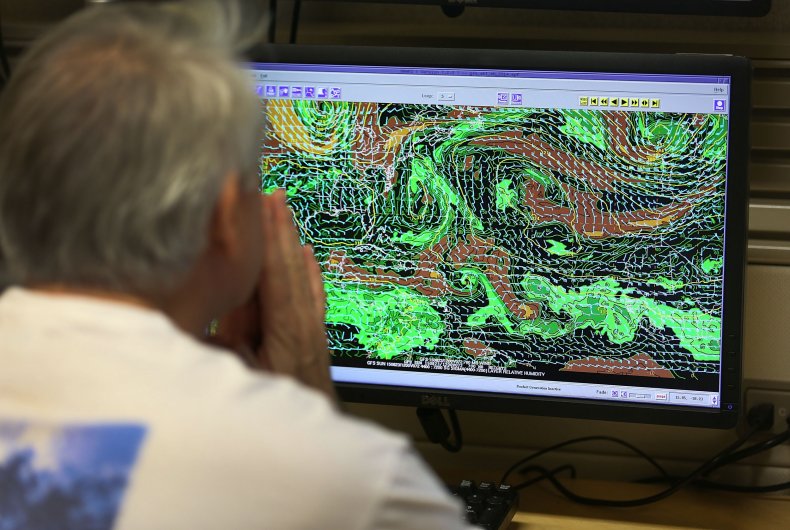 As the storm develops, it could skirt the east coast of Florida before it is pulled out into the Atlantic, and will not make landfall in the U.S., CNN reported.
"This potential storm is not likely to become a full hurricane," CNN meteorologist Chad Myers said. "Still, with ocean temperatures above normal most of the year, the middle of May will likely become the new start of tropical storm season."
The U.S. Atlantic hurricane season officially begins June 1 and lasts until the end of November, but tropical storms or hurricanes typically have no timetable for forming.
If the tropical disturbance becomes Tropical Storm Arthur, it would be the sixth named storm to form ahead of the official start of hurricane season since 2015.
Tropical Storm Ana was the first early storm to form in May 2015, followed by Hurricane Alex in January 2016 and Tropical Storm Bonnie in May 2016. Tropical Storm Arlene formed in April 2017, succeeded by Tropical Storm Alberto in May 2018 and Tropical Storm Andrea from last year.
Meteorologists have predicted an active hurricane season for 2020, with as many as 16 named storms and eight hurricanes, with four of them considered major hurricanes of Category Three or greater.
Dennis Feltgen, a communications and public affairs officer at the National Hurricane Center, said this could be the most active season since 2005--when the 27 named storms, of which 14 were hurricanes, formed in the Atlantic.
Four of those storms--Hurricanes Dennis, Katrina, Rita and Wilma -- were among the most destructive storms on record and caused billions in damages along the Gulf Coast and Atlantic seaboard.
The 2005 hurricane season also produced a record number of storms late in the season with six named storms forming in October.