Tropics Watch: Track Tropical Storms Fernand, Gabrielle As Dorian Moves up East Coast
As Tropical Storm Fernand makes its way across Mexico, farther east, Hurricane Dorian and Tropical Storm Gabrielle are working through the Atlantic Ocean.
Hurricane Dorian is the strongest of the three systems and made landfall in the Bahamas as a Category 5 on the Saffir Simpson wind scale. Now a Category 2 storm, it's is making its way up along the East Coast of the United States, expected to bring heavy rain and wind to Florida, Georgia, the Carolinas and parts of Virginia.
Southeast of Dorian, Tropical Storm Gabrielle is moving northwest across the Atlantic and farther west, in the Gulf of Mexico, Fernand made landfall on Mexico's East Coast.
Three months into the 2019 Atlantic Hurricane Season, which runs from June through November, there have been seven named storms. Subtropical storm Andrea and Tropical Storms Chantal and Erin were short-lived and Hurricane Barry made landfall in Louisiana as a Category 1 hurricane.
While Gabrielle poses little threat to human life and most of the attention is on Dorian, those located in northeastern Mexico and south Texas should pay attention to Fernand.
Tropical Storm Fernand
The National Hurricane Center placed Fernand about 40 miles from La Pesca, Mexico, located on the eastern side of the Mexican State, Tamaulipas, on Wednesday morning. Moving at about eight miles-per-hour, the storm had maximum sustained winds of 45 miles-per-hour.
Little change in strength was expected before the storm reached the shore and after making landfall, the NHC foresaw rapid weakening. So, it's unlikely Fernand will turn into a hurricane, which would require wind speeds of at least 74 miles-per-hour.
Landfall was initially expected Wednesday afternoon or evening, followed by a move further inland, bringing with it heavy rain and wind. However, around 12:45 p.m. EDT, the NHC posted an update that satellite imagery indicated Fernand made landfall along the coast of Mexico, north of La Pesca.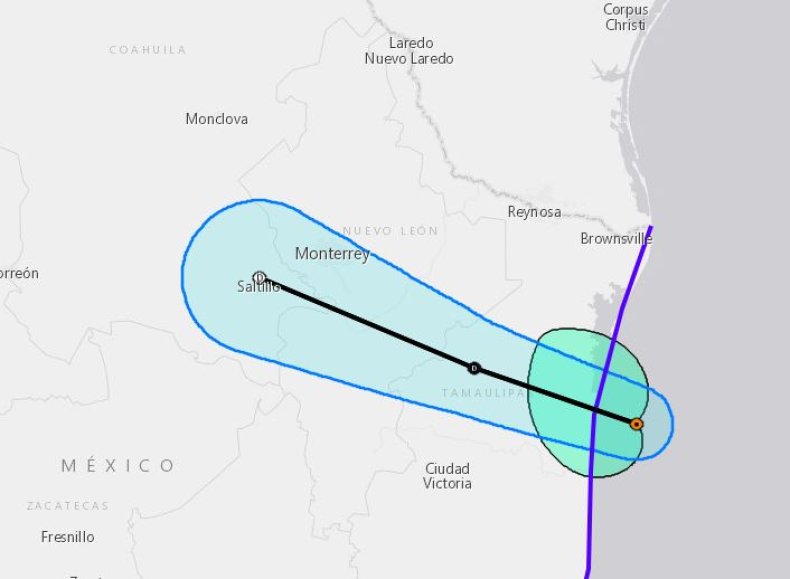 Northeast Mexico, including Tamaulipas and Central and Southern Nuevo Leon, could expect 6 to 12 inches of rain with isolated areas receiving up to 18 inches. The rainfall could cause life-threatening flash floods and mudslides.
Three to 6 inches of rain was forecasted for Northern Nuevo Leon and Southern Coahuila and South Texas and the lower Texas coast could see 2 to 4 inches.
Puerto Altamira to the mouth of the Rio Grande River was under a Tropical Storm Warning and the NHC advised the lower Texas coast to monitor the system's progress.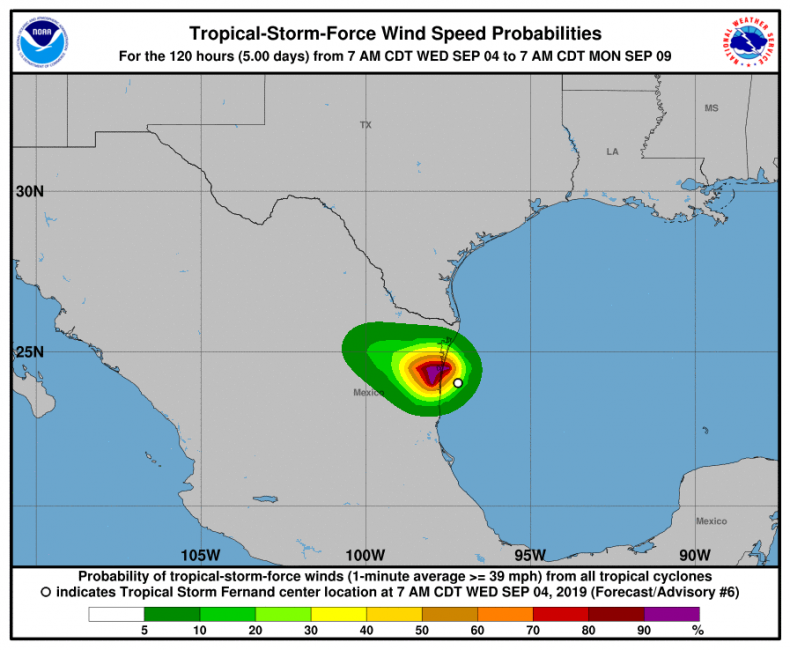 Tropical Storm Gabrielle
The NHC's latest advisory noted that Gabrielle was strengthening in the eastern Atlantic Ocean, although there's little risk to human life. As of Wednesday morning, the system was about 715 miles from the Cabo Verde Islands and 1,275 miles from the Azores.
With maximum sustained winds at 50 miles-per-hour, Gabrielle was slightly stronger than Fernand and was also not expected to strengthen greatly over the next few days.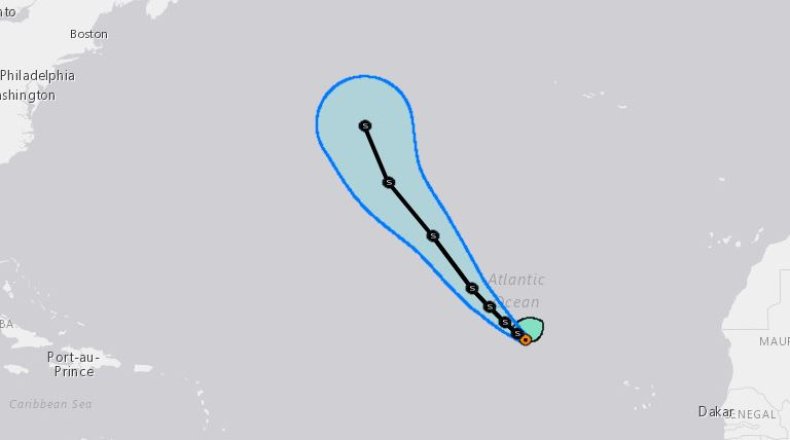 Moving northwest at nine miles-per-hour, the storm was forecasted to keep heading in that direction through Saturday and then experience an increase in forward speed.
Currently, there are no warnings or watches issued and wind or rain from the storm was not forecasted to impact any areas of land.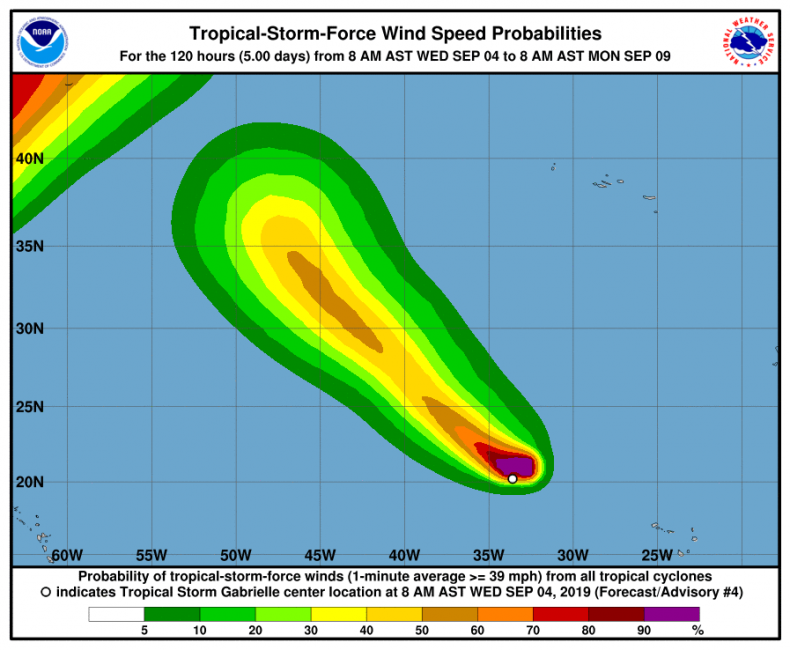 The World Meteorological Organization selects names for storms, which are compiled into alphabetical lists. After Gabrielle, the next storm to form will be dubbed Humberto, then Imelda, Jerry and Karen. If all 21 names were to be used, the last storm of the season would be named Wendy.