The Trouble With Prosecuting Lindsay Clancy
Prosecutors will face hurdles when it comes to convincing a jury that Lindsay Clancy is culpable in the killings of her three children, legal experts told Newsweek.
Prosecutors gave a detailed timeline of the hours leading up to the killings on Tuesday. They painted 32-year-old Clancy— a labor and delivery nurse at Massachusetts General Hospital in Boston—as someone who carefully planned the murder of her children. She ensured her husband was out of their home in Duxbury, Massachusetts, for long enough for her to do so.
Clancy used exercise bands to strangle the children while her husband was out picking up medicine and takeout on January 24, prosecutors said at her arraignment at Plymouth District Court on Tuesday.
"She did so with deliberate premeditation, extreme atrocity and cruelty," prosecutor Jennifer Sprague added.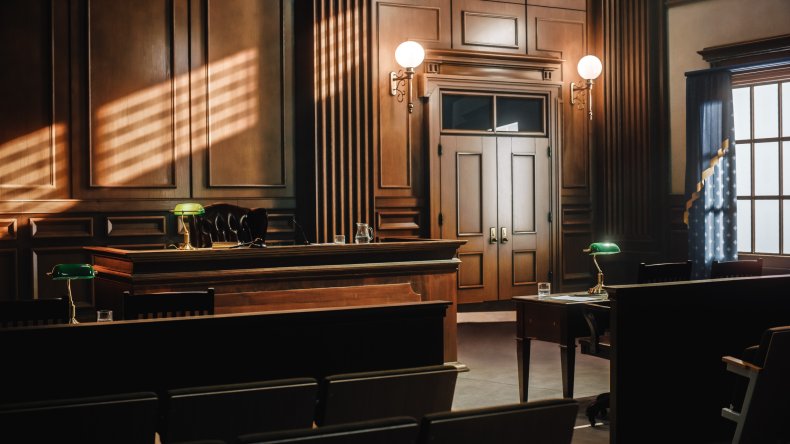 The children were found by their father with the bands still around their necks, prosecutors said. Cora, 5, and Dawson, 3, were pronounced dead at the hospital. Seven-month-old Callan was also taken to the hospital and died several days later.
Clancy is charged two counts of murder, three counts of strangulation and three counts of assault and battery with a dangerous weapon. Not-guilty pleas were entered on her behalf. She is yet to be charged with murder in Callan's death.
Clancy appeared at her arraignment remotely from hospital. She is recovering from spinal injuries after she jumped out of a second-floor window of the home in Duxbury—some 35 miles southeast of Boston—on the day of the killings. Her attorney Kevin Reddington said she is paralyzed from the waist down and is unlikely to ever walk again.
Reddington, who has said that he plans an insanity defense, portrayed his client as a woman struggling with mental illness. He added that Clancy had been prescribed about a dozen medications to treat it. "This is not a situation that was planned by any means," Reddington said during the arraignment.
Clancy may have been suffering from post-partum depression or post-partum psychosis, Reddington said. He has hired a psychologist to evaluate Clancy.
However, prosecutors said she was evaluated by mental-health professionals before and told that she did not have post-partum depression or symptoms of it.
Clancy's legal defense will revolve around her mental state, Duncan Levin, a criminal defense attorney and managing partner of Levin & Associates, told Newsweek.
"We should expect to see a lot of expert psychological testimony. The question is not going to boil down to whether she did it, but whether Lindsay is not guilty by reason of legal insanity," Levin said.
Neama Rahmani, a former federal prosecutor and the president of West Coast Trial Lawyers, told Newsweek that a preview of the insanity defense was given during Clancy's arraignment.
"Clancy's lawyers argued that she was overmedicated and suffered from psychosis, during which she heard a voice telling her to kill her children," Rahmani said.
"If the jurors believe that Clancy suffered from a mental disease that made her unable to appreciate the wrongfulness of her conduct, they can return a verdict of not guilty by reason of insanity."
Rahmani said Clancy's attorneys could also argue that she "is incompetent to stand trial if she does not understand the proceedings against her and is unable to assist in her defense."
Levin said that there is "definitely" evidence of premeditation in the case. This includes Clancy "allegedly sending her husband to get takeout food from a restaurant far away from the house, thus giving her more time to commit the murders.
"She was also allegedly calm and clear before the murders in phone calls with her husband, a pharmacy and others."
However, under Massachusetts law, the burden is on the prosecution to show criminal responsibility, Levin said.
"That means that the state will have to demonstrate that Clancy appreciated the wrongfulness of what she did," he added. "Even if she did suffer from mental illness, the state will have to show that she still knew that murdering her three children was wrong."
Levin said Clancy's defense attorney will "focus on the large number of medications she had been prescribed, her alleged psychosis, and a stay in a mental hospital just weeks before the murders.
"Usually, defendants have an almost-insurmountable mountain to show legal insanity, but here, there is certainly an open question at least at this point about whether Lindsay Clancy will be able to do exactly that."
At Tuesday's arraignment, Judge John Canavan III did not set monetary bail or send her to jail, but ordered that she remain in the hospital until she is well enough to be moved to a rehabilitation facility.
Clancy's husband, Patrick, said he has forgiven his wife in a post on a GoFundMe page set up to help with medical bills, funeral services and legal help. It has collected more than $1 million in donations.
"She's recently been portrayed largely by people who have never met her and never knew who the real Lindsay was," Patrick wrote.
"Our marriage was wonderful and diametrically grew stronger as her condition rapidly worsened. I took as much pride in being her husband as I did in being a father and felt persistently lucky to have her in my life."
He added: "The real Lindsay was generously loving and caring towards everyone - me, our kids, family, friends, and her patients. The very fibers of her soul are loving. All I wish for her now is that she can somehow find peace."