'Troubling': Pelosi Slams Border Patrol for Apparently Using 'Whips' to Intimidate Migrants
Thousands of Haitians who fled the island of Hispaniola into Mexico, and then across the Texas border, have been forced by U.S. officials back into Mexico, many going just to avoid deportation back to Haiti. There have been threats by U.S. law enforcement on horseback and apparent whips.
Speaker of the House Nancy Pelosi called the treatment of Haitian nationals by U.S. law enforcement "deeply troubling" and "heartbreaking."
Pelosi tweeted her feelings Monday night as photos and reports of Haitians trekking backwards across the Rio Grande between Texas and Mexico surfaced from the Texas border town of Del Rio.
"Reports of the mistreatment of Haitian migrants fleeing violence and devastation from natural disasters are deeply troubling, including the inappropriate use of what appear to be whips by Border Patrol officers on horseback to intimidate migrants," Pelosi tweeted.
A reported 6,000 Haitians have been sent back into Mexico during the current crisis, the Associated Press reported. Many of the island immigrants are getting separated from their families as they trek back to Mexico for food, with mere hopes of a reunion with loved ones.
"We don't know what we're going to do," a Haitian man said after leaving his wife and child in Del Rio. "The U.S. is deporting and now Mexico won't just sit back and do nothing. We don't know where to go."
Pelosi continued her plea for passion of the immigrants crossing the border.
"All migrants seeking asylum must be treated in accordance with the law and with basic decency. Any acts of aggression or violence cannot be tolerated and must be investigated.
​​"The situation facing Haitian migrants at the border is heartbreaking, and Congress will continue to closely monitor developments."
Around 19,000 Haitians have sought asylum in Mexico so far, as long as they obey Mexican law. Many are risking a stay in Mexico to avoid deportation back to Haiti by the U.S. government.
"Mexico does not have any problem with them being in our country as long as they respect Mexico's laws," said Mexican foreign minister Marcelo Ebrard.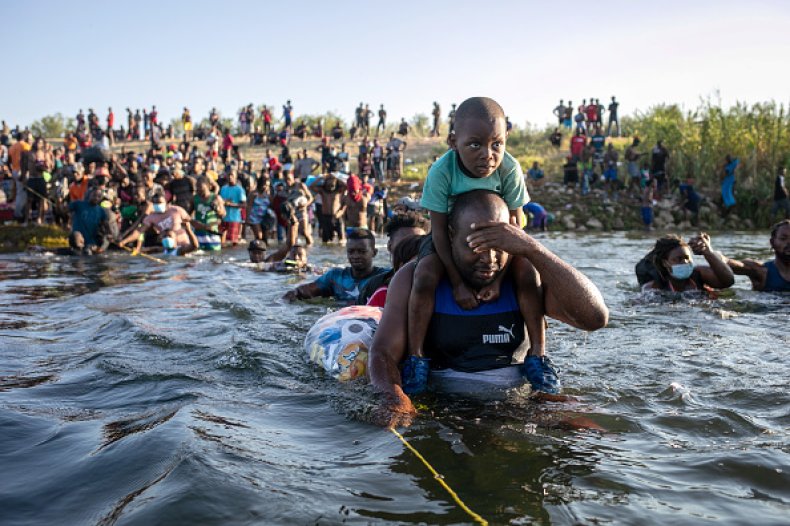 Thousands of Haitians had reportedly camped out along a bridge in Del Rio. U.S. Department of Homeland Security Secretary Alejandro Mayorkas last week said, "If you come to the United States illegally, you will be returned. Your journey will not succeed, and you will be endangering your life and your family's life."
Mayorkas and a border patrol chief stated they would possibly look into using agents on horseback with items that looked like whips to thwart migrants at the international river.
"We're achieving our goals; we're getting there and getting to a point where we can manage the population here," U.S. Border Patrol Chief Raul Ortiz said. "We are already seeing a quickly diminished (population) and will continue to see that over the coming days."