'Trover Saves the Universe' Could Definitely Be Part of 'Rick and Morty,' Says Justin Roiland
Trover Saves the Universe is really freaking weird. Designed for the PlayStation 4 and PC, players join the begrudging Trover, a light-sword thwacking ally who stores "power babies" in his empty eye sockets, to save the universe from the angry chicken/god Glorkon. It's a video game unlike any other, with Rick and Morty co-creator Justin Roiland as Creative Director of development studio Squanch Games.
Some games strive for intense shooting mechanics, or realistic gameplay. Trover just wants to make you laugh your ass off. "If you're a fan of Rick and Morty, like The Purge or Interdimensional cable episodes, if you just like the general vibe and energy, this is a definite don't-miss game," Roiland told Newsweek at PAX East.
The Origins of Squanch Games
Squanch Games started out like most successful Hollywood projects: through networking. Tanya Watson had spent four years at Epic Games, working on the massive genre-defining hit Fortnite. At a convention in June 2016, Watson was messing around with Lawbreakers, created by her friend Cliff Bleszinski. He introduced her to Roiland's manager, who said that the writer was looking to start his own game studio.
"When he said Justin Roiland, I remember thinking I don't know who that is," Watson recalled. After some googling, Roiland and Watson connected via phone and spoke for four hours about their vision for a studio, what kinds of games they wanted to make and how they wanted to incorporate humor into their projects. The studio was officially founded the next month, in July 2016.
"I wanted to make fun, weird video games," Roiland said. "I'm a lifelong gamer to an unhealthy degree. Rick and Morty allowed me a foot in the door to go out and pitch a game. Otherwise nobody would give me the time of day."
At the start, Squanch Games was focused solely on the world of VR and comedy, Watson said. Originally called Squanchtendo (changing the name in December 2017), the studio partnered with developer Crows Crows Crows to release its first game Accounting, an "accounting experiment" that starts off as a fairly normal day job but quickly evolves into a surrealist nightmare. Next, they made space adventure Dr. Splorchy Presents Space Heroes for mobile devices. Once those projects were complete, they worked on creating something new that would really test the limits of their imagination.
Time for Trover to Save the Universe!
As Roiland and Watson started work on Trover Saves the Universe, they recognized they could make games outside of the confines of an Oculus or Vive headset. "We realized that wasn't something that was specific to VR, it was just a thing that needed to be made everywhere," Watson said. "As we built the team, I came to this amazing realization that we could make anything," Roiland added. Though Trover can be played on a VR headset, you don't need one to enjoy the game.
Each game studio has its own unique approach. For Squanch, it's all about making people giggle. "The driving force behind this game is pure creative bliss, pure fun, joyful stuff that's making us laugh really hard, stuff that we would want to play," Roiland noted. "We built the studio pipeline to support that idea. Comedy is the most important thing," Watson added.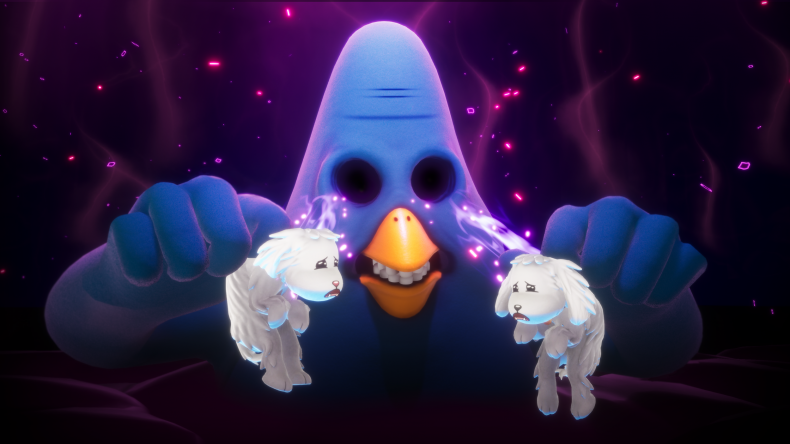 They hired a full set of developers, with Erich Meyr as Lead designer, who had worked at Insomniac Games for eight years, helping to develop titles like Resistance 3, Ratchet and Clank: A Crack in Time and Sunset Overdrive. "We outlined our intent of making a comedy game," Meyr said. "From the beginning, any mechanics we make, characters or storyline, they are there to support the main pillar of comedy."
When developing a game around a concept as subjective as comedy, you have to balance the thin line between something being fun or annoying. Meyr recalls having one level that play testers didn't think was very funny, finding the character you interact with grating and obnoxious. "We completely rewrote it and did it another way that helps story but makes the character more likable, funny and weird," Meyr said. "A lot of the time it's choosing the right tone for the characters and if one of them is annoying, there in some little part of the game, a breather from other dialogue."
Some jokes and Easter eggs Meyr expects only "one percent of players" to find, that requires "doing something very specific."
Working Creatively
Roiland said this was the most "creatively free" he's been on a project since his days at Channel 101, a monthly film festival started by Rick and Morty co-creator Dan Harmon and his partner Rob Schrab. Roiland would share his House of Cosby shorts, which depicted dozens of clones of the now disgraced sitcom star living under one roof. That level of freedom was gratifying, but also brought with it a bit of fear. "The buck stops with me with the writing, story and comedy," Roiland remembered. "But I just put all the fear out of my head and just had fun."
Though a script for Trover was created with Portal 2 writers and industry legends Jay Pinkerton and Eric Wolpaw, Roiland preferred to perform his lines with improv, keeping a list of story beats in front of him while ad-libbing whatever came out of his head. If a line wasn't up to Roiland's comedic standards, he would go back in and re-record until it was where he wanted it. There are eight hours of gameplay in Trover, but more than 20 hours of recorded dialogue for players to find.
To work with Roiland's creative process, Watson had their team develop a suite of tools that allow for easy on-the-spot editing. If a moment in the game needed to be changed or a line adjusted, the developers could easily just go into the game and jumble some stuff around.
What Squanch Games has managed to do is create a game they believe fans of Justin Roiland and his humor will love. "It's very sci-fi and you are going to different planets, it could definitely be a part of the Rick and Morty multiverse," Roiland added.
Trover Saves the Universe launches on PlayStation 4 and PSVR on May 31 and to PC on June 4.