Enormous Chocolate Spill Shuts Down Motorway
A major motorway in Poland has been closed after a tanker carrying tons of liquefied chocolate tipped over on the A2 motorway between the cities of Poznan and Warsaw.
The chocolate covered multiple lanes before it began to harden and the entire road was closed.
"In unknown circumstances the driver of a heavy goods vehicle transporting a liquid in the form of chocolate hit a barrier, as a result of which the substance spilled out onto two lanes," a spokesperson for the police said, according to public broadcaster Polskie Radio.
Emergency services arrived on the scene in a bid to clear the spillage, which reportedly covered six lanes. When the chocolate began to harden, rescue workers used hot water to blast it off the road.
Read More: Woman Dies After Emergency Responders Mocked Her During 911 Call
"The cooling chocolate is worse than snow," senior brigadier Bogdan Kowalski, from the nearby town of Slupca, said, according to Associated Press.
Speaking to national broadcaster TV24, Kowalski also noted that some drivers had clearly driven through the chocolate while overtaking the crashed tanker shortly after authorities closed the road. Cars had spread the chocolate trail for a stretch of almost a whole mile, he explained.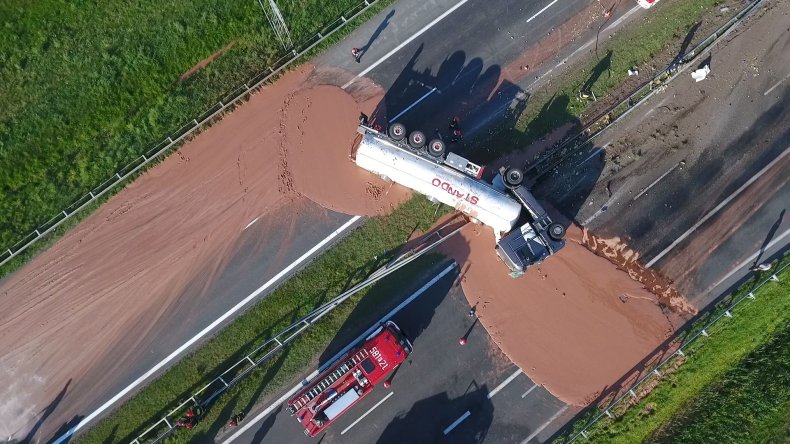 Comical images from the crash site have spread widely on social media and one traffic updates service posted video on Twitter of a digger struggling to strip dripping chocolate from the road surface.
Despite the inconvenience, some emergency service workers could not help but see the lighter side of the non-fatal crash.
"I have not seen so many smiles on the faces of firemen and policemen working with such an event for a long time," Małgorzata Mielcarek, journalist for TVN24 broadcaster said. "This is despite the fact that there is still so much work ahead of them."