Truck Driver Runs Over Cyclist at BLM Breonna Taylor Protest in Buffalo
A truck driver on Wednesday night, ran over a cyclist during a Black Lives Matter (BLM) protest in Buffalo, New York, following a grand jury's decision in the Breonna Taylor case.
In a video captured by WKBW News in Buffalo, protesters can be seen filling the streets in Niagara Square as a pickup truck speeds past and proceeds to hit one of the protesters.
"WARNING GRAPHIC: a protester was struck in Niagara Square in Buffalo," WKBW News wrote in a tweet showing the video. According to the outlet, police said the victim was transported to the Erie County Medical Center (ECMC) in Buffalo with non-life-threatening injuries.
Another angle of the incident was posted to Twitter by user Maisha Caramel, with a caption that read: "Crazy truck driver runs over cyclist at a protest last night for #BreonnaTaylor." In the video, a group of protesters can be seen gathering in the street amid chants of "racists go home."
As the video continues, a protester can be seen sprinting towards the pickup truck as it begins driving through the group and proceeds to hit someone on a bicycle. The truck then continues to drive away as several protesters try to jump on the back to stop it, and screams can be heard from others.
According to WKBW News, the Buffalo Police Department was able to apprehend the person driving the truck. The suspect is in custody, as an investigation is underway on what happened during the incident.
"She happened to come by, we was marching, and she ran him right over. She said 'I don't like Black Lives Matter,' she didn't, racial slurs and everything, and just ran him over," an eyewitness told WKBW News.
Newsweek reached out to the Buffalo Police Department for comment, but didn't receive a response in time for publication.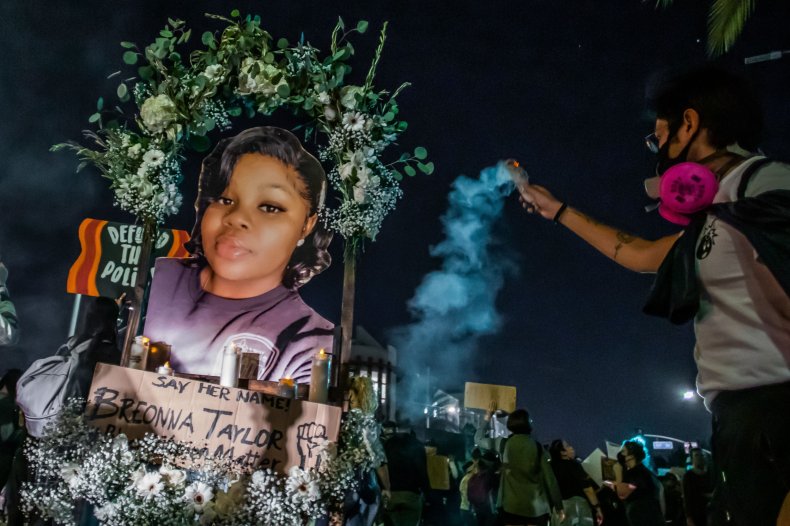 The incident in Buffalo comes as protesters gathered in parts of the country, following the decision made in connection with the death of Taylor, a 26-year-old Black woman, on March 13.
On Wednesday, a grand jury in Kentucky decided no criminal charges would be filed against any of the three Louisville Metro Police Department officers involved in Taylor's death. The grand jury announced that one of the officers, Brett Hankison, was charged with three felony counts of wanton endangerment, but the two others, Sgt. Jonathan Mattingly and Detective Myles Cosgrove were not charged.
During a Wednesday night protest in Louisville, two police officers were shot and were taken to a local hospital and listed in stable condition, according to WLKY News in Kentucky. The Courier Journal reported that Louisville law enforcement officials were able to identify the shooter as Larynzo Johnson, 26.
Johnson was arrested at 8:40 p.m. local time, and the Courier Journal reported that his citation showed him facing multiple charges of first-degree assault of a police officer and first-degree wanton endangerment.