Truck Drivers, Facing Shortages, Expect More to Quit Over Biden Vaccine Mandate
President Joe Biden's directive requiring businesses employing more than 100 workers to implement vaccine mandates or have unvaccinated workers be tested weekly will go into effect January 4, the administration said Thursday. And that mandate does not include an exemption for the nation's truckers.
Tom Bevan, the president of Real Clear Politics, said on Twitter Thursday that the nation's largest trucking companies will not be exempt from Biden's policy. "So all the biggest trucking companies in America, who already face major driver shortages, will see a percentage of their workforce quit," Bevan wrote. "[The] supply chain crisis is going to get much worse, very soon."
With many truckers unvaccinated, the American Trucking Associations (ATA) warned that the industry could lose as much as 37 percent of its workforce. The ATA said trucks haul more than 72 percent of U.S. freight. If the trucking industry lost a significant percentage of drivers, it could put an additional strain on the supply chain.
"While much of the country was sequestered in their homes, the trucking industry served its essential function and did so successfully with safety standards developed by public health experts," ATA President Chris Spear said in an October 21 letter. "Now placing vaccination mandates on employers, which in turn force employees to be vaccinated, will create a workforce crisis for our industry and the communities, families and businesses we serve."
Bevan said that the solitary nature of a trucker's job makes them candidates for an exemption from vaccine mandates. "A large percentage of truckers are not vaxxed," he tweeted. "The very nature of the job is iconoclastic: they spend most of the day alone in the cab of a truck, having very little interaction with other people."
"So they are much lower risk for transmission than, say office workers or healthcare workers," Bevan continued.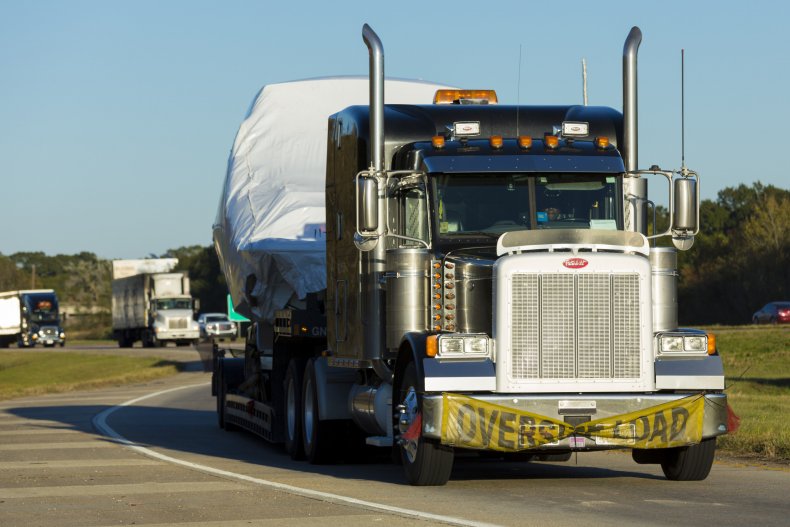 Massive ships loaded with cargo remain anchored in the nation's ports, unable to offload their supply. Last month, global economy expert David Dollar of the Brookings Institution told Newsweek the supply chain bottleneck is largely a worker shortage issue.
The pandemic-fueled growth of online shopping has caused the nation's supply chain to fail to keep up with buyer demand. In wake of news that the situation could worsen under Biden's mandate, Bevan tweeted that "there is no group in America that is more vital to the function of the economy," saying, "If they stop driving, EVERYTHING stops."
Right now, the New York Times COVID tracker places the U.S. full vaccination rate at 58 percent and reports the one-dose vaccination at 67 percent.