Truck Drivers Vow to Shut Down All Major Highways in Massive Anti-COVID Lockdown Protest
A group of truck drivers furious about public health restrictions amid the COVID-19 pandemic has vowed to protest by shutting down all major highways in Australia next week.
Plans to protest vaccine mandates and other restrictions by blocking highways in and out of every Australian state on Tuesday, August 31, were first detailed in a viral video featuring a man who identified himself as a truck driver on Monday, according to Daily Mail Australia.
The man urged Australians to stock up on groceries and other supplies before the protest disrupts the supply chain. Several other truckers have since made their own videos pledging to take part in the effort to "shut down the country."
"It's on. The truckies are doing it," the truck driver says in the original video. "The truckies are going to shut down the country. What that means is you need to go shopping now, get what you can for the next week or two, load your fridge, freezers."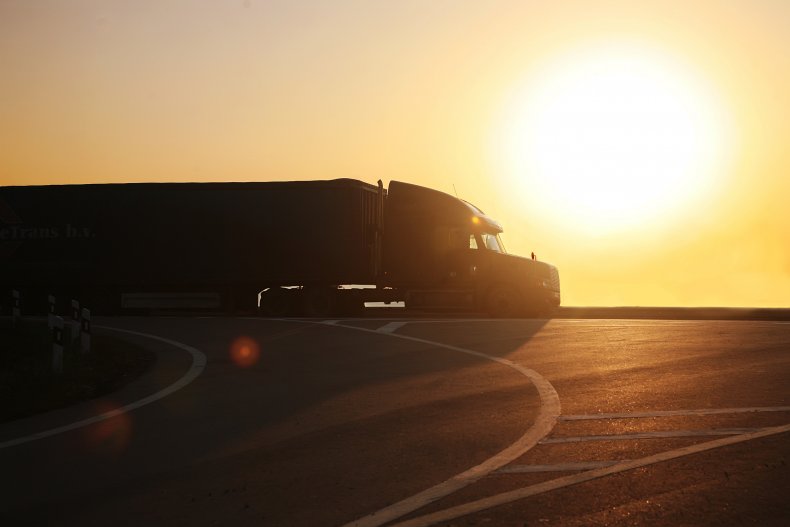 "The truckies are coming and they are going to pull this country down," he added. "We are all going to do it together and remove this s*** government."
The driver goes on to promote COVID-19 and anti-vaccination conspiracy theories in the video, mentioning Dr. Anthony Fauci and falsely claiming that the Pfizer vaccine is "poison."
At least some of the other truckers vowing to take part in the protest also appear to be anti-vaccine conspiracy theorists, with videos showing different drivers echoing the claim that vaccines are "poison."
The drivers are upset about new restrictions that are set to go into effect at the end of the month, requiring truck drivers to be vaccinated or get tested for COVID-19 to enter other states.
Several of the videos feature foul-mouthed rants from the drivers vowing that they will refuse to follow the restrictions and are willing to paralyze the country in an attempt to force a policy reversal.
"I ain't taking your f***ing poison, b****," truck driver Chris Serang says in one video. "So you can shove it up your v***...and f*** right off."
Woolworths, Australia's largest supermarket chain, said it was "aware of the situation and monitoring it closely." It is unclear how many truck drivers plan to take part in the protest.
Some drivers may take steps to stop authorities from towing their trucks as they block highways. A like-minded American truck driver shared a video suggesting that the Australians modify their trucks by removing parts needed for towing.
A separate strike that could involve as many as 7,000 trucks is set to take place in Australia on Friday. The strike, planned due to a labor dispute between transportation company The Toll Group and drivers, is not directly related to COVID-19 restrictions.
Newsweek reached out to the Australian Embassy in Washington, D.C. for comment but did not hear back in time for publication.