Trucker Blockade at U.S.-Canada Border Causes Over $1B in Losses Daily
The anti-COVID mandate protesters blocking several U.S.-Canada border crossings are set to take a tremendous economic toll on both countries, with more than a billion dollars in losses each day the blockade continues.
"It's over a billion dollars a day [in goods and services] that goes across the Canadian border," Arthur Wheaton, the director of labor studies at Cornell's School of Industrial and Labor Relations, told Newsweek. "If you have a disruption like that, it doesn't take long to get into tens of billions or hundreds of billions of dollars."
"That's the total value for some of these car companies," he added. "So in a matter of a couple of months, you're talking about losing more money than all of General Motors is worth."
Canadian truckers—who have been protesting and causing gridlock in Ottawa for two weeks—extended their efforts to the Ambassador Bridge between Detroit and Windsor, Ontario on Monday night, shutting down inbound traffic and critically injuring a major supply route into Michigan, where the auto industry is bearing the worst of the blockade.
Earlier this week, Toyota and Ford halted production in response to the protests.
Michigan Governor Gretchen Whitmer has called on the Canadian government to de-escalate the situation for the state's "working families who are just trying to do their job" but are feeling the effects of the fallout.
More than two-thirds of the $511 billion of goods traded annually between the U.S. and Canada are transported by road. The Ambassador Bridge alone transports $323 million worth of goods each day.
In 2019, Canada was Michigan's largest export destination with 41 percent of the state's exports to the world. The value of that trade totaled $23.1 billion.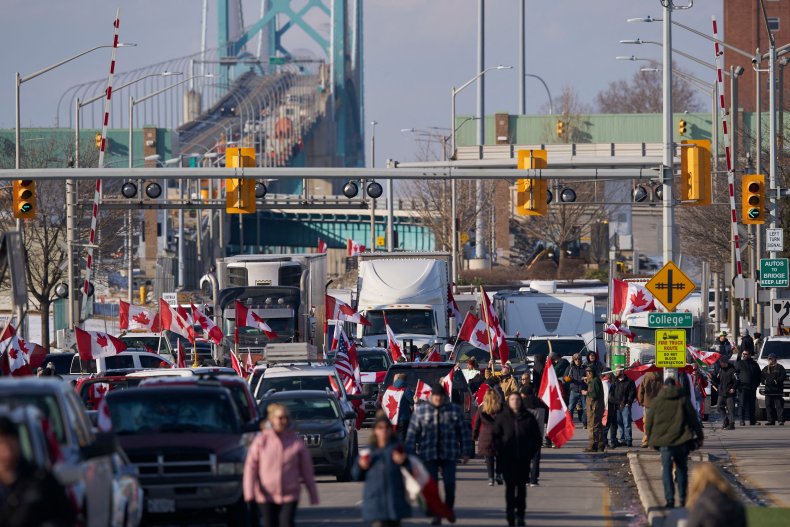 The Biden administration says it is also closely monitoring the situation and its impacts on the already fragile supply chain.
On Thursday, White House economic adviser Brian Deese told MSNBC the protests "do nothing but hurt the economy, hurt families who are, you know, just trying to make a living."
"When you get the White House worried that means there are some significant risks involved," Wheaton said. "Canada has long been our most important trade partner and the auto sector, in particular, has been very dependent on the trade between the U.S. and Canada for the production and distribution of goods."
He said the protests are coming at a "terrible" time for the auto sector, especially since cross-border trade had finally begun returning to normal for the first time since the pandemic.
Industries in Michigan, New York and Ohio—which all have major plants located in Ontario—will be the first to feel the impacts of the protests.
"This Midwest area close to the Great Lakes absolutely depends on the Canadian border for getting parts back and forth across. It's pretty important for most of the auto companies to be able to get the product across the border," Wheaton said. "Ontario is a very large producer of automative parts."
"If you have a shortage of any one product or any one part, you have to stop the assembly lines," he explained, adding that any part that doesn't show up on time can cause a shortage of cars that are worth, on average, $50,000 each.
The halts will also take a toll on the paycheck of many blue-collar workers who have no production lines to clock-in to.
While the auto industry has the largest stake in cross-border trade, Wheaton said shortages of paper, lumber and agriculture will follow soon too—which could lead to further toilet paper shortages and even higher price increases for housing and new construction.
He said the blockade will not only affect trade but eventually overflow into the daily lives of many American workers who aren't on the assembly line.
"The auto industry creates an awful lot of money in sales tax revenue for these states. If that starts getting hit, then individual state budgets get hit and then the teachers don't get the money for their schools," Wheaton said. "It is just this huge cascading effect where it just snowballs and causes all sorts of damage and attention."
He said a resolution will ultimately come down to negotiations between the White House and the leadership of Canada, which is a tricky landscape for federal governments to navigate since they don't want to encourage such disruptions by giving into protesters' demands.
"I think everybody is facing strains, and with inflation going up, everyone has cost pressures as well," Wheaton said. "I think you just need to try to find a resolution that works for everybody."
"Hopefully we'll get there soon, but it's usually a difficult process and no one is a hundred percent happy when it's done," he added.