Another leader of Canada's Freedom Convoy trucker protests has been denied bail based on his "substantial likelihood" to reoffend should he be released from custody.
Protest organizer Pat King was denied bail by Justice of the Peace Andrew Seymour on Friday during a hearing that had been delayed after the Crown applied to present new evidence against him.
King, who was among one of the most notable leaders of the 24-day occupation in Ottawa, will join one of his fellow organizers, Tamara Lich, in jail. Lich was denied bail on Tuesday and remains in custody.
King and Lich led thousands of anti-COVID mandate protesters in Canada in disruptive demonstrations that prompted Prime Minister Justin Trudeau to invoke the Emergencies Act for law enforcement officials to forcibly remove protesters and their vehicles after the convoy gridlocked the nation's capital for more than three weeks.
Inspired by the events in Ottawa, American truckers embarked on their own convoy this week to protest COVID-related restrictions in Washington, D.C., where 700 National Guards have been deployed in anticipation of their arrival.
King documented his arrest in a Facebook livestream last week and had hoped to get out on $50,000 bail, which a fellow protester offered to guarantee, but was denied on Friday after Seymour decided that King's release would harm the justice system's reputation.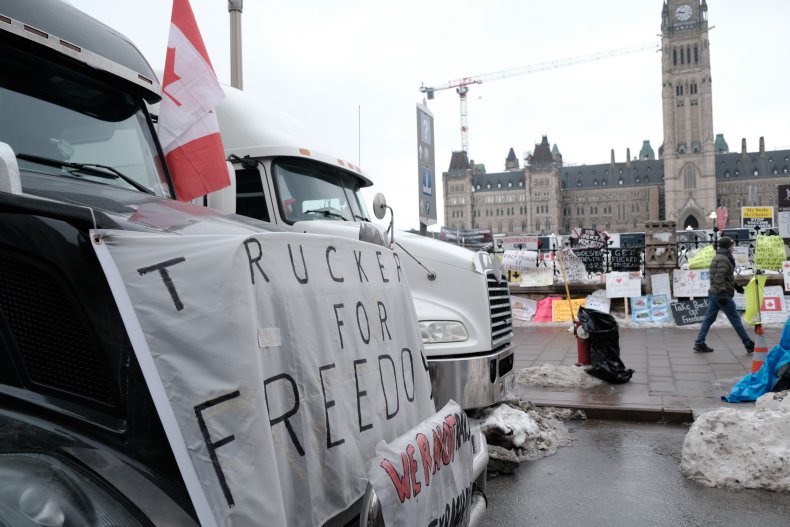 The 44-year-old faces charges of mischief, counseling to commit mischief, counseling to commit the offense of disobeying a court order and counseling to obstruct police.
During the hearing, the Crown said it had five new documents of evidence, including charges against King that were filed in Alberta for illegal possession of restricted firearms, for which it wanted to reopen the bail hearing.
However, Seymour denied the application, citing the "potential unfairness and delay" of doing so.
Despite the new evidence, Seymour said he decided that King would remain in custody based solely on the information from the initial Tuesday hearing.
"The occupation of the downtown core was unprecedented in Canadian history," Seymour said. "It was not just a handful of people who were victimized, it was thousands who were held hostage by noise and disruption."
"Downtown streets descended into lawlessness," he added. "People were fearful to leave the homes. The offenses were an attack on the rule of law."
King's next appearance in court is scheduled for March 18.
While Lich and King have been denied bail, Chris Barber, another Freedom Convoy leader, was granted bail last Friday under the condition he would leave Ottawa within 24 hours and the province of Ontario by Wednesday.
Lich and Barber have been ordered not to contact each other and their fellow organizers.
The two have been named, along with Benjamin Dichter, in a proposed class-action lawsuit filed by Ottawa residents seeking $306 million in damages for the protest.
Lich is known for establishing the convoy's GoFundMe page, which was halted after it amassed more than $10 million. The crowdfunding platform began issuing refunds shortly after suspending the campaign.
Since then, the federal government has moved to investigate the donors supporting the protesters, with Trudeau noting that roughly half of the financial contributions aiding the demonstrators had come from the U.S.
Ottawa police said on Monday that 196 people were arrested in connection with the demonstrations and that 115 vehicles involved in the protests were towed.