Trucker Vaccine Protest Leads to Concern Over Canadian Lawmakers' Safety
The trucker vaccine protest in Ottawa has Parliament security officials warning lawmakers to lock their doors as they receive reports of possible private homes being targeted.
According to a security alert sent to members of parliament, individuals associated with the protest, which is calling for the end of Canada's vaccine mandate for truckers, have inquired online about lawmakers' personal addresses. According to the Globe and Mail, lawmakers are advised by Sergeant-at-Arms Patrick McDonell to go somewhere safe and "close and lock all exterior doors" if confronted with a protest at their place of residency. The truckers vaccine protest is expected to last the weekend.
Chief Peter Sloly said during a press briefing on January 28, 2022, the Ottawa police and national security agencies are working together to identify potential threats to public safety. A top parliament official warned lawmakers to lock their doors, due to threats of violence from some associated with the protest group, according to the Associated Press.
"Even during the course of this conference call, we've had new intelligence coming in regard to local threats," Sloly said.
The protest has gained attention from former President Donald Trump's son Donald Trump Jr., as well as billionaire Elon Musk. Trump Jr. posted a video online supporting what he states as "fighting against medical discrimination," according to The Guardian. Musk also Tweeted "Canadian truckers' rule."
Along with the support from Trump Jr. and Musk, over $5.5 million Canadian dollars were raised from over 70,000 donations on the group's GoFundMe, but the site announced earlier this week that the funds were to be frozen until the determination of how they should be dispersed was resolved.
"It's not really clear to me how many of those supporters donating online are actually even Canadian," said Jessica Davis, former intelligence analyst for the Canadian government and head of Insite Threat Intelligence. "A lot of the donations have been made anonymously and there's very clearly some activity from foreign countries."
Several thousand people are expected to be in Ottawa as they protest Canada's new rule that took place on January 15, according to the AP. The rule states truckers arriving from the U.S. must show proof of being fully vaccinated against COVID-19 or risk quarantining for 14 days, according to The Guardian.
Canadian truckers are required by the U.S. to provide vaccination proof before entering.
According to The Guardian, the protestors are also calling for the repeal of all public health measures having to do with COVID restrictions. Canada has reported 2.93 million cases, as well as over 32,600 deaths.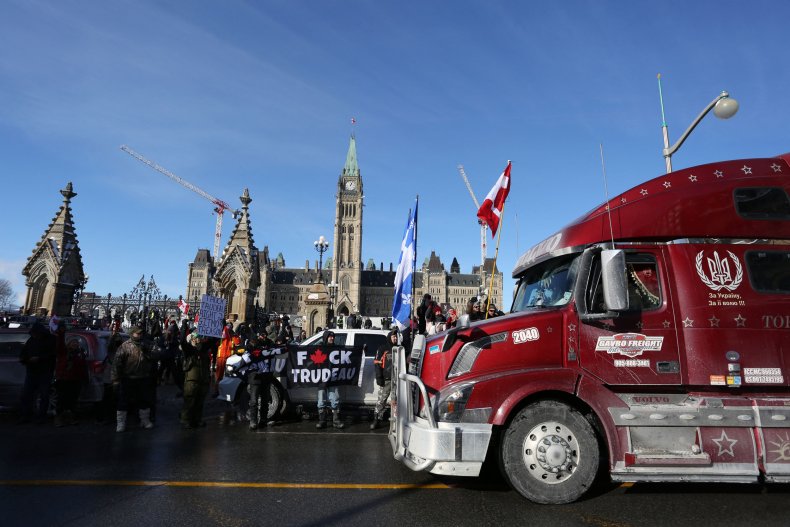 The Canadian Trucking Alliance claimed more than 85 percent of their truckers are vaccinated and the protest convoy does not speak for them, according to the AP.
As of noon on January 28, according to the AP, more than 100 people lined up along the sidewalk of the gates to Parliament Hill. It was reported they are raising flags, hollering and one group was seen setting up a barbecue. Officials from Parliament are expecting the vehicles and physical protests to be a weekend-long event; however, it could go on for longer.
The Kingston Police Service announced Friday they counted several hundred vehicles leaving Ontario City for Ottawa. These included six recreational vehicles, 17 full tractor-trailers, 104 big rigs without trailers and 424 passenger vehicles.