Truckers in California to Protest At Super Bowl Over School Mask Mandate
Before the L.A. Rams and Cincinnati Bengals clash at the 3:30 pacific time tipoff during this year's Super Bowl, protestors, seemingly organized by the USA Truck Convoy, plan to meet in front of the stadium to demonstrate against California's school mask mandate.
This comes as California Governor Gavin Newsom directed the state's Department of Public Safety to lift its mandate that required vaccinated citizens to wear masks indoors, according to The Sacramento Bee as the state has seen a 67 percent decline in COVID cases over the past two weeks, according to health data.
The new rule, however, stopped short of lifting the mandate that requires children to mask up at school, sparking those in opposition of the directive to launch plans for a "medical freedom protest" set to take place outside LA's SoFi Stadium on Super Bowl February 13.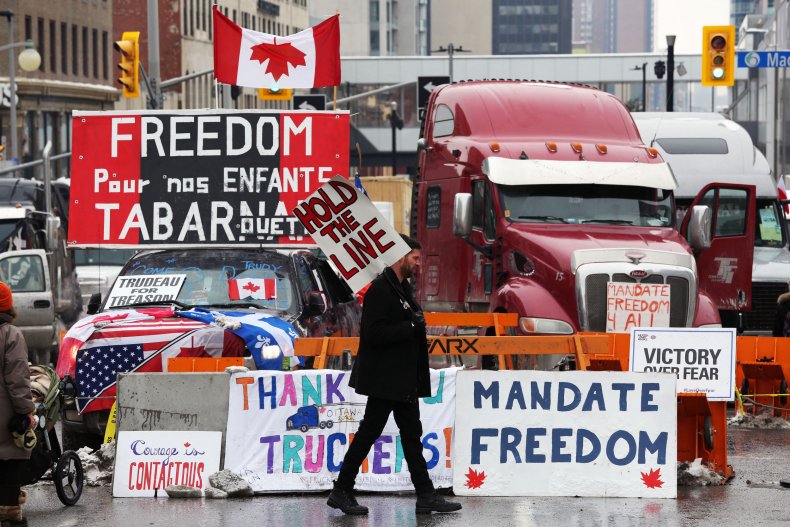 The USA Truck Convoy, which posts under the tag TruckersForFreedom, announced on the social media instant messaging site Telegram their intent to "shut down" the Super Bowl, moving forward with the plan after "94% from 4500 votes" in the group shared their support for the action and 10 percent said they could come.
"Everyone be ready and tell everyone about the: SUPER BOWL PROTEST! Officials will host a Super Bowl while forcing kids to mask. End the mandates! LET'S SHUT THIS THING DOWN!" a post wrote. "Shut the SUPER BOWL DOWN!!! Surround SoFi Stadium with Trucks!!!"
Near the end of January, truckers in Ottawa, Canada, launched a convoy in protest of the Canadian government's mandate that individuals entering the country by land needed to show proof of vaccination. Since then, groups of truck drivers from across the world have participated in copycat demonstrations protesting their own country's mandates.
On Wednesday, the "Freedom Convoy" blocked a major commerce bridge between Detroit, Michigan, and Windsor, Ontario, effectively shutting down all movement and garnering national headlines in the process.
Over the course of its protests, the Freedom Convoy has raised an estimated $11.1 million through crowdfunding services GiveSendGo and GoFundMe. However, as the movement gained momentum and picked up greater scrutiny, GoFundMe announced that it would withhold the funds raised to support the truckers.
Members of the Republican party have supported the Convoy's effort to protest medical mandates, with President Trump releasing a statement in support of their fight and expressing thanks to those carrying out similar efforts in the United States.
"The Freedom Convoy is peacefully protesting the harsh policies of far-left lunatic Justin Trudeau who has destroyed Canada with insane Covid mandates," the Trump statement wrote. "Now, thankfully, the Freedom Convoy could be coming to DC with American Truckers who want to protest Biden's ridiculous Covid policies."
POLITICO reports that the convoy, which is expected to start in California, will begin its journey to D.C. during the month of March.