Trudeau Asks Politicians to Reflect on 'Exploiting People's Fears' After Trucker Protest
Canadian Prime Minister Justin Trudeau asked his fellow politicians to reflect on "exploiting people's fears" after anti-COVID mandate protesters in Ottawa were seen desecrating memorials and waving Nazi flags over the weekend.
"To the politicians exploiting people's fears, I ask you to think long and hard about the consequences of your actions," Trudeau said during a virtual news conference on Monday.
"We have seen over the past many, many months Conservative politicians sharing disinformation about vaccines, encouraging conspiracy theories online," the prime minister said as the nation's capital remained blocked by dozens of vehicles after the weekend's protests. "And I think [Conservative Leader] Erin O'Toole is going to need to reflect very carefully on how he's walking a path that supports these people who do not represent truckers, let alone the vast majority of Canadians."
Thousands of Canadians gathered on Parliament Hill on Saturday to rally against the federal government's vaccine mandate for cross-border truck drivers.
Truckers refusing to get vaccinated—and who make up roughly 10 percent of the trucking workforce—drove across the country last week as part of the "Freedom Convoy 2022" in an effort to persuade Trudeau's administration to reverse the mandate, which went into effect earlier this month.
O'Toole, who is the federal opposition leader, was seen meeting with truckers from the convoy on Friday but has condemned the actions of "the voice of a few" bad demonstrators in the days following the protest.
People's Party Leader Maxime Bernier, who has strongly opposed Trudeau's response to the pandemic, has been a vocal supporter of the convoy—vowing to join the rally and criticizing the prime minister for characterizing the protest as "a violent neonazi protest."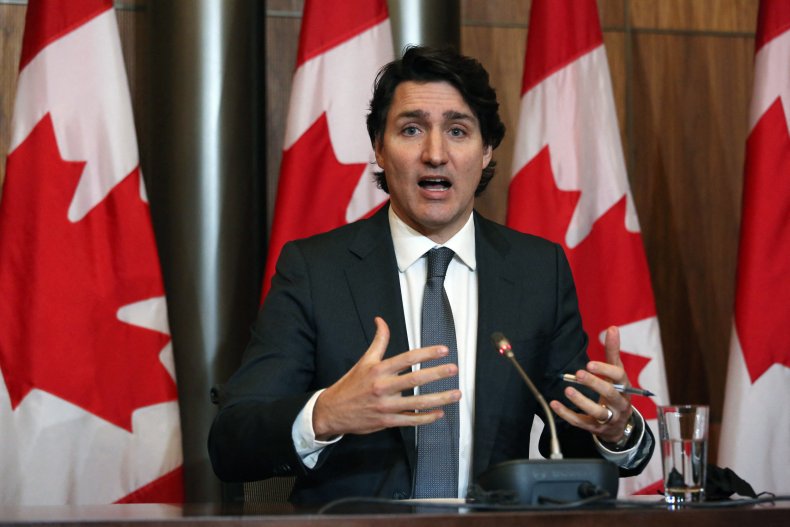 Ahead of the weekend, Canadian lawmakers in all parties were warned to leave the area out of safety concerns posed by protesters.
While no one was harmed over the weekend, disruptive activity has prompted Ottawa police to launch several investigations into a series of incidents, including "the desecration of the National War Memorial/Terry Fox statue, threatening/illegal/intimidating behavior to police/city workers and other individuals and damage to a city vehicle."
Trudeau, who tested positive for COVID-19 on Monday, condemned unruly protesters and thanked vaccinated truck drivers for continuing to do their jobs amid the demonstrations.
"Over the past few days Canadians were shocked and frankly disgusted by the behaviour displayed by some people protesting in our Nation's capital," Trudeau said.
"I want to be very clear; we are not intimidated by those who hurl insults and abuse at small business workers and steal food from the homeless," he added. "We won't give in to those who fly racist flags. We won't cave to those who engage in vandalism or dishonour the memory of our veterans."
On Monday, the prime minister sent two starkly different messages to the truckers abiding by his mandate and those refusing the new requirement.
"To the nearly 90 percent of truckers across the country who've gotten vaccinated, who continue working hard to keep us fed and keep our economy moving, thank you," he stated.
"To those responsible for this behaviour, it needs to stop," Trudeau said. "To anyone who joined the convoy but is rightly uncomfortable with the symbols of hatred and division on display, join with your fellow Canadians. Be courageous and speak out. Do not stand for or with intolerance and hate."
Ottawa police have continued to ask residents to avoid the downtown core as demonstrators remained at the capital for a third day on Monday.
"I wish I could tell you that there are no more difficult moments ahead," Trudeau said. "But we all know I can't say that. What I can say is that this government will continue to have your backs, we will continue to be there for you as long as it takes, with as much as it takes. That's how we've all gotten through this pandemic so far, and that's what we and I will continue to focus on."