Trudeau Condemns China's Detention of Canadians, Says Beijing 'Doesn't Seem to Understand' Judicial Independence
Canadian Prime Minister Justin Trudeau said China has no grasp of what it means to have an independent judiciary system during a news briefing on Thursday.
Chinese authorities placed former Canadian diplomat Michael Kovrig and businessman Michael Spavor into custody in 2018. Their arrest happened less than two weeks after telecommunications company Huawei global chief financial officer Meng Wanzhou was detained in Vancouver, British Columbia under a U.S. warrant. Meng allegedly attempted to do business with Iran despite U.S. sanctions levied against the country. Kovrig and Spavor were detained by Chinese authorities for suspicion of spying.
"We've seen Chinese officials linking those two cases from the very beginning," Trudeau said. "Canada has an independent judicial system that functions without interference or override by politicians. China don't work quite the same way and doesn't seem to understand that we do have an independent judiciary from political intervention."
Trudeau also said that Kovrig and Spavor had "been arbitrarily detained by China in retaliation for a judicial system that is independent in the way it functions."
Newsweek reached out to the Embassy of the People's Republic of China in Canada and the Canadian Embassy in Beijing for comment. This story will be updated with any response.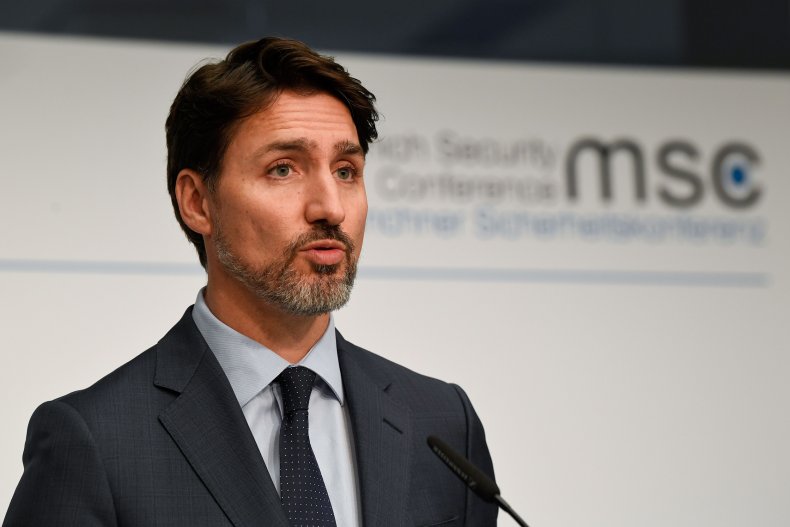 The arrests have raised tensions between both countries. Although Kovrig and Spavor have not been officially charged, there are suspicions that China arrested the men in response to Meng's detention.
Meng has fought extradition to the U.S. to face trial. As part of criminal proceedings against her, the British Columbia Supreme Court must decide if the crimes Meng has been accused of are punishable in Canada. Should Meng win, she would be allowed to return to China. If the court rules against her, it would then need to decide if Meng's rights were violated by Canada when she was arrested before deciding if she should be extradited.
Chinese Foreign Ministry spokesman Geng Shuang called for Meng's release, calling her arrest a "serious political incident."
"We once again urge the Canadian side to seriously address China's position and concerns, right its wrongdoings and to release Meng Wanzhou as early as possible for her to return safely to China," Shuang said in a January press briefing.
Kovrig and Spavor have been denied consular visits since China closed its prisons to visitors due to the coronavirus. Kovrig was, however, allowed to speak via telephone in March with his father, who had fallen ill.
Meng's company, Huawei, has been accused of spying by the U.S. Department of Justice. In a February indictment, Huawei was accused of attempting to steal trade secrets and intellectual property from U.S. technology companies.
The indictment also alleges that an unofficial subsidiary of Huawei, Skycom, helped Iran's government perform surveillance on its citizens during public protests in 2009.