Justin Trudeau, Canada's New Prime Minister, Has Ties to Keystone XL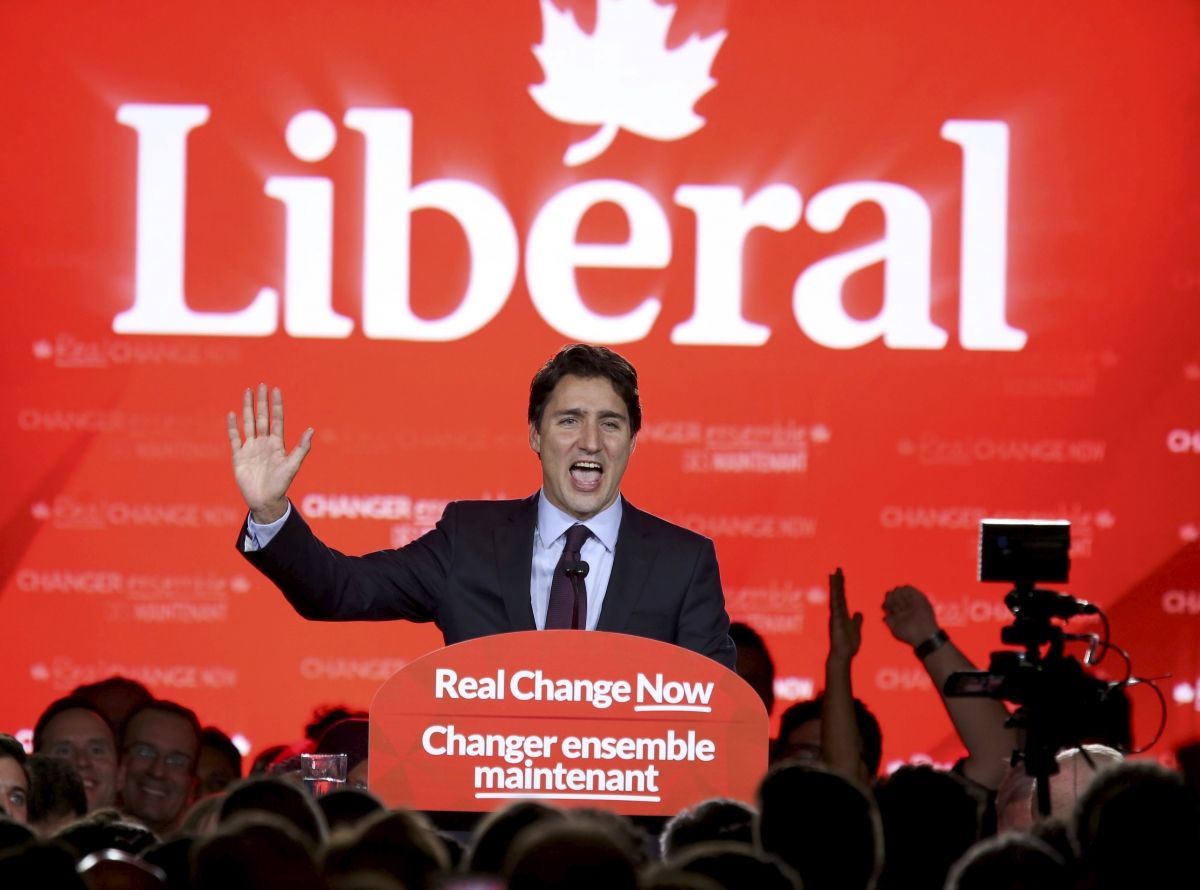 After a decade of conservative Stephen Harper's pro-tar sands industry, anti-climate science administration, Canada is getting a Liberal Party prime minister. Justin Trudeau, many environmentalists hope, will usher in an era less hostile to international climate agreements (Harper once called the Kyoto Protocol a "socialist scheme" before withdrawing the country from it altogether) and perhaps less focused on growing the country's production of tar sands, a fossil fuel that produces 20 percent more greenhouse gases than its conventional crude counterpart.
But perhaps Canadians shouldn't make that assumption.
Trudeau, after all, supports the Keystone XL pipeline—the controversial pipeline that would bring 830,000 barrels of Canadian tar sands crude per day across the U.S. to be shipped out of the Gulf of Mexico—and a member of his campaign staff had close connections to Transcanada, the pipeline company behind the project: His campaign co-chair, Dan Gagnier, was forced to resign last week after it emerged that he wrote emails to the company advising them on how to lobby a new, Liberal government. Trudeau's campaign initially defended Gagnier, saying he did not break any laws or ethical standards, though Trudeau did eventually call his staffer's actions "inappropriate."
Keystone XL isn't the only controversial pipeline Trudeau's administration has on the table. The new prime minister has refused to take a definitive position on TransCanada's proposed $12 billion Energy East pipeline, which would carry 1.1 million barrels of tar sands crude east across Canada, from Alberta to the coast of New Brunswick, where it could be shipped around the world. And in fact, he has been unequivocal to date about his interest in getting Canadian tar sands to new markets, and listed Energy East among the ways to do that. "We need to get those resources to market, whether it is Energy East, whether it is a western pipeline, whether it is Keystone XL because the alternative is more rail cars carrying oil, which nobody wants across the country," he told the CBC in July.
Trudeau maintains that his support of the pipelines is not at odds with his commitment to invest in clean energy. But environmentalists say he can't have it both ways.
"Justin Trudeau needs to recognize that oil sands expansion, facilitated by pipeline development, and climate action, are mutually incompatible goals," Adam Ballah, an organizer with Climate Action Now, said in a statement from the activist organization 350.org.
What's more, Trudeau stated he won't set a specific emissions reduction target for Canada, despite being critical of Conservative's climate policy. "Everybody has thrown out numbers and different targets, and what they're going to do and what is going to happen," Trudeau said in an interview a week before Canada's election night, according to CBC. Instead of specific emissions reduction commitments, Trudeau says, he'll implement new investments in clean energy infrastructure. "What we need is not ambitious political targets. What we need is an ambitious plan to reduce our emissions in the country."
The Guardian reports that David Suzuki, Canada's best-known public scientist and environmentalist, refused to endorse Trudeau after a contentious phone call with the then-candidate. According to The Guardian, Suzuki says Trudeau dismissed his critique of the party's climate policy as "sanctimonious crap."
Suzuki said he told Trudeau that to stay within 2 degrees Celsius of global warming—the internationally agreed-upon benchmark after which warming would reach dangerous levels—Canada would need to leave 80 percent of its tar sands in the ground. According to Suzuki, Trudeau did not appreciate that statement. (Suzuki also admitted to calling the then-candidate a "twerp" during that phone call.)
But Trudeau's Liberal Party does promise to engage meaningfully in the upcoming U.N. climate talks in Paris, and to reverse the trend of muzzling scientists seen under the Harper administration; the party's website includes a page specifically addressing the issue. "We will value science and treat scientists with respect," it reads, promising to appoint a staff member who will "ensure that government science is fully available to the public, that scientists are able to speak freely about their work, and that scientific analyses are considered when the government makes decisions."