Trudeau Sweeps Liberals to Victory in Canada, Toppling Stephen Harper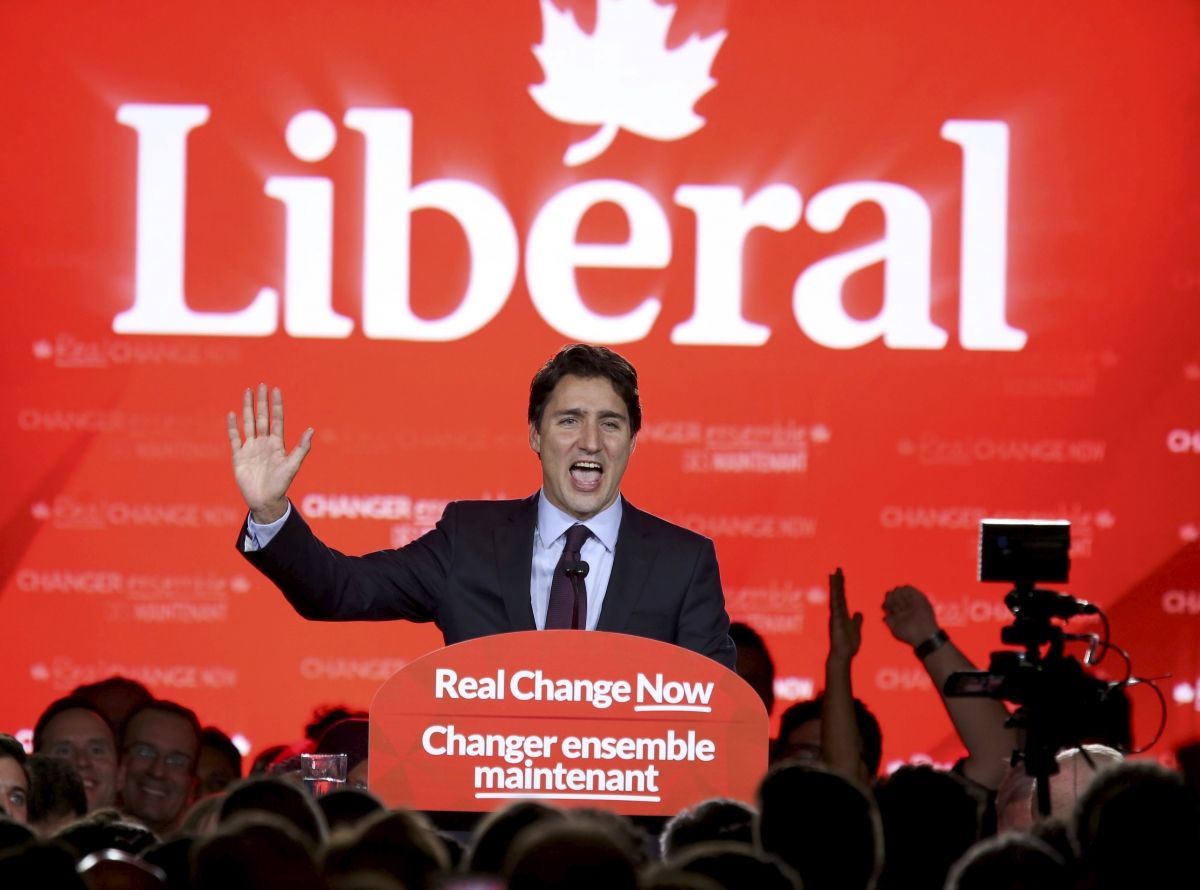 Canada's Liberal leader Justin Trudeau rode a late campaign surge to a stunning election victory on Monday, toppling Prime Minister Stephen Harper's Conservatives with a promise of change and returning a touch of glamor, youth and charisma to Ottawa.
Canada's major television networks projected a majority for the Liberals, a turn in political fortunes that smashed the record for the number of seats gained from one election to the next. The Liberals had been a distant third place party in Parliament before this election.
The projected win ends the Conservatives' nine-year run in power and reflected a political shift away from Harper's brand of fiscal and cultural conservatism.
Trudeau, 43, the photogenic son of former Prime Minister Pierre Trudeau, pledged to run a 10 billion Canadian dollars ($7.7 billion) annual budget deficit for three years to invest in infrastructure and help stimulate Canada's anemic economic growth.
This rattled financial markets in the run-up to the vote and the Canadian dollar weakened on news of his victory.
Trudeau has said he will repair Canada's cool relations with the Obama administration, withdraw Canada from the combat mission against ISIS militants in favor of humanitarian aid and training, and tackle climate change.
Trudeau vaulted from third place to lead the polls in the final days of the campaign, overcoming Conservative attacks that he is too inexperienced to govern to return to the Prime Minister's residence in Ottawa where he grew up as a child.
"When the time for change strikes, it's lethal," former Conservative Prime Minister Brian Mulroney said in a television interview. "I ran and was successful because I wasn't Pierre Trudeau. Justin is successful because he isn't Stephen Harper."
The Conservatives were projected to become the official opposition in Parliament, with the left-leaning New Democratic Party in third.
Liberal supporters at the party's campaign headquarters broke into cheers and whistles when television projected that Trudeau would be the next prime minister.
Top Trudeau advisor Gerald Butts tweeted "Amazing work £TeamTrudeau. Breathtaking really."
At the Conservative election headquarters in Calgary, supporters sat quietly, staring at giant TV screens as the results poured in. Harper later addressed his supporters, but did not mention his future plans, even though his party said he would step down.
Shortly after Harper called Trudeau to concede defeat, the Conservative Party issued a statement saying he had asked the party to elect a new interim leader. But when Harper spoke to the rally in his home riding in Calgary, he made no mention of quitting.
Confused reporters wondered whether the party statement was a hoax and it took Conservative officials several minutes to confirm it was genuine.
Harper has no plans to address the media on Tuesday, an aide said. The outgoing prime minister most likely will return to Ottawa soon to prepare for a formal handover of power to Trudeau in a few weeks' time.
The Conservatives weren't the only party that appeared headed for a crushing defeat. The third place left-leaning New Democratic Party's fall was highlighted in Quebec, where it had the majority of its seats. Radio Canada projected it would end up with only seven seats, down from 54 in the last Parliament.
The Liberals' win marks a swing toward a more multilateral approach in global politics by the Canadian government, which has distanced itself from the United Nations in recent years.
The former teacher took charge of the party just two years ago and guided it out of the political wilderness with a pledge of economic stimulus and stirring appeals for a return to social liberalism.
Can Trudeau Emulate His Father?
Born to a sitting prime minister who came to power in 1968 on a wave of popular support dubbed "Trudeaumania," Trudeau will become the second-youngest prime minister in Canadian history and brings an appeal more common in movie stars than statesmen.
Pierre once jumped from a trampoline into the crowd. With boyish good looks, Justin thrusts himself into throngs and puts his hand to his heart when listening to someone.
Selfie requests are so common he happily takes the camera and snaps the photo himself, often cheek to cheek. He is the married father of three young children.
Criticized for being more style than substance, Trudeau has used attacks on his good looks and privileged upbringing to win over voters, who recalled his father's rock-star presence and an era when Canada had some sizzle on the world stage.
Pierre Trudeau, who died in 2000, was in power for 15 years—with a brief interruption—and remains one of the few Canadian leaders to be known abroad.
Single when he took power, the elder Trudeau dated movie stars and models before marrying. He had three boys while prime minister, the eldest of whom now succeeds him in the nation's top office.
"Dealing with being my father's son isn't something that I suddenly had to get my mind around as I showed up in this place as an MP (member of Parliament) ... it's been something that's been with me all my life," the younger Trudeau told Reuters in a January interview. "It's what I put out there that actually matters."
A former teacher and snowboard instructor, Trudeau was first elected as an MP in 2008. He won again in 2011, but the Liberal party suffered its worst election showing ever. After the party leader resigned, Trudeau's name began to be floated around as the next chief.
Trudeau initially said he was undecided due to his young family but eventually reconsidered and won the leadership election by a wide margin.
Support for the Liberals surged after his win but that goodwill had evaporated by the time the election got underway in August.
The tone was set by an early Conservative attack ad that claimed Trudeau wasn't ready to be the country's next prime minister and took aim at his looks with the comment, "Nice hair, though."
"What Trudeau did was surprise the field, and he stiffened the spine of a lot of liberals who were wavering," said Nelson Wiseman, a political scientist at the University of Toronto.
Trudeau also touted a path for Canada that he said was more ambitious than his opponents'. His slogan "Real Change" echoes Barack Obama's successful "Hope and Change," and Trudeau admires how, in his view, Obama transformed grassroots democracy.
Trudeau's short political career has not been without its gaffes.
Critics say Trudeau's comments and headline-grabbing events, such as challenging a Conservative senator to a televised boxing match and winning in 2012, lack gravitas. After Canada joined the coalition against ISIS, he said humanitarian aid was better than "trying to whip out our (fighter jets) and show them how big they are."
While his rise in politics may appear to have been swift, former interim Liberal party leader Bob Rae said Trudeau has been thinking about it much longer.
"From the time I met him, my sense was that he very much saw this as a long game for him. And one that only had one conclusion."
Financial market players had praised the Conservative government for its steady hand in economic management, which had spared Canada the worst of the global financial malaise. Trudeau has also promised to raise taxes on high-income Canadians and reduce them for the middle class.
Political pundits have already began to speculate on the make-up of a Trudeau government while pondering what caused the downfall of Harper, 56, who has been criticized for his aloof personality but won credit for economic management in a decade of global fiscal uncertainty.