The True Cost of Oil for Diverse Communities | Opinion
Americans are waking up to the reality that fossil fuel dependence impacts us in just about every way imaginable. This deeply rooted reliance permeates throughout every facet of our economy, meaning the costs of energy, transportation, food, clothing and everyday goods and supplies are largely dependent upon this single all-important variable. Our reliance on oil, a finite resource, is unsustainable and does far more harm than good, particularly for under-resourced, frontline and rural communities.
Black, Indigenous and people of color (BIPOC) communities have especially suffered an undue and unjust burden from our nation's decades-long dependence on oil. BIPOC communities spend nearly 20 percent of household income on transportation costs—three times more than the average U.S. household, according to a 2021 analysis by the American Council for an Energy-Efficient Economy. Now, current events and the rapid increase in oil prices have made this disparity all the more harmful for these already overburdened communities.
Due to our nation's untenable reliance on fossil fuels, BIPOC and rural communities don't just pay a greater share of household income at the pump—they pay it in disproportionate costs to their health. Air pollution, such as fine particulate matter emitted from vehicle tailpipes, is acutely harmful to human health and responsible for 85,000 to 200,000 excess deaths a year in the United States. This pollution also causes many other ailments, including cancers, asthma and other respiratory illnesses, cardiovascular disease, cognitive disorders and low birth weights.
Electric vehicles and other e-mobility solutions provide a solution to move away from fossil fuel-powered vehicles and toward a more equitable and cleaner transportation future. Eliminating tailpipe emissions would greatly improve air quality, particularly in dense urban areas, thus also reducing the amount of premature deaths in frontline communities caused by fossil fuel emissions. Transportation-related burdens on these communities could be mitigated—and EV charging costs are nearly 50 percent cheaper than filling up a gas tank.
Unfortunately, electrification benefits are not yet realized in these underrepresented communities. Greater financial assistance focused toward these communities is needed to lower the point of entry to zero-emissions vehicles for personal use, rideshare services, transportation services and trucking fleets.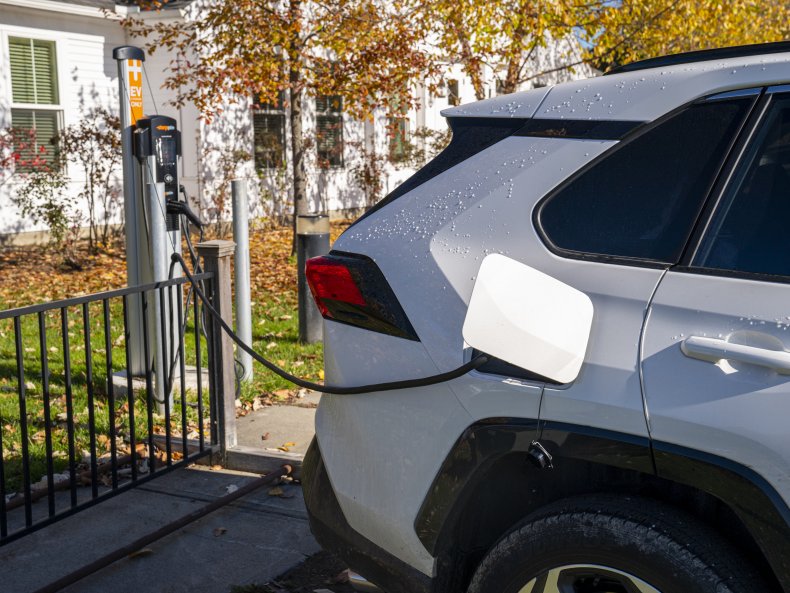 Last year, Congress and the White House enacted the Bipartisan Infrastructure Law, which includes approximately $15 billion to make investments in transportation electrification, including EV charging, electric transit buses and electric school buses. The Charging and Fueling Infrastructure Program created by this legislation establishes a $1.25 billion grant program to support the deployment of community-based charging infrastructure in and around where people live and work. This crucial program, informed by the EV Charging Equity Program outlined in the Electric Vehicles for Underserved Communities Act (H.R.1221), means that underrepresented communities will be at the starting point of assistance to address the e-mobility divide and ensure that all communities can take part in the electrified transportation future.
More than anything, the infrastructure bill clearly demonstrates the federal government's power to mitigate our energy crisis, especially in the long term. But this is only just a start. Now more than ever, we need to put the electric pedal to the metal when it comes to pushing for a clean transportation future.
This means implementing policies to help deploy greater amounts of publicly accessible EV charging infrastructure in dense urban areas like Brooklyn, where people don't have the ability to "plug in" at home, as well as policies to drive down the cost of purchasing and leasing new and used EV models. Washington can also expand the number of e-mobility products that qualify for rebates and maximize the quality of incentives.
President Joe Biden's Build Back Better plan, which was passed not too long ago in the House, contained many necessary provisions to address these needs, which is why it's crucial we revive the climate sections of that legislation and rekindle negotiations on bold reconciliation legislation that will achieve support in both the House and Senate.
The horrific events in Ukraine have shown us just how vulnerable we are to disruptions in the global oil market, particularly for frontline communities who can least afford price increases. It is through tragic events like these that we're able to finally see the true cost of oil and the true price of inaction. We have the power to electrify our future now and protect frontline and vulnerable communities together—we must use it.
U.S. Representative Yvette D. Clarke of New York is a senior member of both the House Energy and Commerce Committee and its Subcommittee on Environment and Climate Change, as well as the House Committee on Homeland Security, where she serves as chair of the Cybersecurity, Infrastructure Protection, and Innovation Subcommittee
Dr. Shelley Francis is co-founder and executive director of EVHybridNoire.
The views expressed in this article are the writers' own.