'True Detective' Season 3 Theories: Who Kidnapped the Purcell Kids? Biggest Suspects and Clues So Far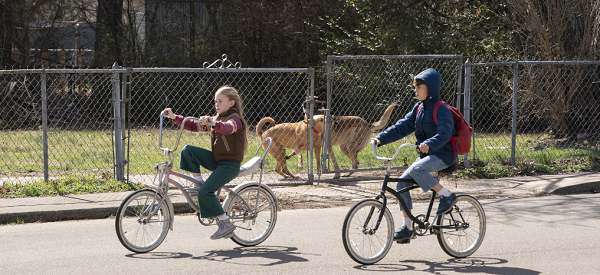 True Detective Season 3 kicked off with a rather unsettling start on HBO on Sunday night. Similar to the first season of the anthology, the limited series wasn't lacking in mystery and a good amount of confusion, and even with two episodes airing on premiere night, viewers were left unclear about the suspects in this crime—the kidnapping of two children and the murder of one.
The crime has plagued this season's lead character, Vietnam War veteran Detective Wayne Hays (Mahershala Ali), who was assigned to the case of the missing brother and sister, Will and Julie Purcell (Phoenix Elkin and Lena McCarthy), after they vanished from Ozark, Arkansas. Hays's partner, Roland West (Stephen Dorff) is also on the case.
The premiere episodes offer little information about any suspects behind Will and Julie's disappearance. It is revealed Hays found Will's lifeless body surrounded by handmade dolls in the woods sometime after taking on the case in 1980, and Julie is later deemed alive after her fingerprints turn up in a CVS drugstore robbery in 1990—resulting in the state of Arkansas requesting to overturn the conviction of someone charged in the kidnapping and Will's death. However, viewers have not been told about of that particular convict, and many key points pertaining to his or her conviction have been withheld.
Even when the show fast-forwards to some 25 years after the crime, Hays, still haunted by the case, seems to be no surer of the identity of the person behind the Purcell kids' disappearance. He reflects on the case during an interview for a true-crime documentary on the incident in 2015: He is now widowed—Hays's late wife Amelia Reardon (Carmen Ejogo) was the one to first learn that Julie received a creepy doll from adults dressed as ghost for Halloween just before the kids were suddenly taken—and seemingly suffering from acute Alzheimer's disease.
While it's far too soon to make assumptions about the suspect, fans are already suspicious of a few people introduced in the first two episodes. See the list of potential suspects so far for True Detective Season 3 below. Warning: Episode 1 and 2 spoilers ahead.
Tom Purcell: Although Will and Julie's father, played by Scoot McNairy, appears utterly distraught by the disappearance of his children as well as Will's murder, some things make Tom's innocence questionable. Tom and Lucy's (Mamie Gummer) marriage is in dire straits, and they're headed toward divorce when the kids go missing. Tom's mother-in-law sparks a rumor that Julie may not actually be his daughter. It's possible Tom wanted to get rid of the kids and get out of his relationship—although it seems unlikely that he'd want to kill his own biological son while keeping the Julie, who was possibly born of an affair, alive.​
Dan O'Brien: Will and Julie's uncle has all the makings of a prime suspect. For starters, he's creepy. Dan (Michael Graziadei), Lucy's cousin, stayed with the Purcells the summer before the kids disappeared. He left behind a lot of pornographic magazines under his bed before moving to a flat, and Hays discovered a peephole with a clear view from Dan's room into Julie's, implying Dan was inappropriately watching her. Dan claimed he visited a bar before heading to his home after work on the day Will and Julie went missing.
Freddy Burns and crew: The unruly teens were called for questioning shortly after Will and Julie were taken, and while it's clear they're all trying to hide underage drinking, none of their stories seem to match up. From the start of the show, the 1990s version of Hays has Freddy (Rhys Wakefield) at the epicenter of the crime as the biggest person of interest—although it's unclear why. The mischievous teens' youthful ignorance makes them even easier culprits to pin the crime on, especially considering the fact Greg Larson (Brett Cullen), head of the police department, was hell-bent on closing the case in a hurry.
An unidentified suspect: Considering Season 3 is already playing out similarly to the first season of True Detective, there's a strong possibility viewers haven't even encountered the real murderer yet. The Season 1 killer wasn't revealed until the bitter end, and the character wasn't introduced until late in the season.