True Scale of Homelessness on England's Streets Revealed by COVID Crisis
The scale of people sleeping rough across England was revealed to be far higher than estimated during the COVID crisis and current plans to end street homelessness are "out of step", a U.K. government watchdog has warned.
Before the pandemic hit, the British government made an election manifesto commitment to end rough sleeping by May 2024. It planned to carry out a review of its Rough Sleeping Strategy in light of the new target in February last year, but as the COVID pandemic took hold, focus switched to ensuring those who were sleeping rough on Britain's streets had a place to stay to protect them from infection. Despite not having a contingency plan for protecting the rough sleeping population in the event of a pandemic, the government's Communities, Housing and Local Government department launched the "Everyone In" campaign, calling on local authorities to immediately house rough sleepers and those at risk of rough sleeping to protect their health and stop wider transmission.
These local authorities worked with homeless charities and hotel chains. It resulted in hotel rooms, left empty as the pandemic shut down the tourism industry, being given to rough sleepers as emergency accommodation. Watchdog the National Audit Office (NAO) praised the "Everyone In" scheme, saying it helped to house more than 33,000 people by the end of November 2020. As a result, COVID-19 claimed relatively few lives among the rough sleeping population in England in the first wave, the NAO said.
Up to June 2020, 16 deaths among homeless people had been linked to COVID-19. One study, published in The Lancet in September, suggests that "Everyone In" may have avoided more than 20,000 infections and 266 deaths. Despite the success of the scheme, expected to cost around £170 million ($232m) this financial year, it exposed major issues with the current government strategy to end rough sleeping, the NAO said.
Prime Minister Boris Johnson made the 2024 pledge shortly before he won the U.K. general election in December 2019. At the time a "snapshot" figure taken by the government estimated there were 4,266 people sleeping on the streets on any given night in England, not the 33,139 people helped by "Everyone In", a number almost eight times greater.
The head of the watchdog, Gareth Davies, praised the "considerable achievement" of the government, adding it "acted swiftly to house rough sleepers and keep transmission rates low during the first wave" and this focus needs to continue. He said: "For the first time, the scale of the rough sleeping population in England has been made clear, and it far exceeds the government's previous estimates. Understanding the size of this population, and who needs specialist support, is essential to achieve its ambition to end rough sleeping."
Jon Sparkes, chief executive of the national U.K. homeless charity Crisis, said: "While the "Everyone In" scheme has undoubtedly saved lives, it has also laid bare the devastating extent of rough sleeping in England. People often missed by nightly counts were brought in, as were many in precarious sofa surfing arrangements, after being forced onto the streets as lockdown struck.
"We welcome the U.K. government's redoubling of its commitment to bringing everyone off the streets and into emergency accommodation to safely isolate," Sparkes said. "It is critical we now work together to ensure everyone can progress to safe and secure homes. Now the true extent of rough sleeping has been exposed, it is vital we make sure it is never underestimated again, and that every single person is provided with the housing and support they need."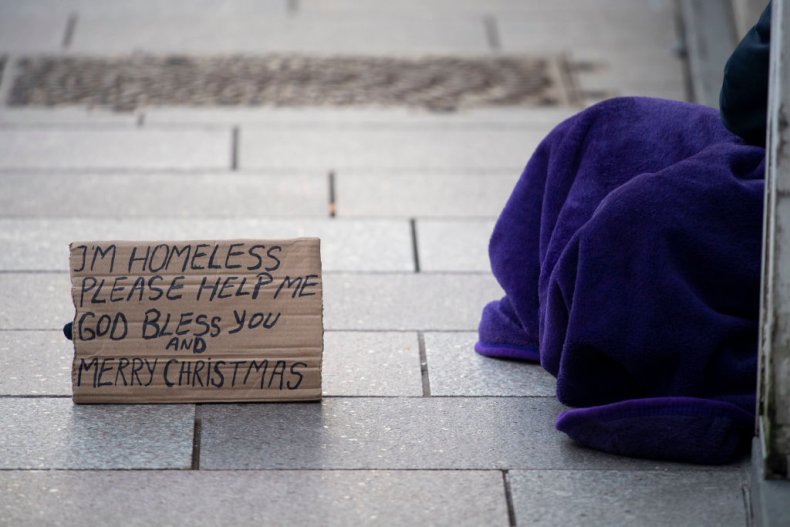 The report also highlighted the number of people remaining in emergency accommodation unable to move on as they have no recourse to public funds - a condition put into the residence permit of some immigrants meaning they cannot access government benefits.
At the start of the "Everyone In" scheme, local authorities were encouraged to place everyone into emergency accommodation, regardless of their nationality or immigration status. But in May 2020 the government updated the policy, reminding local authorities that legal restrictions on offering support to people ineligible for benefits remained in force and that exceptions should only be made in the case of risk to life.
The NAO said it "remains to be seen" if the approach will reduce the risk of COVID transmission "as decisively" as the "Everyone In" campaign did in spring 2020. It added there is an "ongoing need" for the postponed review of the strategy to take place "as it is out of step with the government's target to end rough sleeping by 2024".
The government has not yet set a date for when it will review its Rough Sleeping Strategy but said it was pleased the NAO recognized its achievements with "Everyone In."
A spokesperson from the Ministry of Housing, Communities and Local Government said: "By November, we had supported around 33,000 people, with nearly 10,000 in emergency accommodation and more than 23,000 in longer-term accommodation.
"We recently announced an additional £10m to help accommodate rough sleepers and ensure they are registered with a GP to receive the vaccine, and we will invest £750m ($1bn) next year as part of our commitment to end rough sleeping.
"Our ambition to end rough sleeping within this parliament still stands, and we are regularly taking into account the lessons learned from our ongoing pandemic response, including "Everyone In."