Trump Gives Reporter 'The Hand' While Repeating He Was 'Investigated' By Obama, Italy, Australia, and the UK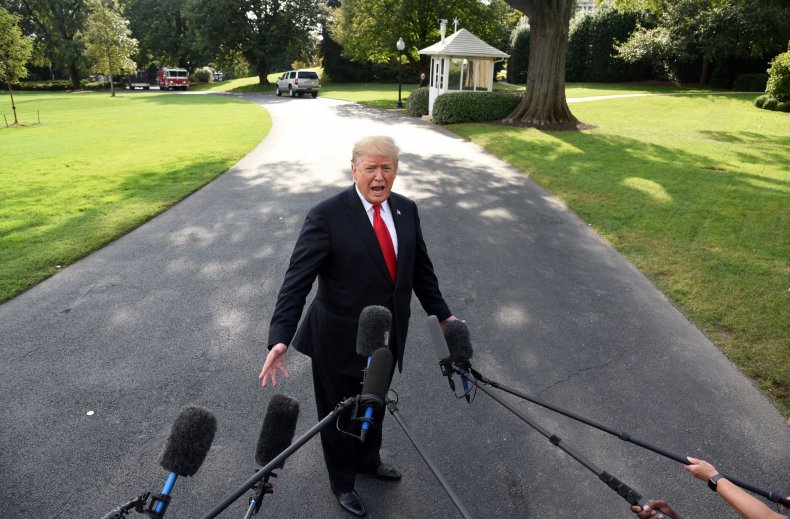 On the White House lawn Friday, President Donald Trump skirted reporters' questions about the impeachment inquiry with routine verbal distractions –– among other methods.
As he accused former President Barack Obama's administration, Italy, Australia and the United Kingdom of "investigating" him during his 2016 campaign, NBC News White House Correspondent Kelly O'Donnell asked for details.
Trump, apparently, didn't appreciate the questions.
"I briefly got the hand today," wrote O'Donnell on Twitter, accompanied by a dramatic photo of Trump putting his palm up.
In a video O'Donnell posted soon thereafter, Trump's claims about the handful of countries, plus Obama, can be heard amid O'Donnell's many questions.
"Just so you know, I was investigated. Okay? Me, me. In my campaign," he said. "I ran. I won. I was investigated––you won't say that, will you? –– I was investigated. I was investigated, and they think it could've been by UK, they think it could've been by Australia, they think it could've been by Italy. So when you get down to it, I was investigated."
"So did you discuss it with the United Kingdom, sir?" O'Donnell inquired.
"––by the Obama Administration," Trump continued.
"Did you discuss it?" O'Donnell repeated.
"–– By the Obama administration, I was investigated," Trump said.
"Mr. President, can we get clarity, sir? Which leaders did you discuss it with, sir?" O'Donnell tried one last time. But by that point, Trump had changed the subject. He said he wanted to investigate "anything having to do with corruption," likely referring, once more, to former Vice President Joe Biden and his family.
Fox News contributor and former congressman Jason Chaffetz took aim at O'Donnell after she posted the photo, saying the reporter put a "wrong and disingenuous" spin on the image.
"@POTUS has been much more open to answering questions, specific questions, than any other President in your lifetime," Chaffetz wrote. "Your spin on this photo is WRONG & DISINGENUOUS. @KellyO You can complain, but not about his being open to answer Qs."
O'Donnell quickly responded to the jab.
"Congressman, I took the photo. The president takes many questions but often does not engage on specific points that are key to gathering critical new information. Today he declined on a number of questions. That is his choice. My statement is not a complaint. Its an assessment," she said.
Chaffetz agreed that the video, posted a few minutes after the photograph, was "a more fair representation."
O'Donnell and the president have had similar interactions in the past. In September, she pressed Trump on why military aid to Ukraine was delayed. He started to answer that he didn't delay anything, but after her follow up questions –– like whether the Ukrainian President felt pressure –– Trump dismissed her with a wave.